This post is all about daily, monthly and weekly self care checklist to swear by!
Disclaimer – This post may contain affiliate links, which means I'll receive a commission if you purchase through my link, at no extra cost to you.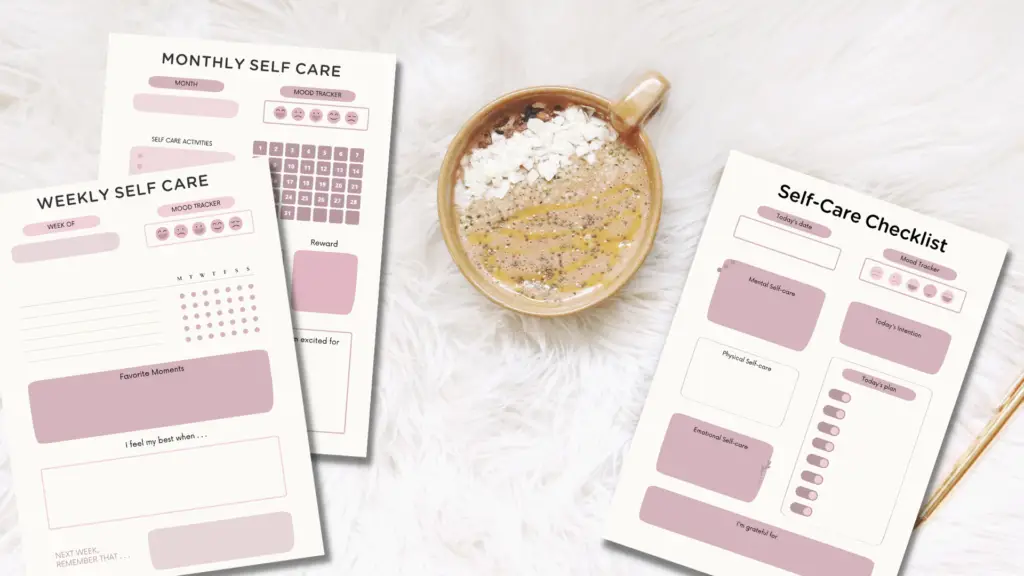 Whether you're already a self care maven or are just starting to prioritize your health, these self care ideas will get you going.
If you've been around here, you know I'm a productivity geek. And it took me a long time to realize that productivity and self care go hand in hand.
I used to think, like most people, that self care is is all face masks and bubble baths (laugh all you want :') Eventually I learned about practicing self care in a way that helps you prioritize your rest time and become more efficient.
When I am not intentional with my self-care routines, I tend to lose my sh*t very easily, especially when life becomes overwhelming.
So, here's a list of simple self care ideas to add to your daily, monthly & weekly self care checklist, even if you don't have the time for a 3-hour spa session.
Download this free self care checklist printable to help you keep track and stay accountable.
Ideas for daily self care checklist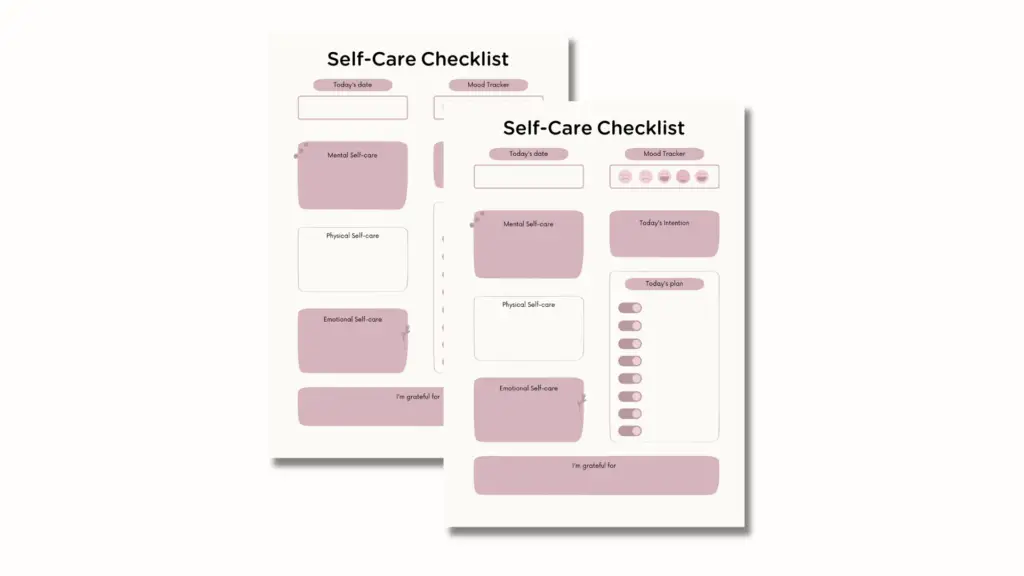 1. make the bed First Thing
This is probably the simplest thing on your daily self care checklist. Make your bed as soon as you get up. It takes less than 5 minutes, and you can check something off your to-do list before you even wake up.
This creates the momentum for the rest of your days. And ofc, when you come back from office, you won't have to deal with a messy bed on top of other things.
So, every time you're making your bed in the morning remember that you're taking care of your future tired self.
2. Your Mornings Are For You
What you do in the first 2 hours of your day really determines how the rest of the day is going to go. Your mornings should be for YOU. It doesn't need to be fancy. You can do something as simple as having your morning coffee while enjoying the morning sun.
Here's something that will drastically change your morning routine – don't pick up your phone for the 1st hour of the day. Because the minute you pick up your phone, you automatically start thinking about how to respond to other people's requests.
Get an actual alarm clock instead of using your phone's alarm, so that you're not waking up and scrolling through the phone straightaway. Keep your mornings to work on yourself, before you work for anyone else.
Related Post : How To Start A Simple Morning Routine You'll Stick To!
3. Find A Daily Escape
Find a mindful activity you enjoy – something that's your escape from the daily chaos and allows you to slow down and be in the present moment.
It's very important to relax and recharge every day – not just on the weekends.
The best way to be mindful is ofc, mediation. But you can also do a puzzle, paint by numbers, cook a meal, or have a hobby, like singing or dancing that helps you stay in the present. Find your muse and schedule time for that every day.
Life isn't just about completing your to-do lists.
4. journal Your Heart Out
You're constantly bombarded from information from all directions. Information that makes you feel a 100 different emotions. So, it's very important to sit down and process your feelings.
Journaling is not just a dear diary type of thing, it's more about doing a deep dive inside your mind and see what are you thinking and how're you feeling.
Specially when you're overwhelmed. Because a lot of times, your brain loves to exaggerate your problems. But when you write everything writing down on paper, you realize that you've actually got it covered.
5. gratitude Is The Way
Practicing gratitude is something on your daily self care checklist that you should not miss! Simply write down 3 things that you're grateful for every day. And try to be specific. "I'm grateful for the weather and my family" won't cut it.
When you keep on doing this constantly for 2 weeks, your mindset will start to shift. You'll start noticing yourself being more aware of all the good things happening around you.
You can also try this 5 minute gratitude journal to begin with.
Related Post : How To Start A Gratitude Journal
6. hot girl walks Are the New Thing
Hot girl walks (or walks in general) are my absolute favorite thing to do! It's a great way to take care of your body and get some movement in, spend some time in nature, take a break from your screens, and you always come back feeling refreshed.
Seriously, if you're ever feeling overwhelmed or stressed, just go on a walk! Here are some hot girl walk essentials you need :
Hot Girl Walks Essentials
Ideas for weekly self care checklist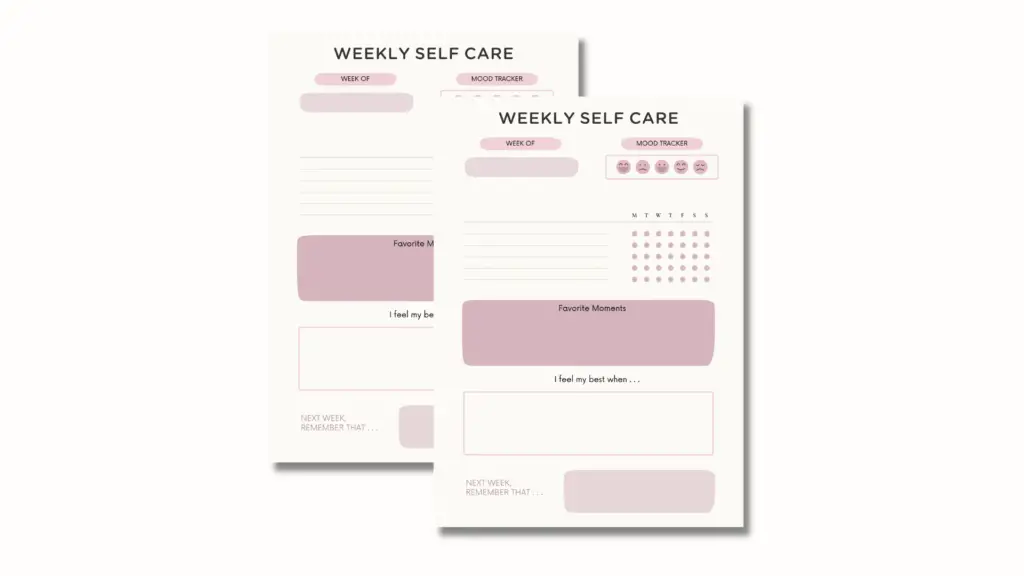 7. workout Atleast 5x/week
This should be on your weekly self-care checklist because it will instantly make you feel better. Choose a form of exercise that works for you. Set a goal for yourself and make sure to stay consistent.
Even though I despise working out, I know that I always feel better afterward. But if going to the gym is not your thing, you can add yoga, Pilates or playing a sport to your weekly self care checklist.
8. Cleaning therapy
A lot of people find cleaning very therapeutic and ofc, a clean space equals a clean mind. I mean, it's impossible to be productive and focus on anything in a cluttered house.
So, make sure to add cleaning on your weekly self care checklist. Take some time on the weekends to do a deep clean of the house.
Do your laundry, put on fresh sheets, and lit a candle to leave your house smelling all good! You can also keep a cleaning schedule to stay on track.
9. grocery shopping Date
You have to agree with me on this one, grocery shopping is therapeutic. Like, it's a task on your list but it's also a way to make time for yourself and feel relaxed. I don't know anyone who doesn't enjoy grocery shopping.
So, create a grocery list to make sure you don't have to make a grocery run in the middle of the week. This also allows you to be more thoughtful of your eating habits.
10. Treat Yo' Skin
How can you have a weekly self care checklist without doing some skincare? I'm no skincare expert but a hydrating face mask never hurt anyone!
You can also go an extra step and prepare a bubble bath, light a candle, play an episode of your comfort show and have a relaxing Sunday.
Related Post : 15 Self Care Sunday Ideas
11. say no to something
Self care is about prioritizing yourself over anything else. If you're a people pleaser, you need to add this to your weekly self care checklist.
Consider it your weekly task to say no to something that you don't want to do in the first place. You need to be okay with
a) You can't please everyone (including yourself), and that's okay.
b) the people who actually matter will understand.
12. Try The 'start stop repeat' Method
Even if you don't plan your weeks, try this "Start Stop Repeat" method to analyze and improve your weeks. Basically every Sunday write down 3 new activities you want to START this week, 3 things you want to STOP doing, and 3 things you want to continue (REPEAT).
This alone will help you be more intentional in the upcoming week, make you feel more prepared and reduce so much stress.
monthly self care Ideas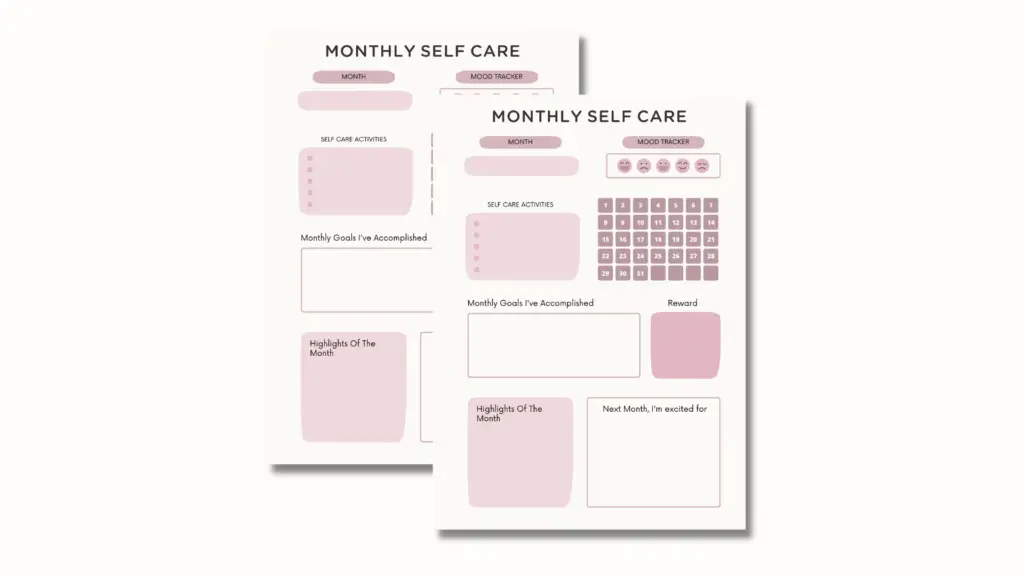 13. Go On A solo date
I'm not gonna lie, I've been fascinated by the idea of solo dates for months now but haven't been on one. It's time I add this to my monthly self care list!
I know this idea feels a bit weird but at the same time it's so liberating. When you start doing the things you love without waiting for someone else to join you, that's POWERFUL. That's the real sense of "enjoying your own company".
14. Have A social detox day
This is the most impactful idea on this monthly self care list. Do a social media detox at least once a month (maybe even a digital detox). The trick here is to make a list beforehand of things you want to do on your social detox day.
Otherwise if you're going to leave yourself doing nothing and getting bored, you're going to obviously want your phone back. Here's a list of fun social media detox ideas.
Related Post : How To Stop Wasting Time On Social Media
15. Finish A Book
Preferably a non-fiction one! I always say that once you read a good non-fictional book, there's no going back. This should ideally be a part of your daily self care checklist but I understand that it's not always possible to find time to read with your busy work schedules.
So, at least add this goal to your monthly checklist. Reading is a great way to get some time off of your screens, allows you to relax for a bit, and learn something new at the same time.
Related Post : 10 books and apps that'll drastically improve your self confidence
16. At Home Spa Experience
You don't have to waste time and money to book spa appointments every month, try creating an at home spa experience for yourself. Get in a comfy bath robe, put on a face mask, diffuse some essential oils and pick up a cozy book.
You can even draw a bath and use these bath bombs to enjoy a relaxing weekend.
At Home Spa Essentials
17. Set Some fun Goals
I'm not asking you to set some productive work goals, instead spend some time every month to set some new habits and routines. Having a set routine allows you to be more intentional about little things that make you feel your best.
If you're anything like me, having a routine will make you feel organized and bring a sense of calm. It makes it easier to navigate through your days when you already know you're doing things that make you feel your best.
Related Post : Daily Routine Ideas For Healthy Body and Mind
18. You did a good job! reward yourself
This is an important monthly self care idea that most people miss. It's important to take a minute and truly appreciate yourself for all that you've accomplished.
If no one else has told you today, you're crushing it!
Rewards can be something as simple as ordering your favorite pasta for dinner, or buying that dress you've been eyeing, basically anything that you really want to have/do! This is a great way to acknowledge your hard work and motivate yourself to keep going for the next month.
This post is all about daily, monthly and weekly self care checklist to swear by!
Related Post