This post is all about self care gifts for her that show you really care!
Disclaimer – This post may contain affiliate links, which means I'll receive a commission if you purchase through my link, at no extra cost to you.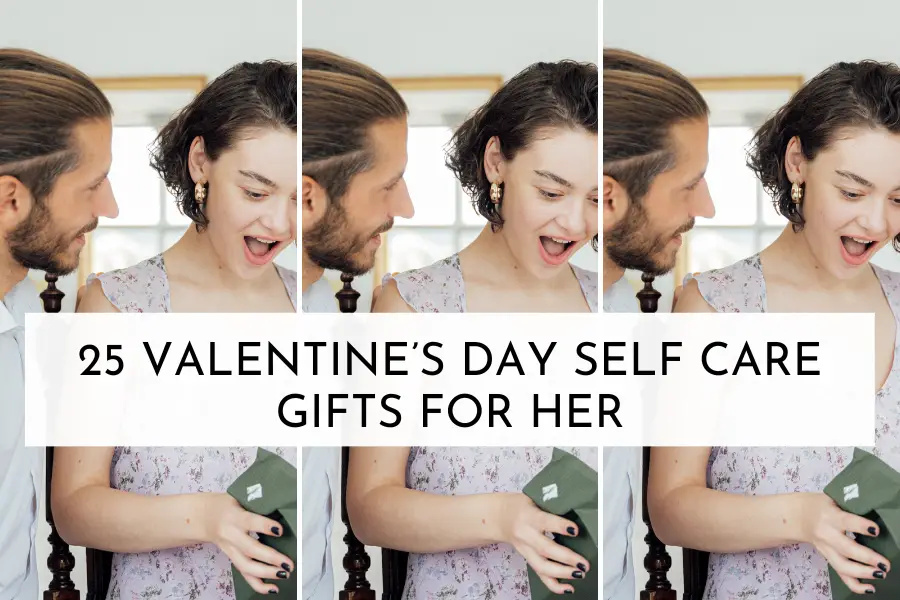 Finding the perfect Valentine's Day gift for your girlfriend can be really hard! You want to gift her something that's not cliché, useful, and meaningful to show her how much you care.
That's why self care gifts are the best option. Your gifts will be her 'pick me up' on bad days when you aren't around. And a reminder for her to prioritize herself.
Don't worry these gift ideas go far beyond face masks and bath bombs (although we love a little pamper session once in a while).
As a shopaholic myself, who is constantly on the lookout for aesthetic self-care products, these self-care gifts for her are sure to impress your girlfriend. And who knows, you might end up buying something for yourself too and have a pamper session together! 😉
25 Self Care Gifts For Her
1. comfy pjs For Your Cuddle Sessions
Girls loveee wearing comfy pjs, no matter how much she enjoys dressing up. These Nordstorm pyjamas are so soft and fashionable that she'll want to wear them every day!
2. sunrise alarm clock So She Gets Her Beauty Sleep
Gift this sunrise alarm clock to your girlfriend so she doesn't wakes up irritated from the harsh alarm clock sounds.
It uses natural sounds to wake you up and also brings in natural light in the room that increases gradually. Talk about thoughtful self care gift ideas for her.
3. Trendy Candles That Literally Every Girl HAs
How cute are these candles!? Candles are a great self care gifts for her. The Tandiamo candles can be a great décor piece too. Your girlfriend would love to show these off.
And the boy smells candles are everyone's fav for a reason. It's amazing smell fills up the entire space.
4. facemasks For The Entire Week
Trust me these Facetory facemasks are going to become her night skincare essential. These facemasks are made from natural products and are great for sensitive skin as well.
And this gift comes with a pack of 5, so it'll easily last her a couple weeks!
5. Luxirious Shower Experience Cuz She Deserves It
Gift these to your workaholic girlfriend, cuz she can seriously take a night off. It's very hard to find bath bombs that aren't made for kids. And this one will give her the perfect luxurious experience she deserves.
If she's more of a shower girl, get her these shower steamers that'll end up making her feel super refreshed.
6. A Water Bottle So cute She'd Carry It Everywhere
Remind her to drink more water! And the Stanley water bottles are so cute, she won't be embarrassed to take it with her to the office or the gym.
And it'll keep her beverage as hot or as cold as it was.
7. Bath robe That she'll Live In
Bathrobes are the best fit for a self care night. I've been searching for months to find a bathrobe that resembles the comfy spa ones. And I finally found this luxury bath robe.
And it's super stylish too!
8. Life changing Papier journals
If your girl's obsessed with the healthy lifestyle aesthetics, trust me, she already WANTS this papier journal. Papier journals are so trendy amongst wellness freaks right now!
Their products are so cute, you can't go on their site and buy just one. Lol.
9. Journal prompts deck To Make Her Self Growth Journey A Li'l Fun
Combine your papier journal with this deck. This journal prompts card deck has 52 prompts, so she has one question for the rest of 2023 and more!
And because it's such a small thing, it makes it the perfect thoughtful self care gifts for her. I gifted this to one of my friends and she loves them.
10. Pamper her skin
These are every girl's favorite skincare products. Your girlfriend either already uses them or has them on her Wishlist.
You can make her a skincare essentials self care gift ideas for her that she'll definitely use every single day.
11. desk coffee warmer That'll Never Let Her Coffee Go Cold
This ember smart coffee mug is genius gift idea! It'll keep her coffee hot when she gets busy with meetings and forgets to drink it.
And you don't have to plug it in somewhere so there's no cable clutter on her desk! It's the perfect self care gift ideas for her, you'll get one for yourself too.
12. hot girl walk essentials Every Girl Needs
I'm sure you've already heard of hot girl walks, even if you're a guy! You can't go wrong with this self care gift ideas for her. Here are all the essential you need. If your girlfriend procrastinates going on a walk, she won't after getting this gift.
And she'll always be thanking you for these.
13. foreo skin cleaning That's A Must Have
Foreo cleansing brush is a MUST HAVE for skincare. Every girl I know has got one of these. And your girl will love it too.
It's the best face cleansing massager out there and will leave her skin glowing and healthy.
14. A Coloring Book For The Days When She Wants to Punch Someone
This gift is bound to bring a smile on your girlfriend's face when she's feeling angry (maybe even at you! lol) But seriously, it's such an amazing way to channel your energy.
Coloring in itself is such a mindful activity. And this will allow you to slow down for a minute and let your anger pass by.
15. Wellness planner That'll Make Her Feel Her BEst
These Bando planners are super cute! And unlike most planner, it doesn't just focus on to do lists and productivity, but also on living a healthy lifestyle.
Your girlfriend would carry this around her all the time, and this is the perfect gift to help her stay consistent on her wellness journey.
16. Jade Roller Pack To Release that Face Tension
This is one of those luxurious self care gifts for her. Jade rollers have the best stone that helps you release tension and puffiness on your face.
I got the gua sha last fall and I feel my face feels more relaxed after using it. Just make sure, you don't wash it with soapy water, it destroys the jade.
17. Phone lock box so you have her undivided attention on date nights
This is hands down the most useful self care gifts for her! You can use these phone locks to keep your phones away on your date nights and just enjoy each others company.
Also, if she's someone like me who gets distracted too easily, this is the only way she'll get anything done!
18. Yoga mat and yoga dice If Working Out Is not Her Thing
Yoga is a great way to calm your mind and add some movement is your days. If your girlfriend is looking to get back into a workout routine, this yoga mat is a great self care gifts for her.
And you can also get the yoga dice to add some fun to her yoga routine.
19. Dog Games to Keep Your Anxiety Away
Because your dog never wants you to be sad! If your girlfriend is a dog or a cat person, she'll love this gift. She can just pull out a card on days that feel overwhelming.
Every card is filled with a uplifting message and some useful exercises. And they're also kinda funny.
20. comfy reads On The Cozy winter Evenings
If your girlfriend loves some quiet me time, these books are the perfect self care gift ideas for her. These 3 are my favorite confidence booster books talking about everything you need to hear on a bad day.
Here are some other popular books that your girlfriend will love. You can also create a pack of 3 books and gift them as a set.
21. essential oil diffuser To Set The Mood
There's nothing in the market that outperforms Vitruvi Oil Diffusers. They have a clay body that looks so aesthetic and are not monstrously huge like every other oil diffuser on the internet!
And the fragrance really fills up the entire room making your house feel so fresh and cozy.
22. bathtub tray Cuz To Reacreate the Monica & Chandler Date, But Less Chaotic
I'm sure your girlfriend doesn't have one of these and I'm sure she won't regret getting it for her valentine's gift. It'll just make the bathtub experience whole lot better.
I mean who doesn't love the idea of watching an episode, or reading a book while sipping a glass of wine, but it's so much more difficult to adjust all that without a bathtub tray.
23. wind down kit For Her Crazy Hectic Weeks
The perfect SOS kit to wind down and recharge after a hectic week. If you don't want to spend a lot of time picking gifts and creating a care package, then this is what you need to get.
This kit comes with a face mask, face roller, sleep mask, hell . . . even a pillow spray, what else would you ever need for self care?
24. silk pillows To Mordernize Her Living space
This one's already on your girlfriends shopping list. Silk pillows are amazing to keep your skin and hair healthy and will keep the moisturizing products you use on your skin intact.
I haven't seen anyone who has these silk pillowcases and haven't seen an improvement with their skin.
25. A 1000-Peice Puzzle Perfect For Your Date Night-Ins
The absolute best way to enjoy a slow saturday evening is puzzling. Gift your girlfriend this 1000 peice puzzle to let her enjoy some time off of screens, and the designs are so cute!
I've been really getting into puzzles recently because I find this mindful activity so much fun and relaxing. And I'm sure she'll like them too.
This post is all about self care gifts for her that show you really care!
Related Post