This post is all about 25 nerdy valentines gifts that are worth geeking over!
Disclaimer – This post may contain affiliate links, which means I'll receive a commission if you purchase through my link, at no extra cost to you.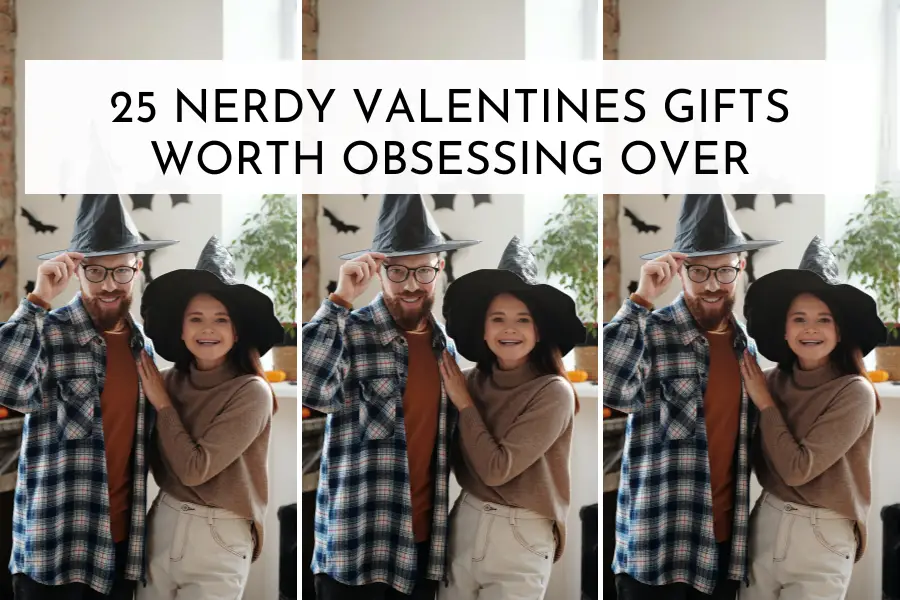 Getting a gift for your nerdy partner can be hard. You want something that's funny and clever, but also useful. Something that won't just sit in their cupboard for the rest of the year.
But if you go on the internet, you'll get a huge list of the most OBVIOUS nerdy things that are guaranteed to impress NO ONE.
Don't worry, I did the dirty work for you! Here's a list of 25 nerdy valentines gifts that your partner will remember for years! In fact, a true geek will constantly show them off to their friends as well.
You can ditch the cliché – chocolates & flower – gifts and use these smart gift ideas for a nerd that are going to get the "wait what? I love this!" reaction.
25 Nerdy Valentines Gifts Ideas
1. GOT wine glasses
If you and your partner are GOT fans, this is the perfect gift ideas for a nerd. You can enjoy the new season of House of dragons, sippin your wine and call it a date!
I got these for my partner last valentines and he loved them. Also, If you find an arya stark "Not today." t-shirt, let me know! 😉
2. star wars lego set
Every guy that I know is obsessed with Legos right now. One of my friends, in fact, has a special corner reserved for his Lego display.
And this star wars Lego set is the perfect trendy gift ideas for a nerd.
3. world of agatha christy Puzzle
If your partner loves murder mysteries, they sure as hell know Agatha Christy. And they'll be obsessed with this puzzle.
And the best part, after completing the puzzle, they can also use their detective skills to spot the Agatha Christy references.
4. Pacman Miniature Arcade Game
Okay, this might not be the most useful nerdy valentines gifts on the list, but how cute is that!! If your partner has grown up playing pacman (like I did), they'll LOVE this gift.
Take them down the memory lane and play these arcade games.
5. telescope For Science Geeks
If one of you is a big science geek, you need to gift this. It's such a unique nerdy valentines gift. Get this telescope for your partner and plan the perfect stargazing date night.
And it's only less than $200.
6. Computer chess Board
This is a great gift for chess lovers. And you can always spend some time playing together, no matter where you are in the world.
Basically, it's an Electronic Chess Set Game, so you can play with each other (like we normally do), play against AI, or play online with someone.
7. Geeky bartendar book
This is the perfect gift ideas for a nerd & a party lover (umm . . . that's a sexy combo). Gear up for your next party with this book filled with hundreds of fantasy drinks.
This will definitely uplevel your next theme party. I mean, I want to get this one for myself too!
8. Thanos beer opener
Who isn't a fan of marvel and beer? lol. Get this nerdy valentines gifts for your partner and who knows, maybe snapping your fingers would wipe out half your troubles. 😉
9. Work from home survival kit
Working from home is really hard. I've been doing it for 3 years now and I know there's literally zero sense of balance in wfh.
This survival kit can be the perfect most thoughtful gift for your partner. It's packed with everything from essentials to entertainment.
10. Robot coffee machine
If your partner is a star wars fan and uses coffee press, you will love it. It's a little more expensive than a regular coffee press machine but then, where's the fun in that?
Everyone on amazon is raving about it, so I'm sure it works well too.
11. Really cool clock
I've never seen a clock like this, I mean it'll look so cool on your work desk or bedside cabinets. If you think this goes with your girlfriend's aesthetic, gift this.
And her guests would always ask where'd she get it from?
12. bread slippers
Get these LOAF-ers! (Pun intented) This is one of those cliché nerdy valentines gifts. But a little cliché is cute sometimes, isn't it? You can get a matching pair of slippers – they're super comfy and cozyy.
13. Dual birthstones ring
Your girl would seriously be obsessed with them! Specially if she's a geek about birthstones like me and my sisters are, lol. And these are so cute and minimal, she can wear them everyday.
I'd want to get a matching pair for my boyfriend but that's completely your choice. And valentines is the perfect occasion to gift a ring, yk? 😉
14. Nerdy twist to your favorite games
Here are some nerdy fun games that your partner always wanted as a kid! Get this set of bob burger's monopoly and coloring book and spend some much needed quality time.
Remember, you don't always need fancy date nights to enjoy each other's company.
Also, you can get a star wars, Pixar and Got editions of these games too.
15. wireless charging led
This is something for technology geeks, but honestly for anyone who loves modern practical solutions to their problems. And it's something that your partner will use everyday.
It's best to put on your bedside table and use the touch control lamp, wireless charger and bluetooth speakers, at your convinience.
16. moon lamp
Forget candlelight, let's have a moonlight dinner! It comes with 16 different colors and is the size of a soccerball. Perfect for someone who's a 'look at the sky' kinda person.
It'll just elevate the vibes of your date night or the room you keep it in! And it's such a romantic gift ideas for a nerd, but not in the "basic" way.
17. morse code bracelet
Wearing matching bracelets or same name tags has become way too common today. So, if you want to gift jewelry to your girlfriend, this morse code bracelet is the way to go.
It's perfect even if your partner is not so nerdy, mainly because the concept of this bracelet is amazing. This one says "beautiful bada*s".
18. tactical pen for self defense
Another one for the gadget freak partner! There are a lot of self defense products out there, but you always forget to carry pepper spray or stuff like that, yk? But a pen is always with you.
This is such a thoughtful gift – a usual pen that can also be used for self defense tool in your back pocket.
19. the office socks
I mean . . . socks and hoodies are the most basic way to show off your nerd obsession for something.
Well, if you and your partner love binging the office together, get your self a matching pair of Dwight socks.
20. slopping glasses
If your partner is an avid skier, these slopping glasses are a must have. Not only do they look cool after pouring a drink in, but they're also a great conversation starter when you have guest over!
And who knows they might find a new ski partner!
21. star wars book stand
Get master Yoda's help to keep your books in place. Keeping your star wars books on this stand would look so nice.
It's literally the dream gift for anyone who's a star wars geek and a book nerd. And will be a perfect addition to their library corner.
22. cutting board
This is soo cheeeesy (if you get it, you get it. lol). Gift this to your partner if they're a nice cook. This would be a great chance to express how grateful you are for their cooking skills.
Pair it with a good cookbook and voila . . this is every nerd chef's dream gift!
23. camera lens coffee mug
There's always one person out of the two who's a camera lover and loves finding great angles to take aesthetic pictures. You know what I'm talking about.
This is a genius coffee mug. The details on this mug resemble exactly to an original camera and it still keeps your coffee piping hot. Your partner would definitely be showing this off to their friends.
24. home planetarium
I think I'm a big nerd when it comes to stars and sky and all the astronomical stuff, that's why I've so many on the list haha!
This projector lets the stars fade in and out, and the sky to move slowly. It feels so natural and is really relaxing to watch.
25. Things They Dont Teach In School Cards
This will spark some really interesting conversations! And you can play it with the whole group when you host a party together.
If your partner is a trivia lover and you want to add some fun to your random date nights, gifting a card game is the best idea.
This post is all about 25 nerdy valentines gifts that are worth geeking over!
Related Post