This post is all about the ultimate 75 hard checklist of all the essentials you need that'll make 75 hard EASY!
Disclaimer – This post may contain affiliate links, which means I'll receive a commission if you purchase through my link, at no extra cost to you.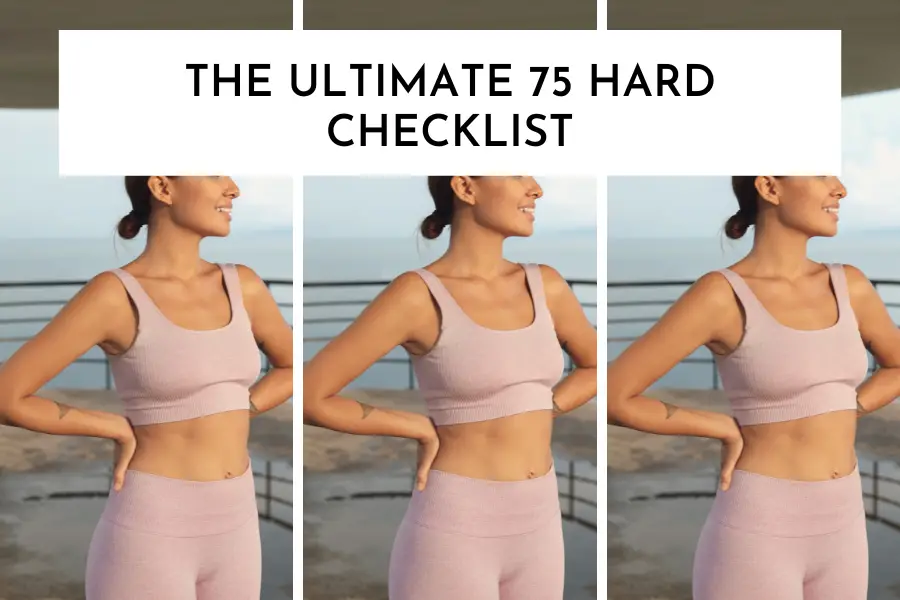 Thinking of starting the 75 hard challenge but are clueless where to start? This blog post is for you!
As someone who recently completed this transformative challenge, I can attest to its power in reshaping your mindset and boosting your confidence. But let me be honest; starting this journey without the proper preparation is a recipe for disaster.
That's why I'm giving you this ultimate 75 hard checklist of all the essentials that'll help you manage your time, stay organized during the challenge and keep a system in place so it doesn't get overwhelming.
Along with the most common challenges that people face during 75 hard and how to overcome them.
Psstt. . . if you don't know what 75 is? Here's the perfect guide to 75 hard and it's rules.
75 hard is not going to be an easy ride. But that doesn't mean that you need to make it harder than it's supposed to be.
Of course, there are still going to be days when quitting seems like an easier option.
But with this checklist, at least you won't have to deal with these minor issues of 'forgetting a daily task', or not knowing what to read today.
The most common challenges during 75 hard
I just want to be real for a moment here and share with you some of the most common challenges that people face (& I did too) when they start 75 hard.
I feel that not enough people on the internet are sharing this side of the challenge. And having this information before hand can help you mentally prepare yourself.
P.S. I'm not trying to scare you away from starting 75 hard. On the contrary, by overcoming these challenges, you'll have a newfound sense of confidence and pride within the next 75 days.
1. Being a foodie, it was really hard for me to stick to a diet
Specially when I rely on food as my source of happiness on bad days. I'm a big foodie, so much so that I'd be thinking about lunch at breakfast, lol.
So, ofc it was hard for me to give up on junk food. But this challenge will help you be more intentional with your eating habits. And would help release the grasp that junk food may have on you.
2. Sticking to the no alcohol rule at a party
This is one of my favorite challenges, I overcame during 75 hard!
I mean, saying no to your drunk friends at a party is not an easy task. But if you have a clear 'why' for doing 75 hard,
making the mindset shift from 'I don't want to be a party pooper' to 'I can still enjoy the party w/o alcohol' and saying No to the outside world won't be that hard.
And here's the best part: the same people who were convincing you to have a sip will tell you that they're proud of you the next day.
3. Sticking to two 45 min workouts
To be honest, I tweaked this rule a bit and sticked to one 45-min workout daily.
Partly because I'm a couch potato. And I needed mental preparation, physical strength and external accountability to even workout once.
So, if you're someone who's never had a proper workout routine before, this rule can be challenging. And I'd suggest you to take it slow. Maybe keep walks as your primary workout.
And just stay consistent with it.
By the end of 75 hard, I got so used to my evening workout routine that I kept on continuing that even after the challenge. And that's a big win for someone who used to hate working out!
4. Also, finding time to workout
Here's the other reason why I worked out only once. As someone who works 9-5 and has a blogging business on the side, it was really hard for me to find time for 2 45-min workouts.
Could I find time to workout if I wanted? Of course, yes. I'm not using time as my excuse here. But I felt like this was more sustainable for me.
You can definitely find time to workout twice a day if you're being intentional about planning your workouts and scheduling in advance.
5. Keeping track of your water intake
Keeping track of your water intake can be a real hassle, especially if you're travelling and don't carry a water bottle with you.
That's why getting a 1 gallon water bottle is the #1 thing on 75 hard checklist for essentials.
Also, on a funny note, drinking lots of water results in peeing ALL the time. Get ready for that too, haha!
But in reality, your body gets used to your water intake pretty quickly so after the first few weeks, drinking 1 gallon of water is not going to be a challenge anymore.
6. Forgetting the easiest rule
The easiest rule on the 75 hard checklist is to click your progress picture daily. And that's why, it's easily forgotten.
I mean, who's got time to worry about taking a picture, when you're trying to fit 2 workouts and a reading session in your day.
One simple thing you can do to avoid forgetting this is – to set reminders on your phone, or stack it on top of your habits. For eg, everyday after finishing your workout, you go to take your progress pic.
7. Travelling is tough
Finishing these 6 rules on 75 hard checklist while you're travelling is obviously hard. But it can be done if you plan your day in advance and are smart about your workouts.
I remember my most challenging 75 Hard day was when I traveled from 6 am to 10 pm (not even exaggerating here) – talk about exhausting!
Reading, specially, can be really hard. Cuz you need to carry a book and look for perfect lighting. That's why I used to carry my Kindle with me to avoid such problems.
But when you push through and stick to the challenge during those tough days, the rest of the journey becomes a breeze. Sure, you might need to make a few adjustments, like reading on your phone or sneaking in a quick walk at rest stops, but trust me, it's absolutely possible!
8. Mindset
This is the last but the MOST important thing that you need to manage during 75 hard. As Andy Frisella says,
"Your body can handle almost everything. It's your mind you have to convince."
Trust me, your brain's gonna start whining about skipping workouts before your muscles even feel the burn. Your mind will get bored of eating the same food before your body starts resisting it.
But here's the secret sauce: if you can boss your brain and keep that determination for the next 75 days, the results will blow your mind!
You'll have a newfound sense of confidence and self worth. Believe me, I was terrified of failing the challenge, but finishing 75 Hard showed me that I can conquer anything I put my mind to!
75 Hard Checklist Essentials
1. water bottle
Get yourself a 1 gallon water bottle to keep by your side at all times. This is the first essential I got while starting 75 hard.
The thing is having a water bottle by your side serves as a visual reminder and tracks your water intake.
Also, if you are lazy like me, it'd help you save the countless trips to the kitchen. I know that if I don't have a water bottle by my side, my water intake would probably go down to half.
You can also get yourself something trendy and cute like a Stanley cup to carry around to work or the gym as well.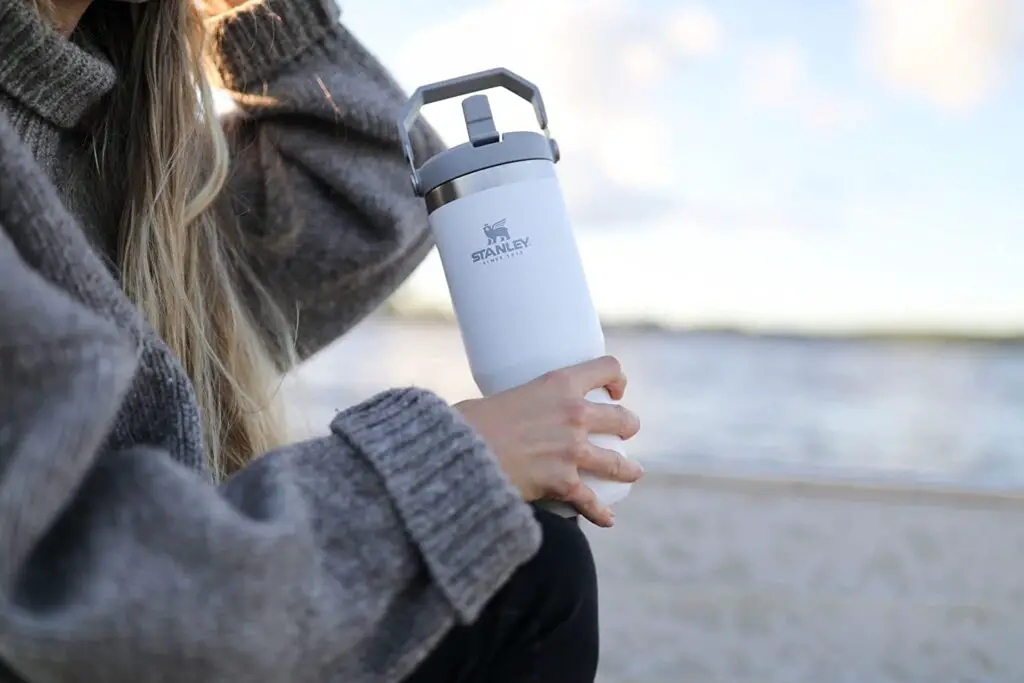 2. checklist
Having a 75 hard checklist is a must! Consider it your habit tracker. You can download a free 75 hard checklist here.
There are also multiple options on etsy to try from. This would help you make sure that you don't forget any of your daily tasks, especially the easy ones, like taking a progress picture.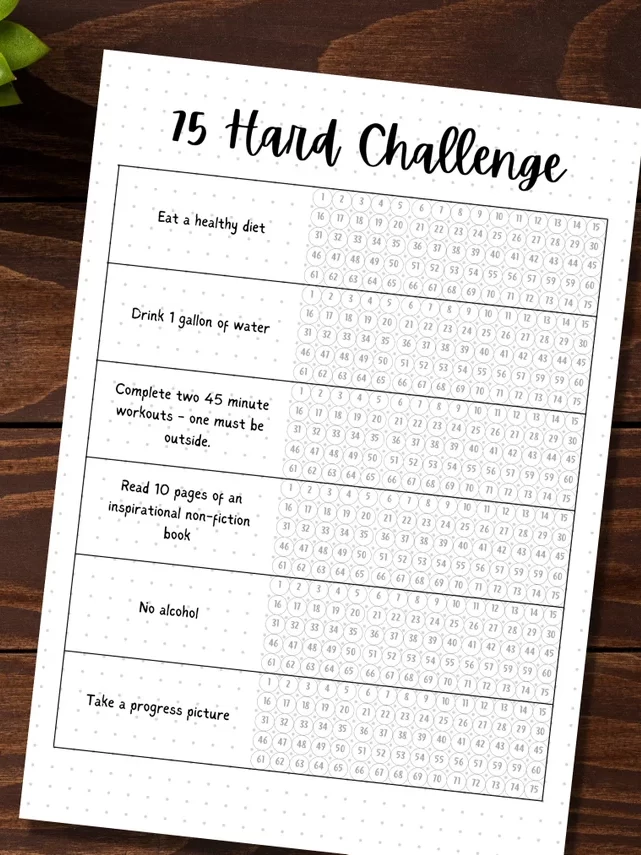 3. list of books To Read
I wish I created a 75 Hard – TBR before starting the challenge.
I can't even count how many times I grabbed a random book at 10 pm just because I couldn't be bothered to find something new.
If you want some ideas, here are the books that I read during 75 hard :
If you want more ideas, here are 20 must read books for people in their 20s.
4. Time block Planner
Time management is one of the most challenging things you'll encounter during 75 hard.
The thing that helps me the most is time blocking. I'm a big time block girl because it makes me feel stress free and confident that I can actually get everything done in the 24 hrs.
So if this works for you too, get yourself a time block planner and plan out your workout timings, reading and work timings in it, so that everything fits perfectly in your day.
5. find healthy alternatives to your favorite dishes
If you're a foodie, restricting yourself to a strict diet for the next 75 days is NOT a good idea.
Instead, have a more feasible diet and come up with 4-5 dishes that are health-ier alternatives to your favorite dishes.
I completely blocked junk food and sugar. But I still tried finding healthy alternatives for days when I couldn't eat home-cooked meals.
My go-to order were Tacos or Dosa (It's an indian dish). And my go-to breakfast was definitely overnight oats.
If you have a sweet tooth, these max protein cookies are going to be a life saver! I couldn't find anything else that was this good and healthy. Here's a similar option :
6. this mindset shift is key
I had to include this essential at least once on the 75 hard checklist.
You need to have the 'Take it one day at a time' mindset if you really want to finish this challenge. Because if you start worrying about Day 74 on Day 12, it's only going to overwhelm you.
There are going to be multiple points during the next 75 days when you'd feel like giving up, and the mindset 'I only just need to stick to it today' is the only thing that'll help you.
7. Accountability
Accountability definitely improves your results. Here are a few things you can do to stay accountable :
Ask a friend to join in with you. If not, then ask them to take daily updates from you.

Having a 75 hard checklist to cross off daily tasks from can help too. When you visually see a streak, you wouldn't want to break it.

Ask people on the internet. So many people are doing 75 hard and are willing to be held accountable. You can join groups or ask someone personally.
I turned to my Instagram stories to share my daily progress. And I was so scared of failing publicly that it actually kept me accountable.
8. Cute workout clothes
This is not an 'essential' essentials but if you don't like working out, getting cute workout clothes might help.
It's just a mindset thing, yk. Having cute workout clothes would reduce the initial resistance. Wearing workout clothes gets you out of that lethargic state. Also, it helps you glorify at least some part of your workout routine.
9. Playlist Or Podcasts list for walks
I walked at least once, every single day of the 75 hard challenge. So, having a podcast playlist was really important for me.
Here are the things that I listened to the most :
10. Your Hot girl walk essentials
Speaking of walks, here are 3 basic things you definitely need :
11. Journal
Journaling is definitely one of those essentials on this 75 hard checklist that most people will look over.
But it'll really help to keep your mindset in check. Even if you don't journal everyday, you can use it on days when you're feeling overwhelmed.
Another thing that really helped me was maintaining a list of all the challenges I overcame during 75 hard. Things like going on a walk even if it was raining, or sticking to my diet at a party.
We usually forget about these little things but it's important to acknowledge them and pat yourself on the back.
Also, it'd be so nice to go through this list in the moments of self doubt.
12. Workout & Meal planner
Speaking from experience, planning your meals can be a total game-changer. It saves you from eating random junk when you're too tired to cook after work.
It's better to at least plan your meals for the week so you can order your groceries on time, and avoid the mid week grocery runs.
If you want to save more time during the week, you can also start meal prepping on Sundays. And use these gorgeous containers for that!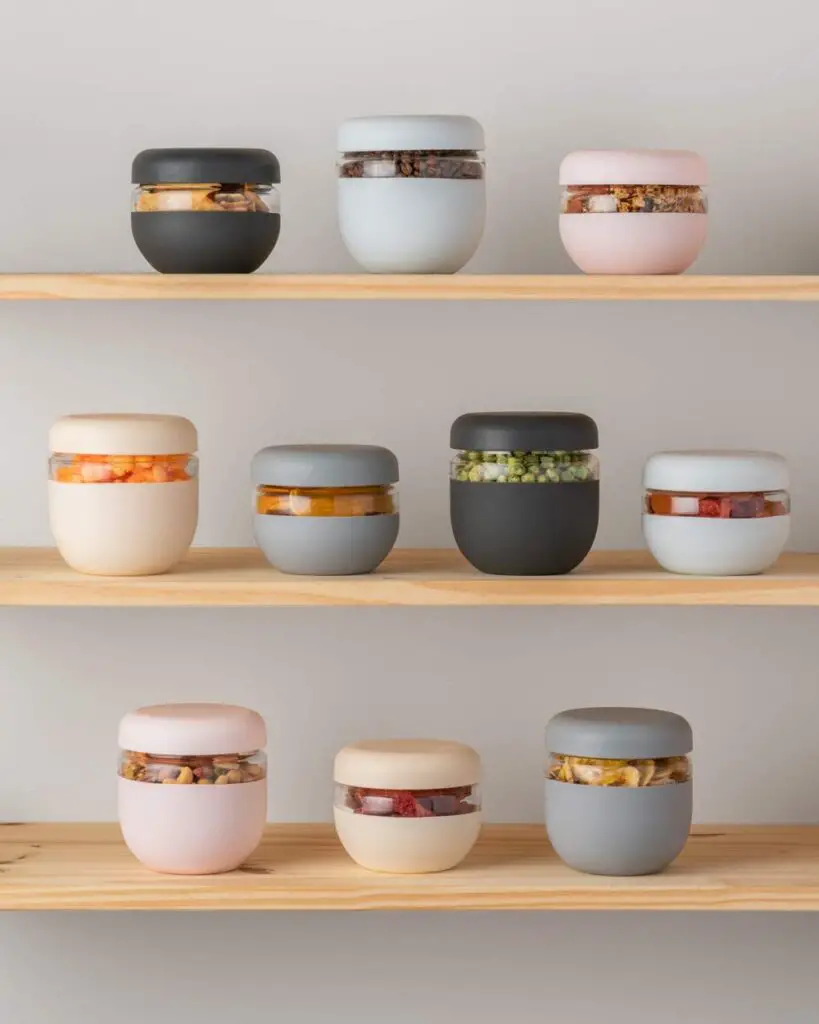 Similarly, you can plan your workouts as well. The easiest thing for me to do was to start any 30 day challenge. This way, you can just follow the routine and don't have to plan your workouts.
13. Yoga Mat
It's highly recommended to switch things up during 75 hard, to keep things interesting. I tried different workouts like yoga, walks, dance, home workouts and swimming.
And yoga is the best alternative because you can do it outdoors as well as indoors. So, it would be nice to keep a yoga mat handy so you can opt for yoga on days you want to keep it light.
14. Fitness watch
I know, you can definitely finish 75 hard without a fitness watch. But it'll help you get better insights on how your body is progressing.
You can track your calories, your sleep timings, even your steps! It increases your awareness and helps you track your progress better.
15. 75 hard app & book
It's a good idea to learn about 75 hard and the intention behind this challenge from Andy himself. You can add this book to your 75 hard TBR.
Andy's got this 75 Hard app, where you can track your progress, set reminders, and jot down notes all in one place. Only catch is, it's gonna cost ya!
But hey, no worries if you're not down to spend money on it. You can always download this free checklist instead. It might not be as fancy, but it'll help you stay on top of things.
Related Post
1) The Ultimate Guide To 75 Hard + Free Checklist
2) Honest 75 Hard Review | I finished 75 Hard
3) 20+ Ultimate 30 Day Challenges To Change Your Life