This post is all about best self help books that actually work.
Disclaimer – This post may contain affiliate links, which means I'll receive a commission if you purchase through my link, at no extra cost to you.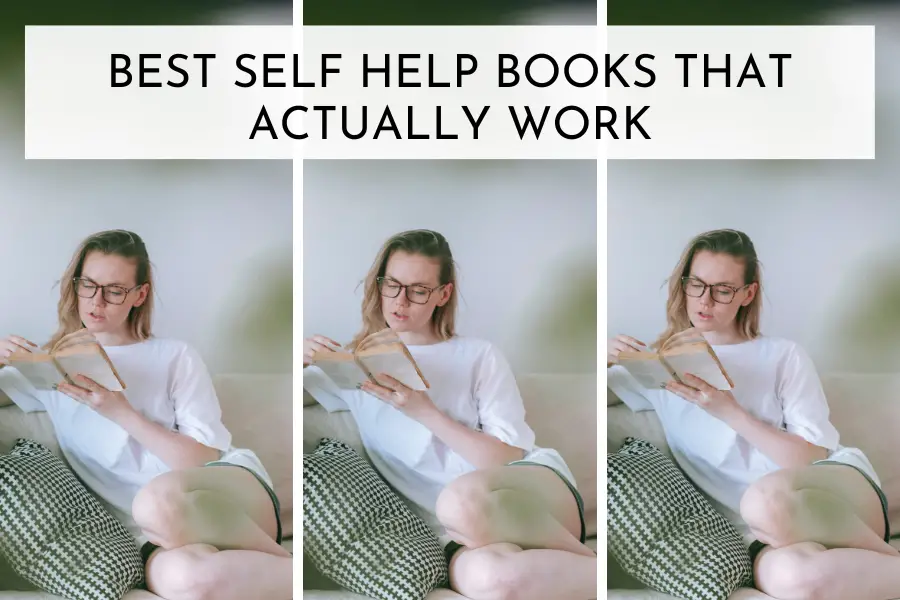 There are too many self-help books out there, repeating the same old mantras – think positive, get up early, work hard – while completely missing the point of how to do so in a way that works for you.
I've read my fair share of woo-woo self-help books, including some popular ones that I found to be completely useless. I'm big on planning and action, so I believe that, if a book doesn't make you do even one thing differently, what's the point of reading it?
But that's not true for all personal growth books. I TRULY believe that once you read a good self help book – yk, the ones that make you see things in a different light, there's no going back. So, here are a few examples of such books.
22 Best Self Books That Actually Work
So, here's a list of 21+ best self help books that actually work and will literally transform you!
books that changed your perspective on life
1. subtle art of Not Giving A F*ck
This is one of those books that'll make you understand life and the people around you a little better. Mark Mason is blunt and says what he really thinks. Although, the concepts of this book are pretty generalized.
I picked this book up in 2018 when I was getting into the self help world. And it felt like someone got into my head and answered all the questions that I had. A lot of the things in the book really made sense to me!
2. 101 essay that will change the way you think
The name of this book might seem too cliché, but each piece in this book will actually make you stop and think for a while. And the best kind of self help books are the ones that make you see things in a different light.
Some of the concepts in the book overlap each other but honestly, some things are worth repeating more than once. This is definitely one of those books that you'll pass on to your family and kids.
3. maybe you should talk to someone
This book is about a therapist who talks life via her patient's experiences and her own experiences in therapy. And while this may sound heavy, the book is one of the comfy self help books that actually work.
This is the kind of book you pick up when you're having a bad day. This book just feels like a warm hug. One of those books that you can just read and feel understood. Definitely, one of my recent favorites.
4. boundaries
If you're a people pleaser, this book is for you. It helps you understand why you do what you do and how can you stop being stuck in this people pleasing cycle.
I don't think there's any other such book on boundaries out there. And I think more people need to learn about having a loving relationship with others without being dependent on them or vice-versa.
5. the secret
Okay, I'll be the first one to admit that this book is a little too out there. But when my 19 yr old self learned about manifestation for the first time, I was mind blown.
And while I a BMW hasn't magically appeared in my garage yet, I have seen the power of positive thoughts and beliefs time and again. The concepts from this book always stay in the back of my mind.
best financial books for young adults
1. Total money makeover
Dave Ramsey is one of the most popular financial speakers out there. And this book gives you a simple straightforward plan to start managing your finances and actually grow them.
I get it, not everyone's a Ramsey person. But if you have no financial system what so ever, this book will change your life. Dave really came through and through by giving you a step by step plan on how to get your money situation together!
2. Unshakeable
Tony Robbins talks about the basic concepts of financial stability by giving examples of some of the most successful people he's worked with. the concepts are simple to grasp and will give you an action plan to execute.
One of my friends said that "It's one of the books that'll change you before you even finish it. " Pro tip, it talks a lot in terms of the American market, so you might fins some things unrelatable if you're not from the US.
3. 4-hour workweek
More than money mindset, this is a business mindset book. And talks a lot in terms of ROI – investing your time in things that'll give you the most returns. Definitely something we need to thing about on a daily basis.
I heard Sophia talk about this book a lot and how it changed the way she made business decisions. So, ofc I picked it up. This book is fun, weird, and informative. Tim gives some amazing tips for practical problems that most books forget.
4. Rich Dad, poor dad
If you're stuck in the "get a degree, get a job, pay your loans" cycle, you need this book to break free. A lot of us grow up with the same financial beliefs that actually keep us stuck.
Well, this book will spill all the secrets that the rich teach their kids. If you really want to uplevel your life and build wealth, this book should be your go-to!
5. money a love story
This book talks about your relationship with money in a way that makes sense. It's one of those best self help books that actually work because of the exercises and prompts that'll really help you dive deeper.
I was randomly searching for money books on google when I found this one and it is truly a gem. Definitely one of the underrated books. If your relationship with money is non-existent (like mine was) you need to pick up this book. And I swear you'll start seeing money in a very different light.
6. you are a badass at making money
Everyone is already obsessed with the badass series. This book isn't just about money but also about success. And focuses on the fears and blocks that are holding you back from going for what you want.
I picked this one up because I love jen's writing style – she really speaks to you. Ngl, a lot of the concepts in this book are pretty similar to her other books. But if you haven't read any of her books, then give it a shot.
books on self-love and confidence
1. you are a badass
My absolute fav book of all time. There are two main concepts of this book – self love and spirituality. This book talks about being spiritual in a way that's not religious and it's a concept I never heard about before.
Jen's writing style is fun, easy and to the point. It's one of the best self help books that actually work because the combination of the concepts, bada*s self love reminders, exercises, & Jen's personal stories will definitely impact you.
Related Post : Book Review- You Are A Badass
2. Self-Love Experiment
Too many of us are too harsh on ourselves. No matter what you goal in life is – weight loss, getting a new job, or learning to love again, you need to believe in yourself first. And Shannon will help you accomplish just that!
Shannon talks about her own life experience of recovering from eating disorders, depression, stuck in corporate lifestyle, and how she the ideas from this book helped her. It's definitely one of the best books that actually work.
3. daring greatly
Who doesn't love a Brene Brown book? She's one of the most influential writers. This book mainly tries to break the norm that vulnerability is weakness, based on 12 years of her research.
This book will truly help you see things in a different light – taking risks, being yourself, deciding to finally change your life. One of my favorite chapter was on parenting, she really gave some new tangible parenting advice that you definitely need to hear.
4. champagne diet
This book is talks about having a healthy lifestyle, but in a way that TRULY works for you. Which is something that most self help authors miss. She takes her own example of how she stopped being obsessed with a number on the scale, and created a diet where she ate healthy and popped champagne and made it work 😉
Cara Alwill is all about breaking the rules, being loud, and doing what you love ( go follow her on Instagram and you'll know). I listened to the audiobook and she definitely gives the big sister vibes who'll always have your back no matter what.
5. Year of yes
Shonda Rhimes, the creator Grey's Anatomy and Scandal, did a year long experiment of saying Yes's to things she's normally shy away from. And how it literally transformed her life.
The thing is we say no to things that we'd love to do but are scared of, and yes to things that don't really matter. Try for yourself, for today say 'yes' to everything that comes your way and see how your self confidence will rise once you accomplish those.
books about self awareness
1. claim your power
If you're ready to go on a 40 day roller coaster journey to find your purpose and start living a more meaningful life, you need this book. It's the best self help books that actually work when you're feeling stuck in life.
I'm intrigued by self awareness books right now and this is one of the books that everyone recommends, so I'm picking it up. I love actionable books so, I'm excited for this one.
2. Ikigai
I'm sure you've heard of this book before. It's based on a Japanese concept, which says that everyone has an ikigai – where what you love, what you're good at, what you can get paid for, and what the world needs all overlap.
The author did his research thoroughly and explains the same concepts with a fresh (Japanese) point of view. Reviews also say, this book serves you every bit as good as therapy.
3. breaking the habit of being yourself
We keep on repeating the same stories in our head until we make them our truth. And some of them become our limiting stories that hold us back from being successful.
This book has some manifestation stuff in here but it's all about why you keep repeating the same patterns and how to create new ones. Some of these concepts will truly blow your mind.
4. Self-Aware: A Guide for Success in Work & Life
This book focuses on the part that emotional intelligence plays in your success in career, relationships and life. And becoming self aware is the first step to increasing your emotional intelligence.
It's targeted towards young professionals and adults – so, if you fall in this category, you'll thoroughly enjoy it. And has tons of exercises that'll actually help you understand the point instead of just reading it.
Best Self Help books about habits That Actually Work
1. atomic habits
This books about habits is on everyone's tbr, and rightfully so. Especially because James Clear puts the point across in such a simple manner. This book really goes in depth about how small changes in your daily habits (like, even how you wash your dishes) have a huge impact in your life.
There's no way you wouldn't wanna start a routine after reading this book. And because it'll drive you to take action, it's one of the best self help books that actually work.
2. 7 habits of highly effective people
My coach, Rob Dial, recommended this book and said that this was one of the first books he read. It's a short read and will give you the 7 key habits that will actually drive you to success.
The best part is, that unlike other books about habits, the author really dives deep into why those habits are important and how can you implement them in a way that works for you.
This post is all about best self help books that actually work.
Related Post