If you're in your 20s and looking for books to help you change your mindset so you can be happier and live more abundantly, this is the reading list for you!
Your 20s are a decade of learning and growth. You are constantly pushed out of your comfort zone and into the real world.
And the right books and authors will help you along the way. There are numerous good books out there that have the potential to transform your life. And some of them are listed below.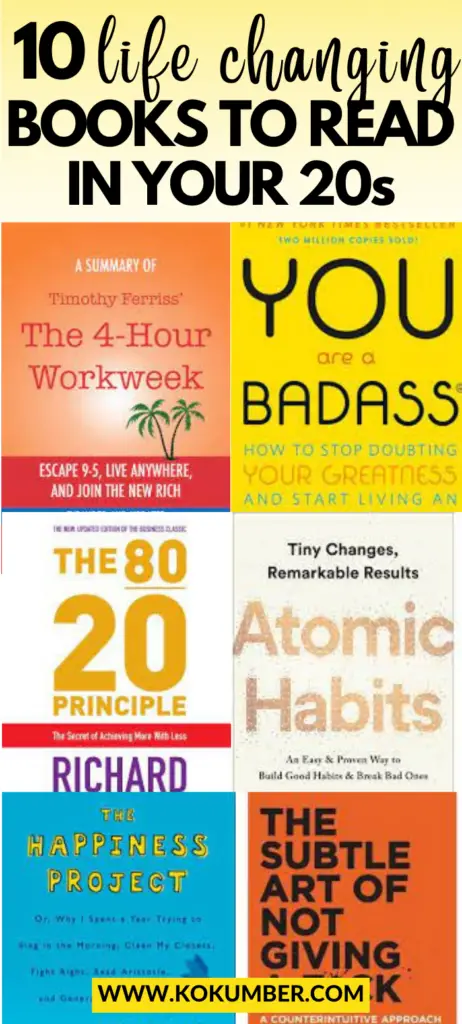 I also understand that in your 20s, you may be too preoccupied with school or work and finding time to read can be hard. Well, Blinkist solves this problem for you.
Blinkist is an app that takes the most important lessons from your books and deliver them in bit sized audios (mostly 15 minutes). This way, you're able to grab the lessons without wasting much of your time.
You can also take advantage of this Black Friday sale and use blinkist to determine which books you'd like to delve deeper into!
10 Books You Must Read In 20s
1. You Are A Badass
If you're new to personal development, this is the book to start with. Jen does a great job explaining all concepts of personal development, from limiting beliefs to self love and spirituality.
This books takes you from 0 to 100. Jen gets right to the point and includes a number of action steps in the book that you can start taking right away.
This book is available on audible, amazon and blinkist.
Related Post : Book Review – You Are A Badass
2. Atomic Habits
Creating habits and systems that improve your life is the simplest way to achieve long-term success. The book Atomic Habits teaches you how small daily habits can have a big impact on your life.
I haven't read the book, but listening to the key points on blinkist taught me a lot of new things, so I added this to my reading list. This book is available on audible, amazon, and blinkist.
3. Boundaries
This book discusses the importance of setting healthy boundaries in your relationships. Not just romantic ones; this book also discusses setting boundaries at work, with parents, friends, and in a marriage.
In a world where everyone has easy access to you via the internet, setting boundaries is critical. This book is available on audible, amazon, and blinkist.
4. The 80/20 Principle
Do you find yourself working all the time but never seeing any results? It could be because you're focusing on the wrong things. It is said that 20% of your efforts determine 80% of your results.
This book explains the 80/20 rule in detail. You can find this book on audible, amazon, blinkist.
5. 5 Major Pieces Of Life Puzzle
Jim Rohn is one of the most influential self help authors. In this book, he simply explains the 5 major pieces that you need to focus on and improve in order to triumph in life.
It's a quick read and you can find it here on audible, amazon.
6. The 4-Hour Workweek
In this book, Tim Ferris discusses the concept of the "new rich." This is solely for entrepreneurs who want to create a work-life balance centered on happiness in order to avoid burnout.
If you want to quit your 9-5 and start living the 'new rich' life, read this book. You can find this book on audible, amazon, blinkist.
7. Subtle Art Of Not Giving A F*ck
This book primarily discusses how not giving a fck (as the title implies) to things that don't matter can help you simplify your life. That's something we could all use, right?
Aside from that, the book teaches you how to focus on your goals, accept responsibility for your actions, and choose your sufferings. It's a good read that's available on audible, amazon, and blinkist.
8. Richest Man In Babylon
With the help of short stories, this book explains how to accumulate wealth no matter where you start in life. To be honest, it was written in 1926, so the language may not immediately resonate with you.
But the lessons are priceless! This is available on audible, amazon, and blinkist.
9. The One Thing
Do you frequently find yourself juggling all of the tasks on your to-do list? If yes, then this book will make your life easier. The author explains how concentrating on only one thing at a time can yield extraordinary results.
Learn more about this concept from the book. Available on audible, amazon, and blinkist.
10. The Happiness Project
What exactly is happiness? Gretchen, the author, spent a year experimenting with her "happiness project," which led her to understand the concept of happiness.
In this book, she describes how her one-year project led her to a happier, more fulfilled life and what she learned along the way.
This book is available on audible, amazon and blinkist.
What Books Are On Your Reading List?
These are some of my favorite self-help books to get you started on your personal development journey. Even if you're not in your twenties, you can get started with these today!
Comment below which books are you adding to your reading list?