*This post contains affiliate links.
I've been meaning to do a book review for a long time but never got around to it. But after reading You Are A Badass: How To Stop Doubting Your Greatness And Start Living An Awesome Life, I couldn't help but recommend it to others. I'm not a professional book critic, but here's my honest take on how this book made me feel.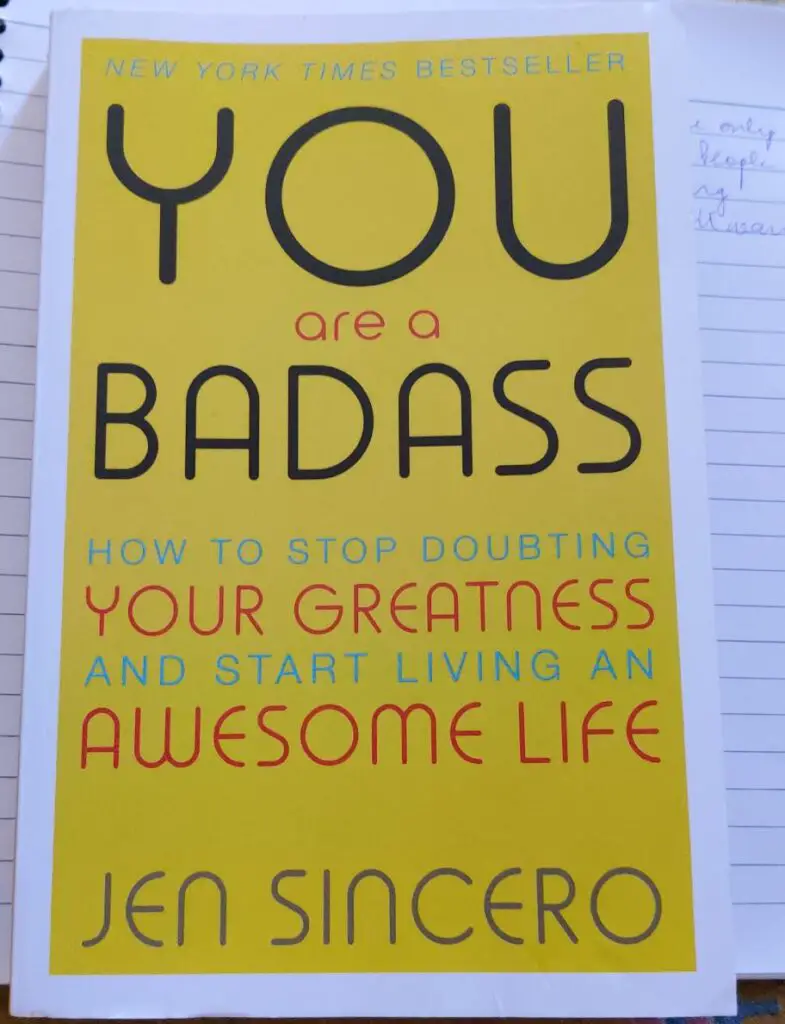 You Are A Badass In 3 Sentences
This book delivers all the concepts of Personal Development in a light hearted yet kick-in-the-a** manner. And helps you understand concepts like Self Love, Spirituality and Manifestation. This book is filled with real-life experiences and action steps that you can take right away to start living an awesome life.
First Impression
The book's first line, "I used to think inspirational quotes were a bunch of crap…", threw me off a little. You don't expect something like that in a self help book.
But the fact that Jen discusses Limiting Beliefs and Law of Attraction right away in the first two chapters drew me in. It's clear that Jen isn't interested in being preachy and will get right to the point.
How I Discovered It?
I am taking the 75 hard challenge where I am reading 10 pages per day. As soon as I finished my previous book, Boundaries, I began looking for a new one. I discovered this book by chance and ordered it.
Interestingly, after purchasing this book, I saw Cathrin Manning recommend it in one of her videos.
Who Should Read?
If you are new to personal development, this is a great book to start with because it touches all the concepts in this genre. And she does a good job of explaining them.
In fact, before reading this book, I had never fully grasped the Law of Attraction. Despite the fact that I've read The Secret a couple times (also an amazing book for learning about LOA).
It also explains spirituality in a way that has nothing to do with religion. It's a book that you can read again, specially when you're going through tough times.
If you don't like reading, you can definitely check out the audiobook. Use this limited time deal and get Audible Premium+ membership for only $5 a month for 3 months!
How The Book Changed Me?
The exercises in this book assisted me in becoming aware of my thought patterns. And identify and reframing the thoughts that are holding me back (Limiting Beliefs).
I learned about self-love, which is one of the book's main ideas. I also wrote a blog post about the self-love practices I learned from this book.
The most important lesson I learned from this book was to have faith.
'If you have faith in yourself, your dreams, your abilities, unseen, and the universe or god, then nobody can stop you from living your dream life.'
Top 3 Quotes From You Are A Badass
The entire book was filled with remarkable sayings; here are the three that stood out the most to me.
When taking great leaps forward, life often turns to shit before it turns to Shinola.
(Loving Yourself and working towards creating your best life is uncomfortable) If it wasn't uncomfortable, everyone would be out there all in love with their fabulous lives.
God won't let his power determined by cowards.
The final quote is by Ralph Waldo Emerson, but I discovered it for the first time in this book and I loved it.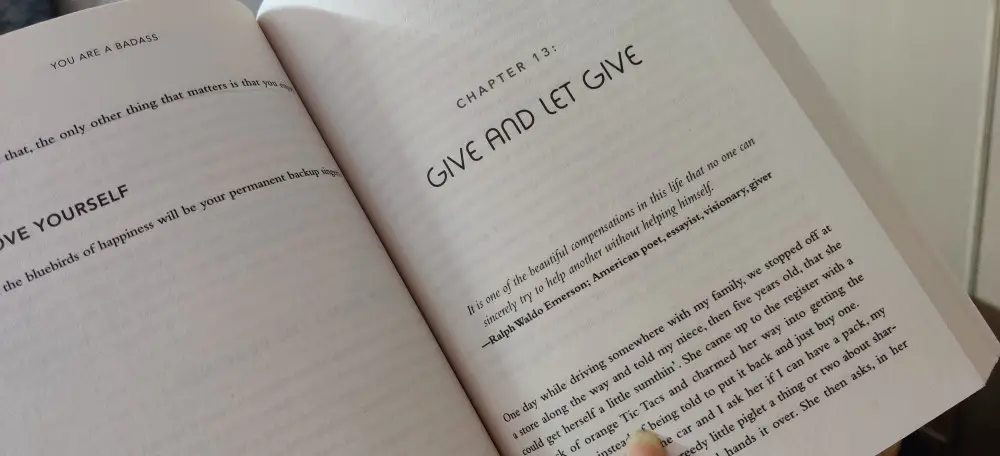 Summary And Notes
The book is divided into 5 parts, each having it's own sub parts (chapters)
Part 1 : How You Got This Way
The first step towards personal development is self-awareness. This section helps you shed light on your limiting beliefs and the stories you've been telling yourself.
Part 2 : How To Embrace Your Inner Badass
This part talks about accepting and loving yourself the way you are.
Part 3 : How To Tap Into The Mother Lorde
About how to manifest and create your dream life, and how to be your higher self.
Part 4 : How To Get Over Your B.S. Already
This section discusses procrastination, time management, fears, and how to stop making excuses in life.
Part 5 : How To Kick Some Ass
This part focuses on taking action and creating your ideal life.
The two main concepts of You are a badass, that I loved the most are:
Self Love : Jen Sincero is a huge advocate of Self Love. As a result, at the end of each chapter, she reminded us of various reasons why we should love ourselves. Love yourself… regardless of what others think, more than your drama, and while you still have the chance.
While the entire book revolves around this concept, Part 2 delves deeper with strategies and exercises to help you be more intentional about self love and self care.
Spirituality : I know what you're thinking: a shaman on a mountain, a lady working with crystals, or something like that. This book will alter your entire outlook on spirituality without requiring you to be religious in any way.
It's more about believing in a higher power, even if it's just your higher self. You know you're not living up to your full potential, and the moment you decide to become that higher version of yourself, miracles will occur.
The author mentions that if you have unwavering faith in your dreams and immense gratitude for what you have now, you can manifest anything.
A few other things that I liked about this book was :
Throughout the book, Jen Sincero shares her own experiences to help you relate. She mentions at the beginning of the book how she was one of those cool kids who thought personal development was for losers. And then, how hiring a life coach helped her expand her business and triple her income in just 6 months.
Because she understands that point of view, she can explain things from the perspective of someone who is stuck in a victim's cycle and isn't ready to take control. Also, she has actually sold all her property to just explore the world. That right there, is GOALS!!
I love Jen's writing style. She's cool and funny, but calls you out on your bullshit straightaway. She writes in a conversational tone, as if you're talking to a friend and seeking advice. Many personal development books, particularly those written in the 1990s or earlier, are difficult to relate to and thus sound preachy.
Jen gets straight to the point, and includes enough action steps throughout the book for you to use as a guide.
Are You Up For Reading You Are A Badass?
Clearly, I highly recommend this book. Leave a comment below with your thoughts on this book.