This post is all about home office organizing products you never thought of!
Disclaimer – This post may contain affiliate links, which means I'll receive a commission if you purchase through my link, at no extra cost to you.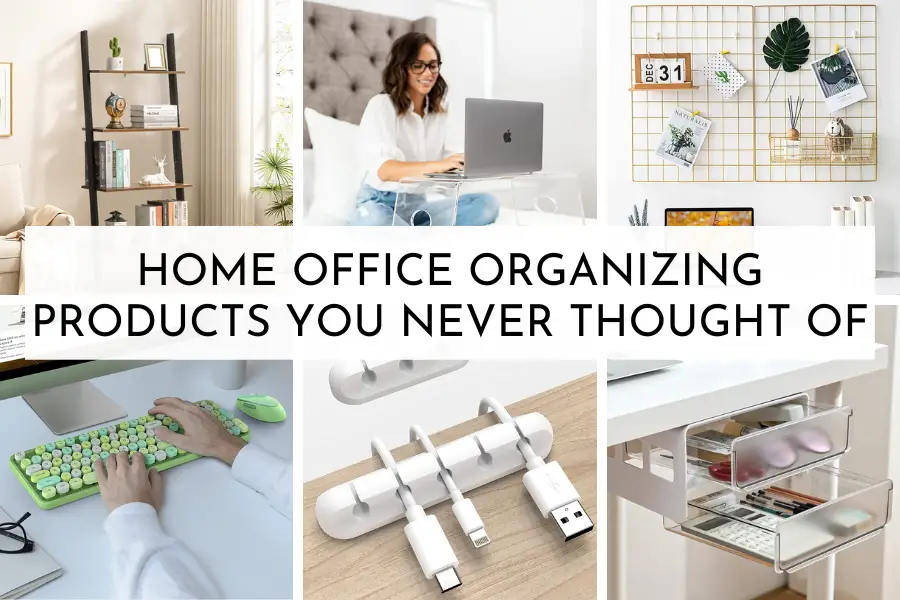 Having an organized and aesthetically pleasing desk doesn't just make things easy for you but also motivates you to be more productive. Clean space, clean mind is no myth!
I used to work from bed with my ofc table but it just wasn't the best. Recently upgraded my home office and trust me I feel so much more on the go when I sit down at my desk to get sh*t done.
I don't know about you but I like my work desk to be empty so that I have enough room for hand movement. Here are some products that'll help you get everything out of your way into the right place, making your office look organized and aesthetically pleasing.
These are simple most practical organizing products you never thought of but always needed.
Organizing Products You Never Thought Of
1. cable cords
One thing that your office desk is always going to have is cables . . . lots of them. From laptop and phone chargers, to lan cables. They occupy a lot of space, look so messy and always get tangled up.
Trust me, these cable cords are the best organizing products you never thought of. They'll keep you cables intact, so you won't have to untangle them every time you want to use something.
2. multipurpose charger
I'm not sure about you but I always have a hard time trying to find my chargers, specially for my earphones. This multipurpose charger is the best solution for that.
It'll keep you phone, earphones and smart watch full charged. And it's wireless so you can move it around as you like.
3. wireless mouse & keyboard
If you're someone who spends their entire day working on a laptop, you NEED to get a wireless mouse. You'll thank me later!
It might be a little too niched lol, but while using the laptop touchpad, your 3 fingers are always hovering in the air that ends up causing pain. Using a wireless mouse is so much more comfortable instead.
And with a wireless keyboard you can keep your screens a few inches away without having to stretch your hands to type.
4. monitor notes board
I constantly keep on updating reminders on my phone of things that pop up in my head that need my attention later. But sometimes, you don't have a phone or a notebook around.
Here's a better home office organization hacks, use this monitor message board to write down important reminders and things you want to keep in front of your mind, so that you can easily get back to them later.
5. clear laptop table
If you're a work from bed/couch kinda person (honestly, who isn't?), this laptop table is the organizing products you never thought of. It keeps you from slouching down and sitting in lazy positions every time you work.
This has been on my list ever since Cathrin Manning recommended this. I already can't function without the laptop table I have right now, but the aesthetics of this one are 🤌🏻
6. Keyboard cleaning gel
It's kind of gross how dirty our laptops get. If you've gone ages without cleaning your keyboard, this cleaning gel is the organizing products you never thought of but really need.
My friend also ended up using it to clean her car and other stuff.
7. Rolling carts & trays
If you have less storage space in your office, rolling carts can be the perfect addition. This one from amazon won't occupy much space and will also elevate your office aesthetics.
If you have a little bit of cabinet space and want to utilize it fully, you can add these rotating trays. I use them everywhere around the house, from my office stationary to my kitchen spices.
8. transparent erasable to-do list
This is the #1 home office organization hack that'll keep you productive. Keep a to-do list on your desk so you always have it in front of you.
I don't write my to-do lists everyday, but I love doing a brain dump of all the tasks from time to time, to keep me from overwhelm.
One thing that you must try is, use these to-do pocket cards to write down your top 3 priorities everyday. These are the 3 main things you need to focus on, everything else that you get done is a bonus.
9. Paper organizer Tray
The best thing about this tray is that they are stackable. So it occupies less space and things look more organized.
They're so light weight yet sturdy and look so sleek. You can use these to stack up your planners and notebooks easily.
10. Phone Holder
Phone stands deserve a permanent space on your work desk. Just make sure you're not getting constantly distracted by it, in that case, put your phone in a drawer.
But phone stands are really useful when you're joining a meeting via phone or want to play something in the background while doing some low focus tasks.
11. Reusable planner
How cool is this? The Rocketbook planners will definitely change the way you plan and make notes. If you're a big paper planner girl (like me) and want a sustainable way to plan this is it.
You can write down your to dos in the planner, scan it to store it in your phone and then reuse the same page.
12. desk drawers & cabinets
It's so hard to find a desk with enough leg space while having drawers & cabinets on the side. And I know, you're not compromising on leg space. so, that means having a desk without drawers.
That's why this is the perfect home office organization hack. Add these drawers under your desk to add some storage without occupying much space.
13. Pen holder
Having a pen holder on your desk is pretty obvious. But what about having a holder for your phone, cards, and 100 other random things that are always lying on your desk.
This Kingfom desk holder can store literally EVERYTHING. And it's compartmentalized so well that you can easily access everything in there. Although, it might end up occupying some extra space on your desk.
14. Folders
I swear, the worst thing that needs organizing in the workspace are documents. Because, even loosing a single document can create a lot of chaos. I used to have so much trouble trying to find my marksheets (even on my phone), until I started keeping them all in a folder. Trust me it ends up saving so much time and frustration.
15. Productivity Timer
Here's another products you never thought of even though you see it on the internet all the time. Start using an actual timer instead of checking your phone every hour (that always ends up with you landing on tiktok)
This is literally the one home office organization hacks that'll massively improve your productivity.
16. Wire grid
Adding a wire grid to your workspace is genius! Place it on the wall that you're always facing. You can use it to create vision boards to keep you motivated and add important reminders.
This one also has a few containers that you can use for storage. And it looks pretty so it would improve the aesthetics of your room too!
17. Desk lamp
If you need some extra light on your desk, this would be perfect. This desk lamp by globe electric is small so it won't take up a lot of space, has a sleek look (even the wires are clothed), and is an affordable option.
18. Leaning bookshelf
If you are a book lover, you'd love this in your home office. It's the perfect home décor addition and of course, it'd free up some storage.
You can use the middle shelves for things you usually reach out for. You can put your speakers, books, calendar, or plants even (that'll be a great idea), on the ladder and make it work!
19. Post it notes dispenser
This home office organization hacks will save your life! I can't even tell you the amount of random notes I have on my phone. I mean, things just keep on popping up while working.
This way, you can easily write them down on a post it note and place it somewhere so you don't end up forgetting about it.
20. Headset hanger
It might be random but definitely an organization products you never thought of but really need. I mean, this is how you get into your zen mode, right? – putting on your noise cancelling headphones, playing binaural beats and getting sh*t done.
That's why having a headset hanger that's easily accessible (and movable) would be far more convenient than carrying them around on your neck or having yet another thing on your desk.
This post is all about home office organizing products you never thought of!
Related Post