This post is all about the ultimate "Organize my life" checklist you need to get insanely organized in all areas of life.
Disclaimer – This post may contain affiliate links, which means I'll receive a commission if you purchase through my link, at no extra cost to you.
Organizing your entire life can be so overwhelming. You need to look at everything from your home to finances to your everyday routines.
And while there are a 1000 different ways to do this, NOTHING works better than lists, specially when you have 1000 things going on in your head.
In fact, I'm much more likely to forget about things, if it's not written down on paper. That's why, I love having a proper checklist system for everything to make sure I'm not missing out on anything,
I'm all about making things as simple as possible – life is hard (and messy) as it is. So, here's an ultimate "Organize my life" checklist (divided in 10 main categories) to organize 10 main areas of your life (that literally covers everything).
You don't need to use all these lists at once (that's never a good idea!) but having an ultimate checklist to look back to can be very helpful.
10 Areas In 'Organize my life' checklist
1. Home
It's so hard to get anything done, if your home's a mess. You're not able to find anything you need and if you're anything like me, you probably spend hours daydreaming about an organized home.
There's so much that goes into organizing a home and keeping everything in place, than just decorating the space.
That's why creating checklists to keep your home organized will save your sanity. This includes checklists for all the household chores, shopping list so you can batch your trips together,
. . . or checklists for your deep clean routines for areas that don't need your attention everyday.
Here are some of the checklists to keep your home organized:
Laundry routine checklist

Room-wise cleaning checklist of things that need attention.

Marie Kondo method checklist – Divide everything in 3 categories of things you want to keep, sell or donate.

Items to buy for the house – Divide this into "need this now" and "would be nice" categories.

Monthly checklist of all the bills and utilities to take care of.
2. finances
Another important category on "organize my life" checklist – Finances. If you're falling behind on your money goals, trust me this is exactly what you need.
In fact, sometimes having disorganized finances reflects in all other areas of your life as well.
If you don't use anything else, simply start a monthly expense tracker checklist. A lot of people don't have enough awareness around there money and that's why aren't good with money. This itself is so empowering.
Here's everything to add to the finance category in your "Organize my life" checklist :
Monthly income and expense tracker

Monthly budget planner – Have your 6 main categories and plan your expenses accordingly + keep it realistic.
Money goals checklist – Write down all the financial goals you want to accomplish – buying a car or an outstation trip. This will also help you budget your money smartly.

Savings challenge tracker – This is my favorite kind of checklist, because it's kinda fun. Here's a savings bundle you'd love :
Money mindset tracker – Not enough people pay attention to this but you also need to audit your thoughts about money and how they're affecting your reality.
3. health
Whether you want to schedule your workouts, track your water intake, or plan your meals, this is the best way to track your health goals. This is definitely on top of everyone's "organize my life" checklist.
Identify what your health goals are (be very specific), and how you want to accomplish them (your form of exercise) and then create checklists that'll make it easier for you to stay on track.
Here are some examples :
Workout planner checklist

Habit trackers for all the healthy habits you're trying to start
Water and sleep tracker

Meal planning checklist – saves you so much time, energy and money

Progress tracker – to see if something's working for you or not
4. Goals
Setting goals gives your life a direction, and helps you avoid mindlessly working on things that you don't even care about! Who wants that?
So, write down your goals, categorize them into 4-6 main categories (health, career, study, family etc) and prioritize 3-5 goals. This will help you understand what are the main areas to focus on this year.
If you know me, you know I love setting goals – even monthly and weekly. Mainly because they motivate me to work towards something instead of letting days pass by.
If you've no idea where to begin, use the kokumberplans 2023 goal setting sheets.
Here's a simple "Organize my life" checklist for you goals with steps to follow:
Brain Dump everything that you want to accomplish – big or small.

Categorize your goals

Prioritize 3-5 main goals. Be very specific about them.

Have a word of the year.

Steps you can take immediately and why you want to accomplish that goal (The mindset part that's equally important)

Set specific deadlines

Make an epic goals list, i.e. a list for your big fat scary goals. Answer this : If anything could be possible, what would you want your year to look like?
5. Check ins
I had a bad habit of setting goals, taking the actions and then never looking back to see if it was working or not. So, ofc I had the hardest time achieving them.
I learned it the hard way that check-in lists are very important. I have weekly, monthly and yearly check ins in 2023 planner.
Check-ins accelerate your growth and help you be more systematic with your actions, instead of mindlessly following a plan. It enables you to replicate what works and improve on what doesn't.
Here's a simple weekly check in "Start Stop Repeat" Method:
Every week, create 3 lists –
Start : Write down all the habits you want to start this week

Stop : Habits you want to stop doing

Repeat : things that went well, and you want to keep on following.
6. Routines
There are so many tasks in your everyday life that you repeat weekly, or even daily – like cleaning. It's better to have a set routine, so you don't waste time deciding what to clean EVERY day, and you don't end up forgetting anything.
Also, having a routine helps you be more intentional with your time and actions.
For eg, what's the point of getting up at 6 am if you don't even know what you want to do in the morning?
Or if you know you struggle with sleep at night due to all the overthinking – create an evening routine to do activities that help you wind down – read, meditate, journal etc.
I swear, creating routines is the simplest way to elevate your lives. Here are all the routines you can add to your "Organize my life" checklist:
For repetitive work activities. eg : checking emails only 30 mins in the morning.

Habit tracker – It's soo important to keep track, instead of just setting goals lol.
7. Weekly scheduling and to-do lists
To-do lists are the most used lists on the ultimate "Organize my life" checklist. It helps you brain dump everything that's on your mind and tackle them one by one.
Unpopular opinion, but to-do lists don't work for me. Here's why – when I plan my days using to-do lists in the morning, my brain (being inherently lazy) usually avoids the most important tasks for later. And, I end up procrastinating my priorities.
So, I try to plan my weeks ahead of time instead. It gives me a clear idea of what my days are going to look like, nothing catches me off guard, and all I gotta do is follow the calendar.
Related Post : How To Plan Your Weeks Efficiently
Here's what your monthly & weekly planning checklist can look like :
Monthly Plan
Start by scheduling all your appointments and deadlines.

Then, write down your top 3 goals

Also, the habits you want to focus on.

Next, create a high level plan to accomplish it.
Weekly Plan
This is where you can go granular. I like to time block my weeks.
Do a brain dump of everything that needs to get done this week. Be very specific.

Schedule all the tasks on calendar.

Set reminders for meetings and appointments.
8. Digital declutter
The one thing on your "Organize my life" checklist that you'll look through, but also needs the most attention. A clean space equals a clean mind. And we live on the internet today. So, you certainly need to keep a check on your digital space as well.
Make a list of all the things you want to declutter – from your emails to your phone's gallery. Feel free to unfollow, delete and do a complete cleanse.
The main reason I never get to it is because I find it a little too overwhelming, which is why creating a list is the best solution. It helps your brain see things clearly and come up with a simple plan.
Here are some steps to add to your digital declutter checklist :
Write down different declutter categories (or make separate lists) – phone, cloud, laptop, hard drive

Create a system – schedule some time, write down your action plan

Take backups of necessary stuff.

Organize the remaining files into categories properly (Use Pinterest for inspo)

A weekly/monthly system so you never fall into this again.

A system to organize your daily activities like checking DMs and mails.

Social media cleanse – removing people/content that's not serving you.
9. Mental health
If your mental health is not good, you're not going to feel like you have your sh*t together no matter what. So, this category is more important than you think.
Your mental health is interlinked with all of the other categories as well, but I mentioned it as a separate category so that you actually focus on this while organizing your entire life.
There are a million different way to do this but it all comes down to prioritizing yourself and doing what works for you.
It's definitely the most important thing on "Organize my life" checklist. Here are just some basic things you can do to keep your mental health in check :
Routines List – covered it already but I believe having a morning routine is really powerful!

Good vibes list – A list of all the things that bring you good vibes. Eg: playing with your pup, your favorite meal, or going on a trip.

Self Care Sunday plans – Download a free self care planner here.

Books to read – If reading a book sound like your kind of self care activity, create this list.

Journal – Create a list of journal prompts that help you destress and relax. You can also use gratitude lists to bring in positive vibes.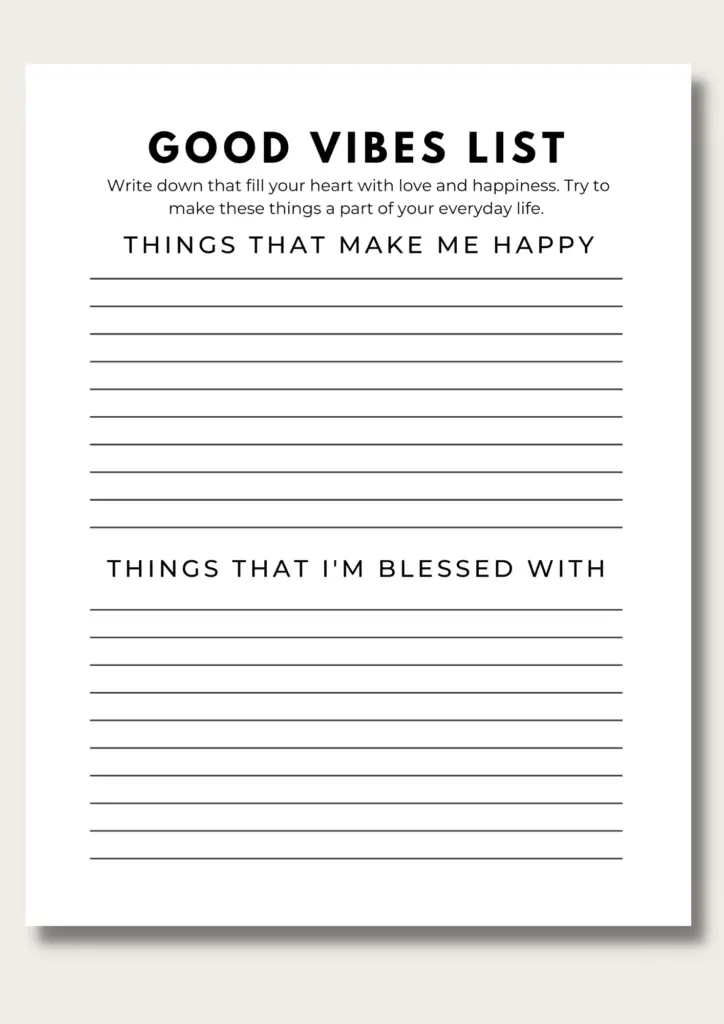 10. Miscellaneous Lists
If you are a planner like me, you can already think of 10 different checklists that you need to stay insanely organized. From, emergency checklist, to password trackers, to travel plans.
You know, things that aren't useful on a regular basis or even that important. But what's the harm in being prepared for the exceptional days? Here are 3 more fun lists to help you stay on top of your game.
Misc lists on the ultimate "Organize my Life" checklist:
Gifts to give – This list will save your a*s during the holiday season. Keep your ears open and notice what gifts your friends and family are asking for the entire year. And be everyone's favorite santa this year.

Travel plans – If you have a dream trip, it's time to start planning for it. This list will motivate you to start saving money for the trip and actually make it come true.

Party planning – This is such a Type A thing to do, haha. But if you love being a host, you'll understand how genius this hack is. Create a list of all the things you'd need, to host the best party ever – the décor, the recipes, the games – mention them all.
This post is all about the ultimate "Organize my life" checklist you need to get insanely organized in all areas of life.
Related Post