This post is all about the ultimate daily healthy habits list that every busy woman needs!
Disclaimer – This post may contain affiliate links, which means I'll receive a commission if you purchase through my link, at no extra cost to you.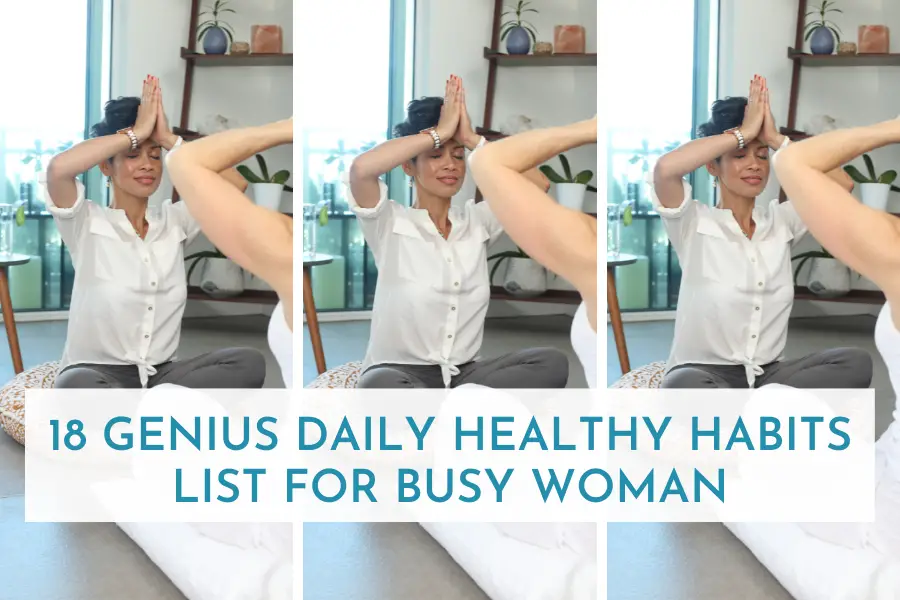 It's easy to loose your sense of routine (and life, in general) when you have a calendar filled with meetings and are working 24*7 (or even 9*5 . . . but you get the point). You can end up spending your entire day on your desk, if you're not intentional about it.
I can tell you firsthand, that I got to a point where I really wanted to make some healthy changes in my life but every healthy habit seemed so time-consuming, that I'd call it quits before even trying.
So, if you're stuck in this cycle where you want to start healthy habits but are too busy for a 2 hr gym session or 1 hr meditations, I've got you covered.
Here's a daily healthy habits list that are so easy to execute, you'd wanna start them today, made for busy bees like you!
But before you go ahead, I just want to remind you that don't need to start a long daily healthy habits list. Just start with 3 most important ones right now. Stay consistent with them. And use that to create a ripple effect of positive change in your life.
Remember, don't overwhelm yourself with 10 new habits. That's not gonna help in the long run!
This post is all about the ultimate daily healthy habits list that every busy woman needs!
Daily Healthy Habits List
productive lifestyle habits
1. plan your weeks ahead
Plan your week on Sunday. Or if you don't wanna spend your Sunday evenings thinking about your big to-do lists, do this on Monday mornings. But planning ahead will literally save you so much time.
And avoid so much drama (talking from experience here!)
Put everything that needs to get done on the calendar, and then all you gotta do for the rest of the week is follow the calendar. This way you don't have to get up everyday and figure out what needs to get done and it reduces your chances of procrastinating.
You can follow any weekly planning method that suits you. Inside Take Your Weekends Back, I talk about the 'Monday hour one' method that'll help you get more done in 5 days than most people do in a month.
Related Post : How To Plan Your Week To Be Productive
2. use an actual timer on your desk
We all know that using phone while working is NOT a good idea. But I also know that asking you to put your phone in another room won't help either.
As someone who's always on her phone, here's something that helps me stay away from my phone when I need to get sh*t done.
Set small deadlines. Eg – Finish writing the email in 20 mins instead of 35. AND . . . use an actual timer to track time instead of your phone.

Because you know, every time you'll pick your phone to dismiss the alarm, you'll end up getting distracted by something.

Use Freedom app to lock your phone for a certain time. Basically, if you use it to lock your phone for 30 mins, you won't be able to use it even if you want to, except to take calls.

I have 'Zen mode' on my phone that does the same thing. This way by the time Zen mode ends, I'm already in flow to finish the task at hand and don't get distracted that easily.
Related Post : How To Be More Productive If You Get Distracted Way Too Easily
3. check-ins
I have the worst habit of setting goals, taking actions, and then never checking back if they're working or not. Because of this, it usually takes me twice as long to accomplish any goal.
Check-ins are the best, most easiest way to continuously improve yourself and would hardly take 15 minutes of your time. My coach always says, if you're not doing weekly and monthly check-ins, you're leaving so much money on the table!
If you've no idea how to get started, check out the weekly and monthly check-in pages inside the ultimate 2023 planner (they're literally my favorite).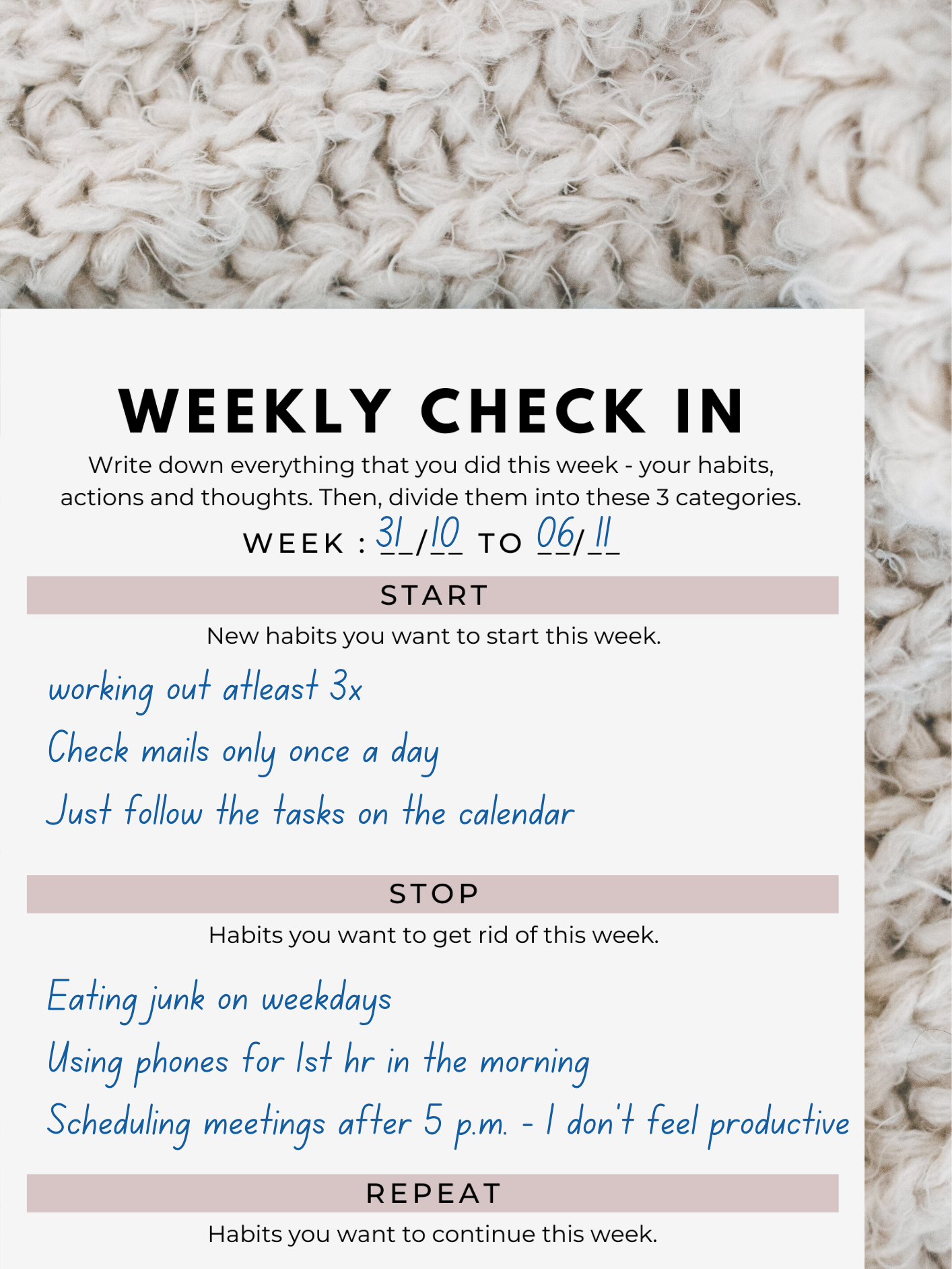 Here's a 5-minute Start, Stop, Repeat method for your weekly check-ins :
Start – Something you want to start this week. eg : Start checking your mails daily.

Stop – Things you need to stop doing. eg : Stop staying up late.

Repeat – Things that you want to continue this week. eg : Continue eating healthy
Related Post : The Ideal Sunday Routine To Prepare For The Week
4. Sleep schedule
I listened to a Guy Raz podcast where an expert said that our focus would improve by 80% if we just start having a proper 8 hour sleep.
We keep on blaming phones and social media for our short attention span, but in reality it's your sleep that's been messing your focus.
If you really want to be productive, start getting your 8 hours in!
Create a relaxing evening routine that helps you wind down at the end of the day, get a comfy mattress, keep your phones one hour aside, use a natural alarm clock – do whatever helps you have a good night sleep.
daily habits for good health
5. Ordering groceries & Meal planning
I know you don't have time to cook dinners every night, but ordering every night is also not good for your health or budget. That's why meal planning (& prepping) can literally save your life.
A genius hack you need to start today is to start doing grocery pickups – Just make a list of all your meals using this magnetic meal planner, have your shopping list and order it to pickup on Friday night on your way back home!
This'll help you avoid the mid week trips to grocery store.
You can also prep your meals on a Sunday. Now, I know this requires some time, but you're anyways going to be watching Netflix. So, put on your comfy show in the background and spend a few hours prepping your meals.
6. sit less, stand more
You haven't got any time to exercise? Well, you can at least opt for healthier options. Sitting has literally become a disease at this point. There's a reason why these standing desks are getting so popular.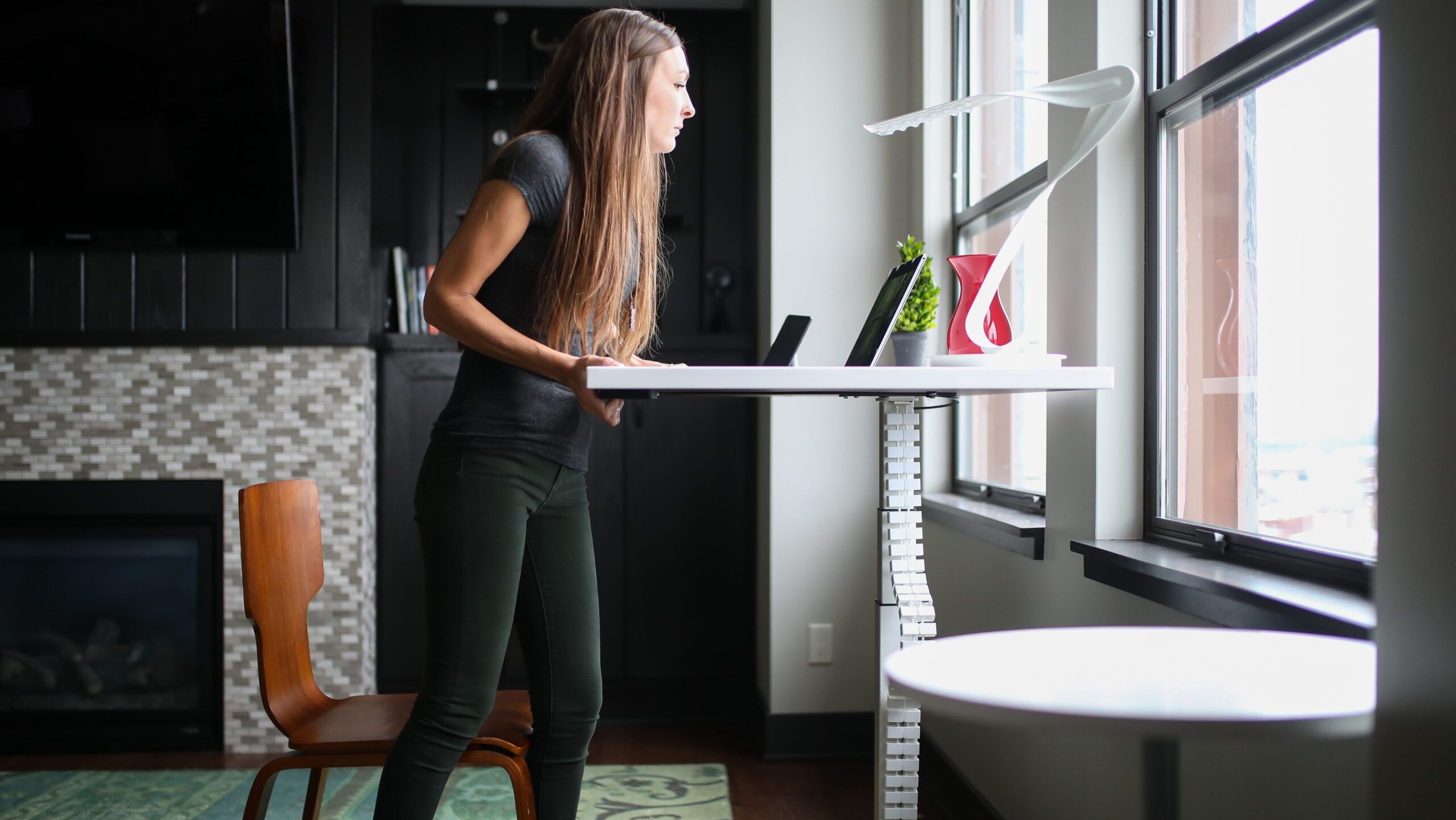 The best one on amazon
People are starting to complaint about back and hips ache, because of sitting on their desk all day long. These standing desk help you add some movement while working.
Also, be more intentional about making time for movement in your day. Whether it is a 15 minute home workout, or 30 minutes walk. You'll always feel better afterwards.
Hot girl walks are my favorite thing right now, it's the best way to end your workday and always make you feel so refreshed.
Hot Girl Walks Essentials
7. Wake up an hour early
This is the first thing you should start doing on this daily healthy habits list. Wake up early and keep an hour in the morning for yourself. Work on yourself before you go out to work for someone else.
I don't know about you, but I always get my best work done in the morning. The world is quiet and you're able to focus better. But it's not just about getting more done.
Your mornings set the tone for the rest of your day. So, it's better to have a calm and motivating morning, than a stressful one.
Pro tip- Have a low energy/high energy morning routine because not all days are the same. And sometimes it's better to give yourself some rest instead of pushing yourself.
Related Post – How To Start A Simple Morning Routine You'll Stick To!
daily habits for mental health
8. no phone 1 hour before bed & after waking up
The amount of time we end up spending on our phones is insane! But using your phone first thing in the morning and before sleep ends up adding a lot of stress and anxiety.
When you wake up to the mails and DMs in your inbox, you automatically start focusing on what others want from you, instead of focusing on what you want your day to look like!
So, keep an hour in the mornings to yourself. Everything else can wait!
If you don't wanna rely on willpower, you can use the Freedom app to turn off notifications and keep your phone locked for the first hour in the morning.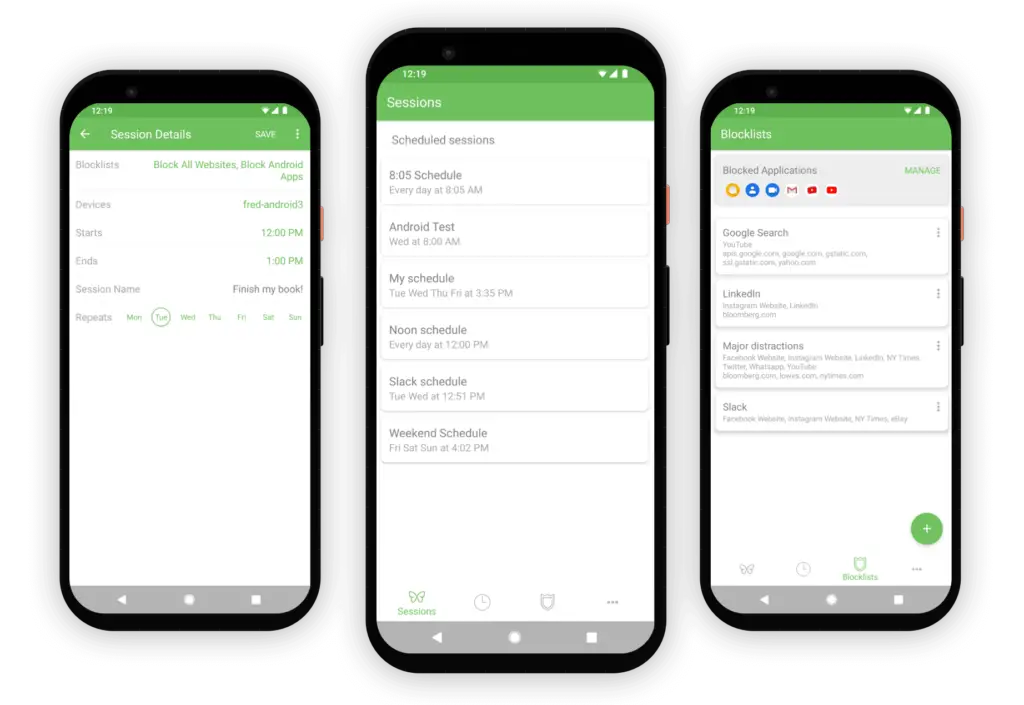 9. Journal
I don't want to add tasks to your already long to-do list, but trust me if you're feeling overwhelmed and stressed due to work, journaling can help you calm down AND even find a solution.
I have so much resistance when it comes to journaling, mainly because I feel it would take so much of my time. But writing my thoughts on paper always helps me see things more clearly and reduce overwhelm.
You can try this simple 5 minute journaling to help you get started!
10. meditate
I know it sounds cliché, but it does help. Specially if you want to calm your thoughts down, improve focus and reduce stress.
Now, you don't need to do an hour long meditation – in fact, getting there takes time! But you can simply get started by doing 10 minute guided mediations using apps like Medito (It's completely free!)
It'll just put you in the right headspace. In fact, I love using sleep meditations on days when I'm feeling anxious and can't sleep.
11. make an achievements list everyday
I know you've got a 1000 things on your to-do list and all you think about at the end of the day is "how much you didn't get done?"
Which is exactly why you need to create this achievements list.
Every night, write down 1-3 achievements of the day (Even if you had a bad day, the fact that you got through it counts!). We usually don't give ourselves enough credit for what we do.
Also, create a gratitude list – it's literally my favorite thing. You're so quick to talk about everything that's wrong.
So, intentionally spend time focusing on the positive as well. Use this simple 5 min journal and trust me, you'll start noticing changes in your mindset withing a few weeks.
daily self care activities
12. hobby hour
This is my favorite category on the daily healthy habits list. Mainly because self care is obviously the last thing on your mind, when you have a long to-do list. But productivity and rest go hand in hand.
I learnt it the hard way, that you can't have insanely productive days, unless you have truly relaxing rest days. And I mean days where you're literally don't think or feel guilty about not doing "work".
Also, don't just spend your rest days mindlessly scrolling through tiktok. Spend time doing mindful activities like paint by numbers, or a puzzle, or a hobby you truly enjoy that helps you be in the moment.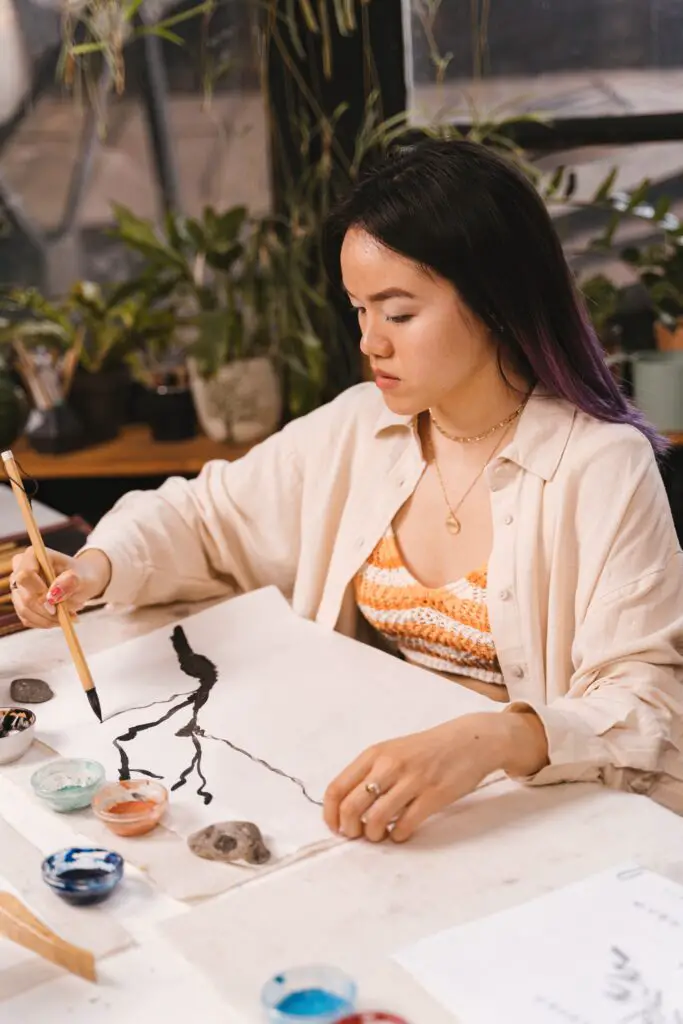 things you'd need
Or building your dream project. Just something that actually helps you relax, and fuels you with energy!
13. Skincare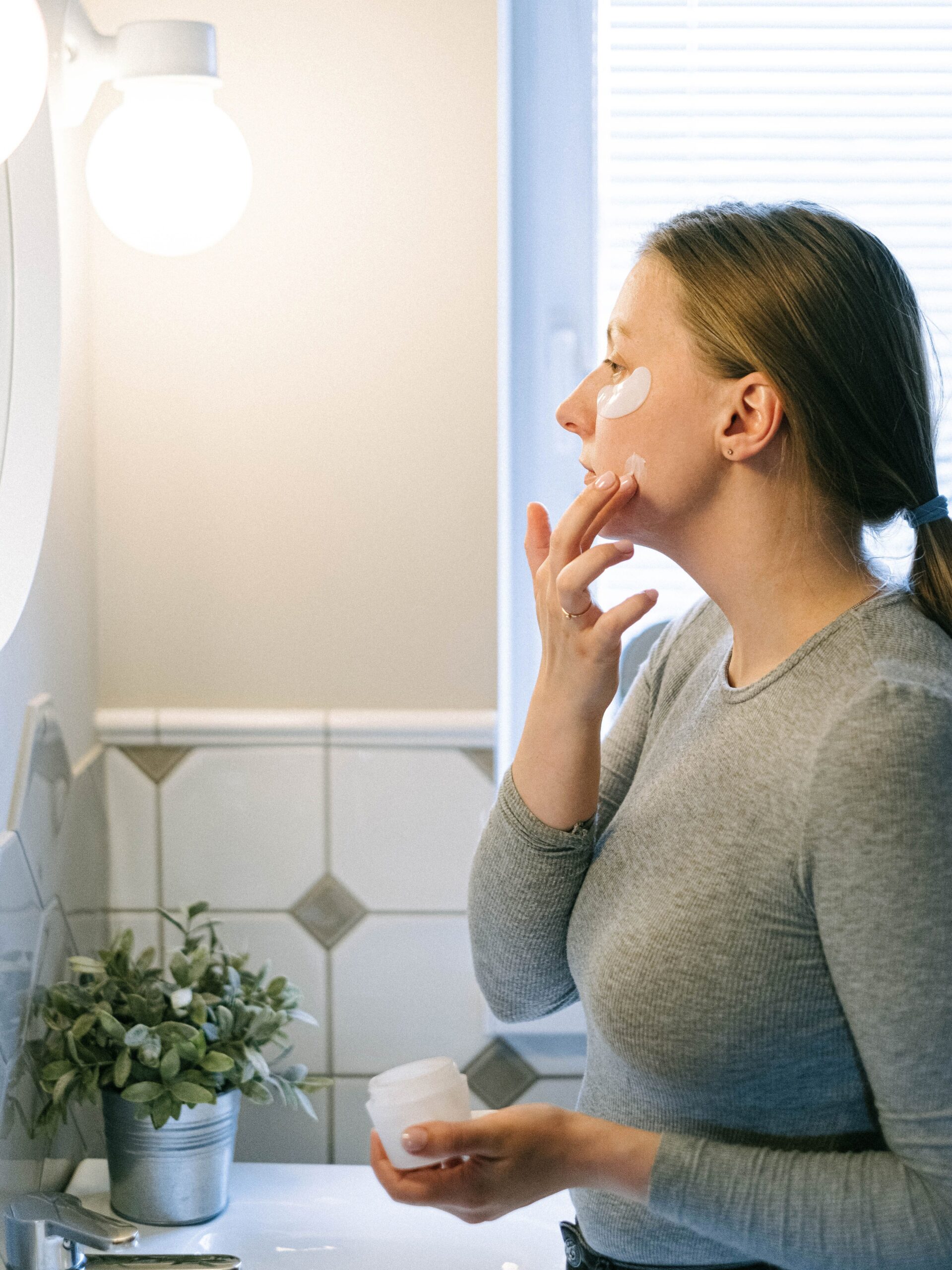 Self care is not just about facemasks, but you feel so much better when you're taking care of your skin and your diet.
Have a skincare routine, even if it's just a simple 5 minute one. This Clinique cleansing balm is my favorite night time skincare product.
Also, don't forget the most important skincare essential – water! Make sure you drink at least 1 gallon of water everyday. Use one of those giant water bottles to help you keep track.
14. Read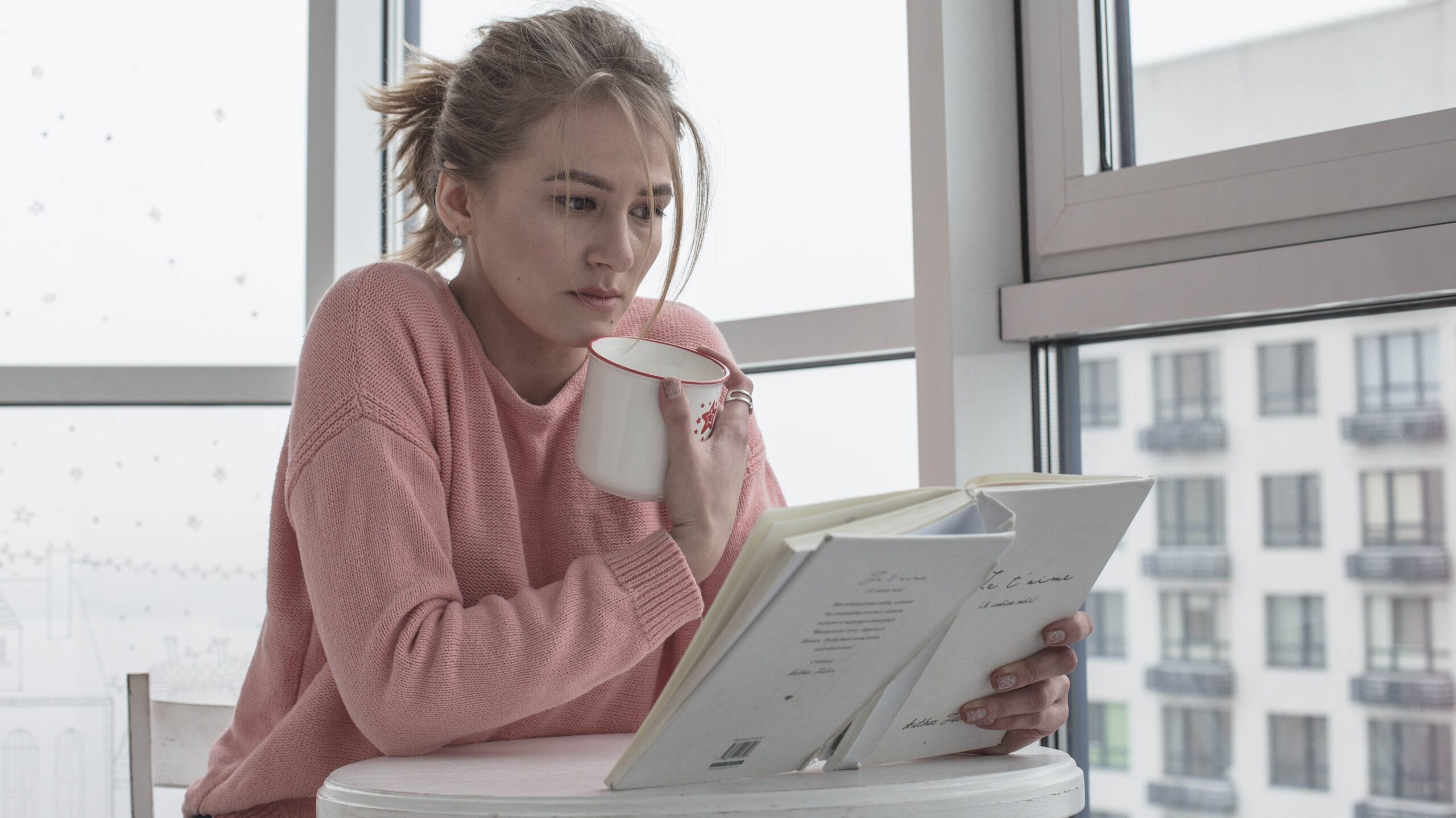 If you're a book lover, you know that reading books is the perfect way to relax and cut off from the real world. Curling up with a fantasy (or even murder mysteries, lol) while sipping coffee is my idea of a perfect self care night.
Also, reading self help books can be really beneficial. They help you understand more about yourself and how the life works.
I always say that once you read a good self help book, there's no going back! Now, I know, you might not have enough time to read everyday, but you can listen to audiobooks on audible while driving or walking.
Here are my current favs :
15. worry hour
Your to-do list will thank you for this, especially if you're an overthinker. My brain loves the drama! And loves to worry about unnecessary things.
And the more you try to suppress your thoughts, the more it amplifies.
But when you schedule time to let your brain go wild, you're able to deal with your worries and get over that thought more easily.
So, schedule a worry hour in your day, when you sit down to think about all the things that are bothering you.
And the next time something pops in your head, make a note to think about it in the worry hour and not waste time RIGHT now.
Daily Healthy Habits List For organization
16. plan your clothes ahead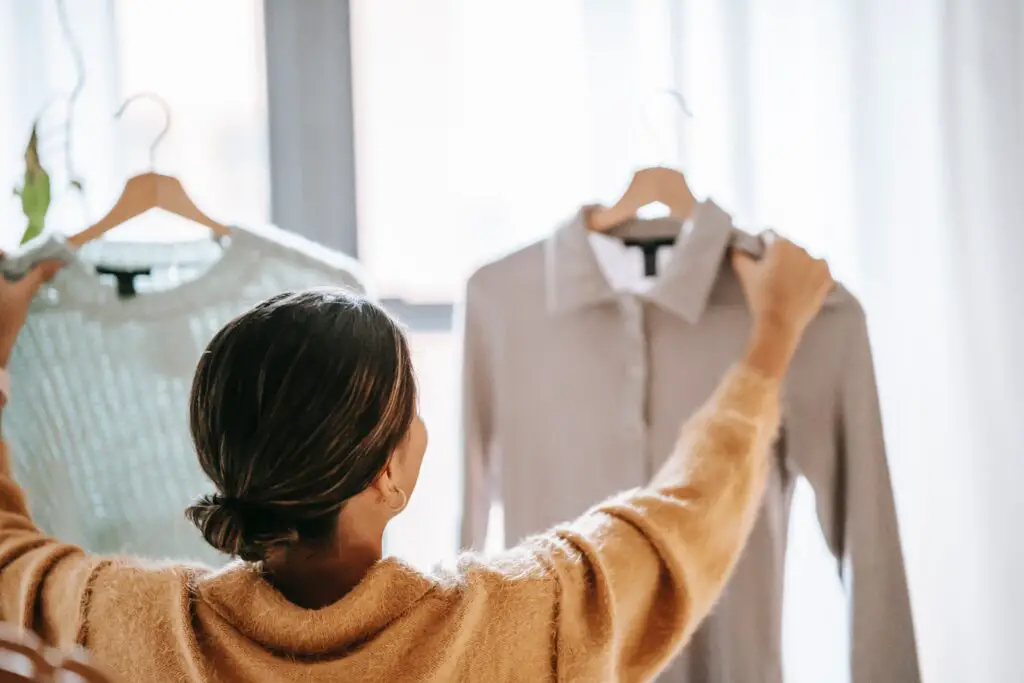 I don't know a single girl (including me) who doesn't take AT LEAST 15 minutes trying to decide what to wear every morning, no matter how busy she is.
But this genius hack will help you save your time in the morning, while also making sure that you still look put together. And a lot of successful people recommend this to save you from decision fatigue.
Plan your outfits for the week before hand. This way you can have your clothes washed and ironed in advance.
17. don't rely on memory
Write everything down, set reminders, leave visual cues. You're so busy, there's no way you can remember everything.
Also, our brain loves to exaggerate things. If you feel overwhelmed with all the tasks you have. Write a big fat to-do list, you'll feel much better. And honestly, it'll make it easier to come up with an action plan.
Leave visual cues. If you want to go workout, leave your workout clothes on your bedside table. Keep your water bottle by your side so you know you have to finish it.
Make things as simple as possible, you are already so busy.
18. 15-minute timers for cleaning
It's impossible to get anything done in a cluttered environment. But you might not have time to do a 1-hr deep clean everyday.
Add this hack to your daily healthy habits list when you're on a time crunch or are feeling lazy. Set a 15 minute timer and start cleaning your surroundings.
Keep everything in place. Vacuum the room.
It's insane how much you can get done in 15 minutes. And a lot of times when you're in the flow, you end up continuing even after those 15 minutes.
This post is all about the ultimate daily healthy habits list that every busy woman needs!
Related Post