This post is all about creating the perfect Sunday routine to prep for the week.
Disclaimer – This post may contain affiliate links, which means I'll receive a commission if you purchase through my link, at no extra cost to you.
Do you despise Mondays? Do you spend the entire week waiting for the weekend to arrive, only to waste the the whole day doing nothing? And by the time Monday comes, you're already panicking because you're unprepared for the week. Having a Sunday Routine would be a good fix for you!
Monday blues can be alleviated by simply planning your week over the weekend. Having a Sunday Routine to prepare for the week takes less than an hour out of your day and relieves you of the burden of the five days ahead of you.
Why You Need A Sunday Routine
You might be someone who resists planning thinking that it makes your day too mundane. Well, here's why you are wrong. If anything, planning ahead makes your week more structured, reduces stress and leaves enough leisure time.
I always love to plan but am not really able to follow it consistently. But I've noticed that having a Sunday Routine makes my week so much more organized. Rules can feel rigid.
But . . .
In reality, following a routine in life can be liberating. When we have a predetermined set of actions in mind, we limit the analysis paralysis that comes with choice as well as the agony that comes with indecision.
Having a Sunday Routine gives you a proper vision what your upcoming week is going to look like. And helps you focus on different goals (professional and personal) in a systematic manner without feeling too stretched out.
"You have a choice in life. You can either live on-purpose, according to a plan you've set. Or you can live by accident, reacting to the demands of others."

Michael hyatt
Habits To Include In Your Sunday Routine
Here are a few tips how you can spend your Sundays to get ready for a productive week. Grab your weekly planner and get ready to have an amazing week!
If you don't find a planner that works for you, you can simply use a journal like this one.
1. Analyze Your Previous Week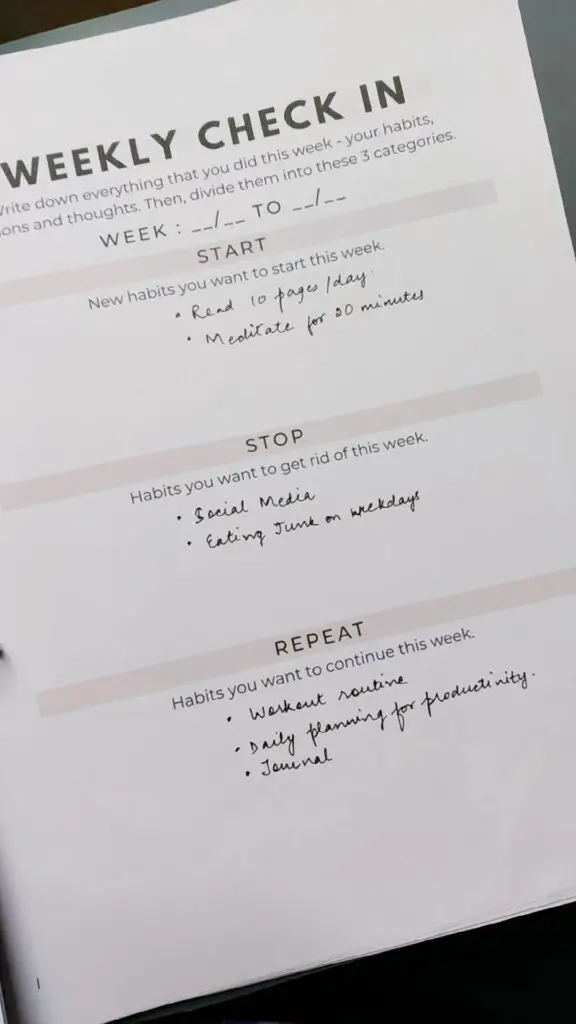 This would help you to spot your mistakes and accomplishments and learn from both of them. I use this simple method called Start, Stop, Repeat. Just note down all the habits and routine you want to develop in your life. Divide them into these 3 categories.
START — Write down the new habits you want to start this week. Like, waking up earlier, starting a diet.
STOP — The habits that you don't want to take with yourself in the coming week. Like, you want to reduce your screen time, stop eating junk food.
REPEAT — The habits that you want to continue. Like, exercising, reading daily.
Related Post: 5 Effective Habits Of Highly Successful People
2. Review Your Goals
You should review you goals weekly or monthly in order to keep a constant check on the direction in which your life is headed and what actions can you take to reach your goals.
Here's a guide to set achievable new year goals!
Often, we get caught up in our busy schedules, working on things that are not really aligned with our goals. If we don't take out time to analyze our goals now and again, we might just end up chasing artificial goals that the society places in front of us.
If you don't know yet what your goals are, grab a pen and your journal, sit in a quiet place and start figuring out your values and goals.
You can follow this exercise 'CRIPES' which helps you to evaluate six important aspects of your life — career, relationship, intellectual, physical, emotional, spiritual and come up with a plan to improve your life.
Related Post: How To Start A Journal Practice (Free Journal Prompts)
3. Include Meal Prep In Your Sunday Routine
Planning your meals every day can be very exhausting, specially if you follow a diet. If you have your meals planned, you are less likely to skip meals or cheat on your diet. You can go for grocery shopping on the weekend, so you don't have to rush after office.
Also, cooking dinners can be a chore after a long day. In order to save yourself from the inconvenience, include meal prepping in your Sunday routine and save yourself some time during your week.
4. Structure Your Week
Planning your week does not have to be a detailed scheme for each day of the week; simply brain dump all of the things you want to accomplish this week, including all of your tasks, appointments, and so on. Create action points and then assign them to each day. Set an intention for the week.
Use calendars like Google Calendar or Asana to schedule your appointments and meetings or classes, and it'll send you a notification. You can also use monthly planners for this. This way you can go in to your week knowing exactly what you need to accomplish each day while still having enough time.
5. Declutter 
Cleaning your space can be very therapeutic. Some people find it very calming, while others keep on procrastinating it. Use your Sunday routine to declutter your personal and professional space. 
Clutter is not just the stuff on your floor — it's anything that stands between you and the life you want to be living.

Peter Walsh
Clean out your work desk — remove excess notes, put your stationary in place. Organize your drawers. Do your laundry. Clean your kitchen. Change your sheets.
This alone will bless your Monday mornings and Monday blues will be replaced by Monday charms. Plus, it's just so refreshing to start the week with a clean house and of course there's the instant gratification you get with cleaning.
6. Relax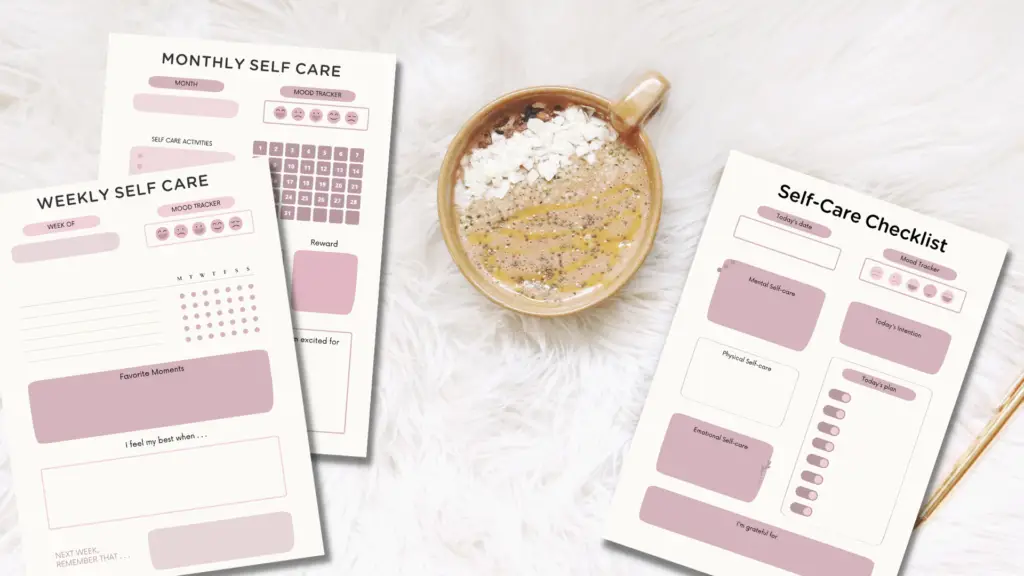 Unwire from social media. Use freedom app to block all social media notifications. Give yourself some you time. After all Sundays are rest days! Use this day to fuel your mind, body and soul (Read this Blog on How to Find Balance Between Your Mind, Body and Soul) 
Related Post : 15 Self Care Sunday Ideas
Here are a few Self Care Sunday ideas: 
Lit a sparkling snow Yankee Candle & take a refreshing bath. 
Cuddle up in bed and watch your favorite Netflix show (I'm currently watching The Vampire Diaries) 
Read some fiction novel ( I loved reading One Of Us Is Lying recently)
Do some yoga — helps in calming your mind 
Meditate
Journal; read this Blog to learn about it's benefits.
Do something you love — spend some time on your hobby whether you like dancing or singing or painting. Fuel your creativity.
How Do You Plan Your Sundays?
Let me know your answers in the comments. And if you are guilty of spending your Sundays doing nothing, I hope after reading this blog you've got some motivation and ideas to create a Sunday Routine and plan your week.
Related Post