One of the most popular page of a bullet journal is the Monthly spread. It helps you log your daily tasks as well as the goals you'd like to achieve that month.
Originally, Ryder, the founder of the bullet journal method, used a monthly spread to log his daily activities, maintain a tracker and create a task list of things he has to do in a month.
Note – This post is the 7th post in a 10-day series on 'How To Start A Bullet Journal For Beginners'. If you're a beginner and have no idea about bullet journaling, this series will tell you how to start one from scratch.
Here's list of all the posts you'd love to check,
Day 1 – How To Start A Bullet Journal ( No Art Skills Required!)
Day 2 – How To Easily Create Your Introduction, Key And Index Page
On Day 3 – How To Create A Future Log In Bullet Journal
Day 4 – How To Create A Future Goals Page In Your BuJo
Day 5 – How To Create Bullet Journal Quotes Page and More
On Day 6 – Must Have Bullet Journal Pages For A Better 2022
Day 7 – You're here!
Day 8 – Bullet Journal Habit And Mood Tracker Ideas
On Day 9 – Simple Bullet Journal Weekly Spread Ideas For Beginners
Day 10 – 15 Easy Ideas For Bullet Journal Collections
With time, people have modified monthly spreads and the way they use them. After all, bullet journaling is all about personalization. Now, you can find infinite number of designs and 'how-to' guides for monthly spreads on the internet.
Bullet Journal Monthly Spread Layouts
While there are numerous monthly spread layouts to choose from, not all of them are useful. I've compiled a list of some of the most user-friendly bullet journal monthly spreads for beginners.
1. Ryder Carroll's Method
Ryder used a 2 page bullet journal monthly spread. Ideally, these two pages should be facing each other.
On the left hand page, write down your dates and the corresponding weekday. Here, you can log the events that occur each day and the tasks you completed. Keep it brief.
You can also create a tracker on the right side of the left page. Simply write your habits on top and then cross off the days when you followed them.
On the right hand page, make a task list. Here, list all the tasks you want to complete this month. Also, migrate incomplete tasks from the last month to this month's task log.
This method is best suited for people who are constantly on the go and do not have time to sit down and create more artistic spreads.
2. Ryder's Method With Categories
Use the same layout as mentioned above. But for your task list, categorize your tasks as School, Work, Personal, Sports etc. This helps you prioritize your tasks better.
You can also color code your categories in the monthly log. Or use signifiers next to the dates on the left hand page, if you created any in your bullet journal key.
3. 2-Column Ryder Carroll's Layout
Create a bullet journal monthly spread using the Ryder Carroll's layout. And divide your left hand page into two columns.
In one column you can list your appointments and other important events. And in the other column, you can maintain a daily log.
Here's a spread by utaisjournaling.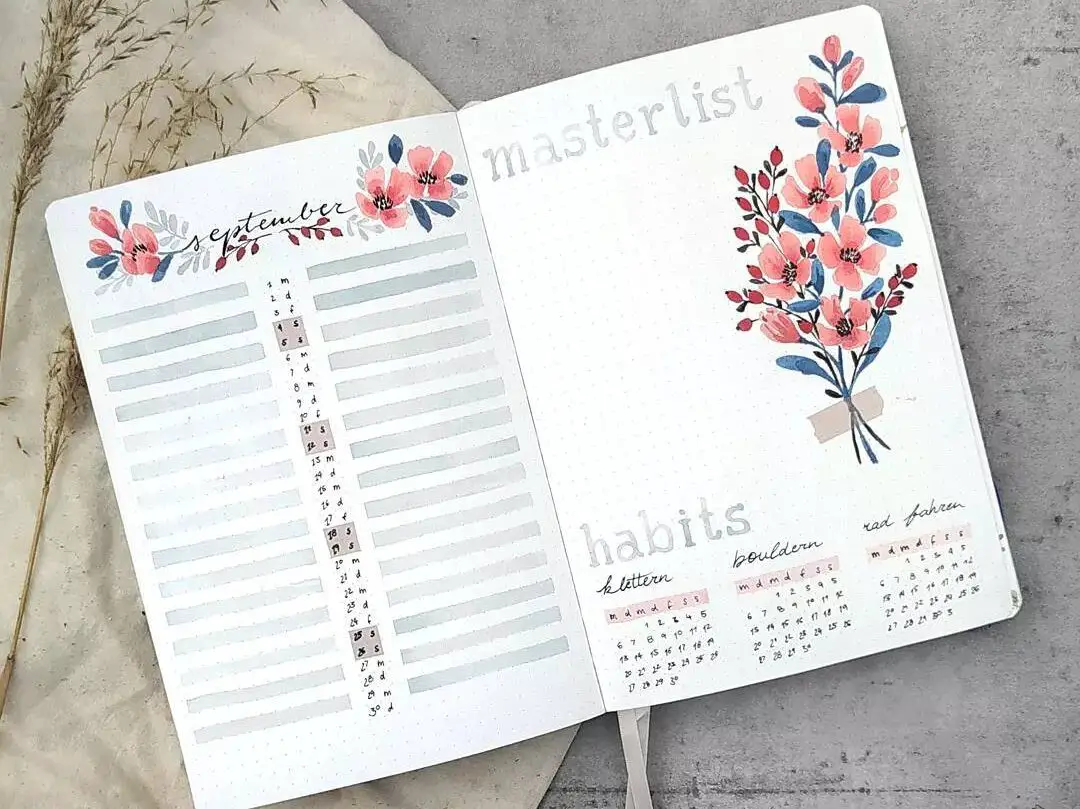 4. Monthly Calendar Spread
Most of the bullet journaling enthusiasts use this kind of spread. If you're an avid planner user, you'll feel more at ease with this spread.
Here, you draw a monthly calendar, like in your google calendar or traditional planners. This gives you a better idea of your month.
Check out this spread by julies.paper.crafts.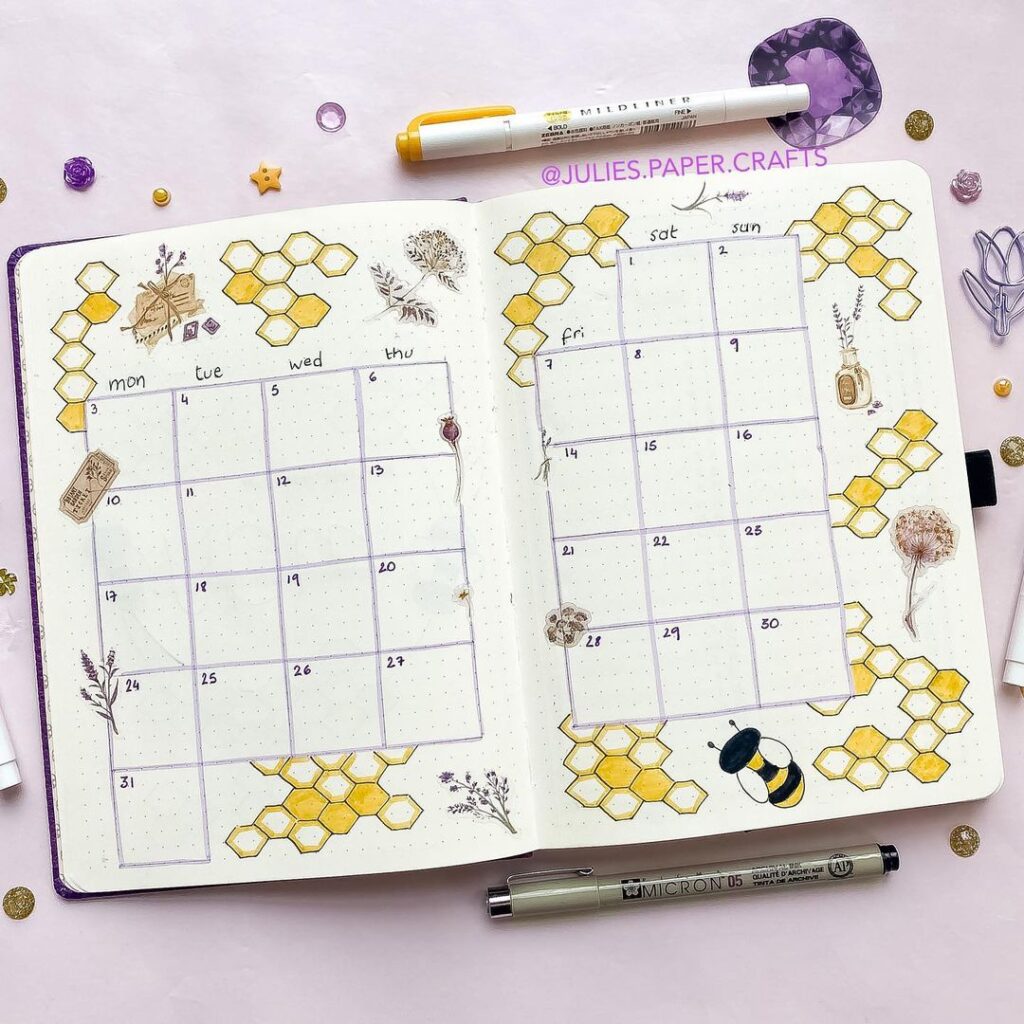 Now, you can migrate all the important events and dates from your future log to this monthly log. You can further migrate these events from monthly log to your weekly log.
You also can add a mini calendar on the left page and use the right hand page as a regular tasks page.
Alternatively, you can make a full two-page calendar and leave some space for important notes as shown above.
5. Bullet Journal Monthly Spread Layout With Monthly Goals
Create a column on the tasks list page for your monthly goals. Or create a separate page altogether for your goals. I love adding goals page to my bullet journal, because having clearly defined goals increases your chances of success.
This will allow you to be more intentional throughout the month. And you can easily track your progress too.
6. Circular Layout
I don't really find this method very efficient. Because drawing circles and logging tasks around it is a difficult task unless you use some pintables or stencils.
Here, you draw a circle in the center and write the dates around it. Log your tasks and events around each date as the month goes on.
Still confused?
Check out this Bullet Journal Template pack to get you started. I created this pack of 35+ templated to make this process a whole lot easier for you. Download it here for FREE.

Bullet Journal Monthly Spread Ideas
Here, are a few ideas to create a monthly spread.
This is a Ryder Carroll method layout. The weekends are highlighted with a different colors, which helps you separate the weeks better.
You can also create a mood tracker instead of a habit tracker alongside your monthly calendar layout as shown here. Don't forget to add a goals list on side of your calendar.
You can also draw a mini calendar for the next month at the right hand side of this months calendar layout. Also, add your monthly goals to keep you inspired.
This is a simple calendar layout for your bullet journal monthly spread. Just add a scrap paper as your background for the calendar. Make it look creative without much effort!
For this layout, you can create the monthly calendar on the left hand page. And use a 2 column monthly spread for the right hand page. You can add goals list on the bottom side of the left hand page if you want.
Day 8 On 'How To Start A Bullet Journals For Beginners'
I hope these layouts have given you some inspiration. Choose a bullet journal monthly spread that you like and then customize it to fit your needs!
Tomorrow, you'll create monthly trackers to keep track of your monthly goals. Keeping a habit and mood tracker in your bullet journal can help you maintain your mental health and routine. Are you excited?