The most effective way to form new habits and break old ones is to use bullet journal habit trackers. So, if you want to improve your life and develop better habits, here are 10 amazing bullet journal spreads and instructions on how to use them.
Trackers assist you in developing self awareness, which is the first step toward self improvement. They hold you accountable and motivate you to stay on track.
Note : This is the 8th post in a 10 post blog series on 'How To Start A Bullet Journal for Beginners'. If you're new to bullet journaling aren't sure how to get started, this series will definitely help you!
Here's the list of the posts,
Day 1 – How To Start A Bullet Journal ( No Art Skills Required!)
Day 2 – How To Easily Create Your Introduction, Key And Index Page
On Day 3 – How To Create A Future Log In Bullet Journal
Day 4 – How To Create A Future Goals Page In Your BuJo
Day 5 – How To Create Bullet Journal Quotes Page and More
On Day 6 – Must Have Bullet Journal Pages For A Better 2022
Day 7 – How To Create A Bullet Journal Monthly Spread
Day 8 – You're here!
On Day 9 – Simple Bullet Journal Weekly Spread Ideas For Beginners
Day 10 – 15 Easy Ideas For Bullet Journal Collections
Why Do You Need A Habit Tracker?
According to Harvard, you do 48 percent of your work on autopilot. So, roughly half of the tasks you perform in a day are done unconsciously. That is why it is important to develop better habits.
Starting a new habit is easy at first, but sticking to it is the difficult part. You can use a bullet journal habit tracker to,
to create new habits
break old ones.
track your weekly progress.
divide a larger goal into smaller milestones.
Changing a habit may appear to be a small task, but as James Clear points out in his book Atomic Habits,
Every action you take is a vote for the person you wish to become.
Benefits of Habit Tracker
Motivates you when you see your progress.
Create visual cues for action.
Holds you accountable
Helps you analyze the reason for your shortcomings.
Helps you improve your life's systems.
Creates a compound effect. Small actions everyday eventually leads to big changes.
Gives you satisfaction every time you cross something off.
Break your goals into smaller habits.
Create an optimized routine.
If you want to save time and get started immediately, buy the 'Design Your Life' Planner. This planner contains 40+ templates giving you the exact steps you need to take to transform your life from feeling clueless and confused to confident and on-track!
Available at a discounted price NOW!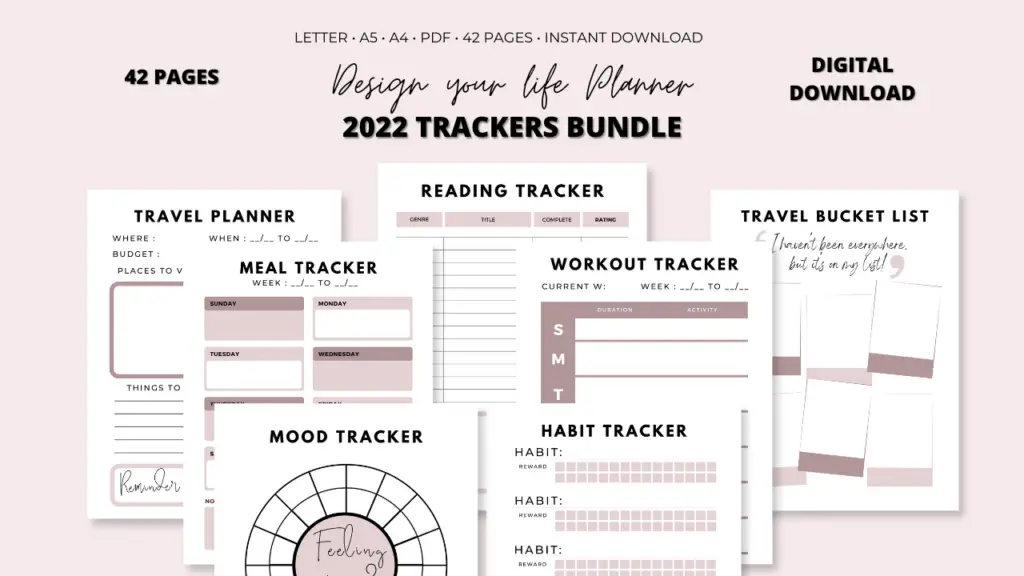 Steps To Create Bullet Journal Spreads For Trackers
A habit tracker simply contains,
a list of habits on one side,
dates on the other,
a checkbox to mark when you completed a habit.
Step 1 : Choose The Habits You Want To Track
Create a list of habits you want to track but don't go overboard. It would be best if you focused on no more than 3-5 habits at a time.
Take inspiration from the habits mentioned above. Or select the habits of your idols that you admire.
Related Post : 10 Life Changing Daily Habits To Start Today
Step 2 : Choose A Layout
Choose a layout that you want to use in your bullet journal habit tracker page. Here are a few ideas,
Use this layout if you want to track your habits weekly. Eg, if you want to workout 3x a week, it'd be better to analyze that in a weekly habit tracker.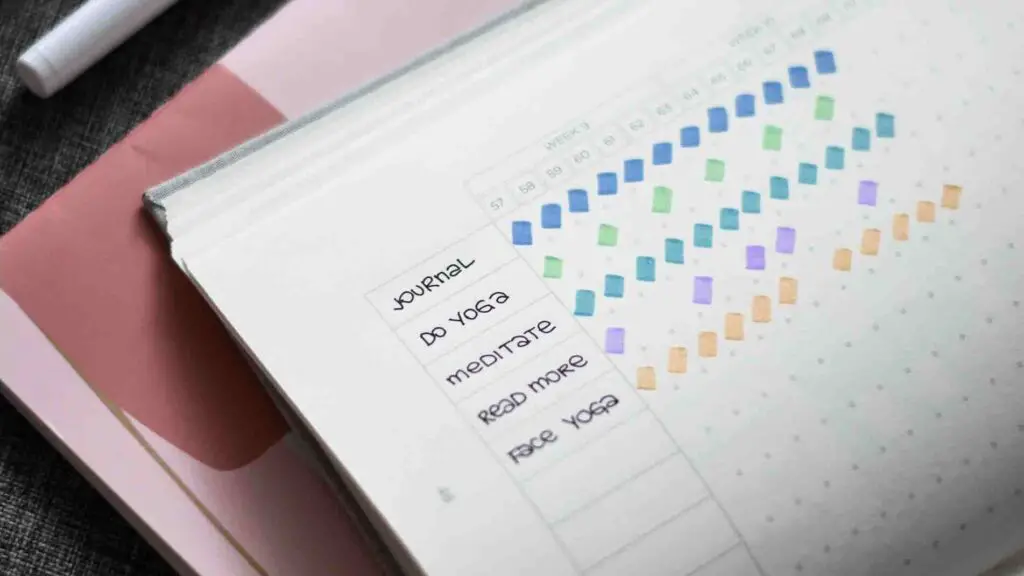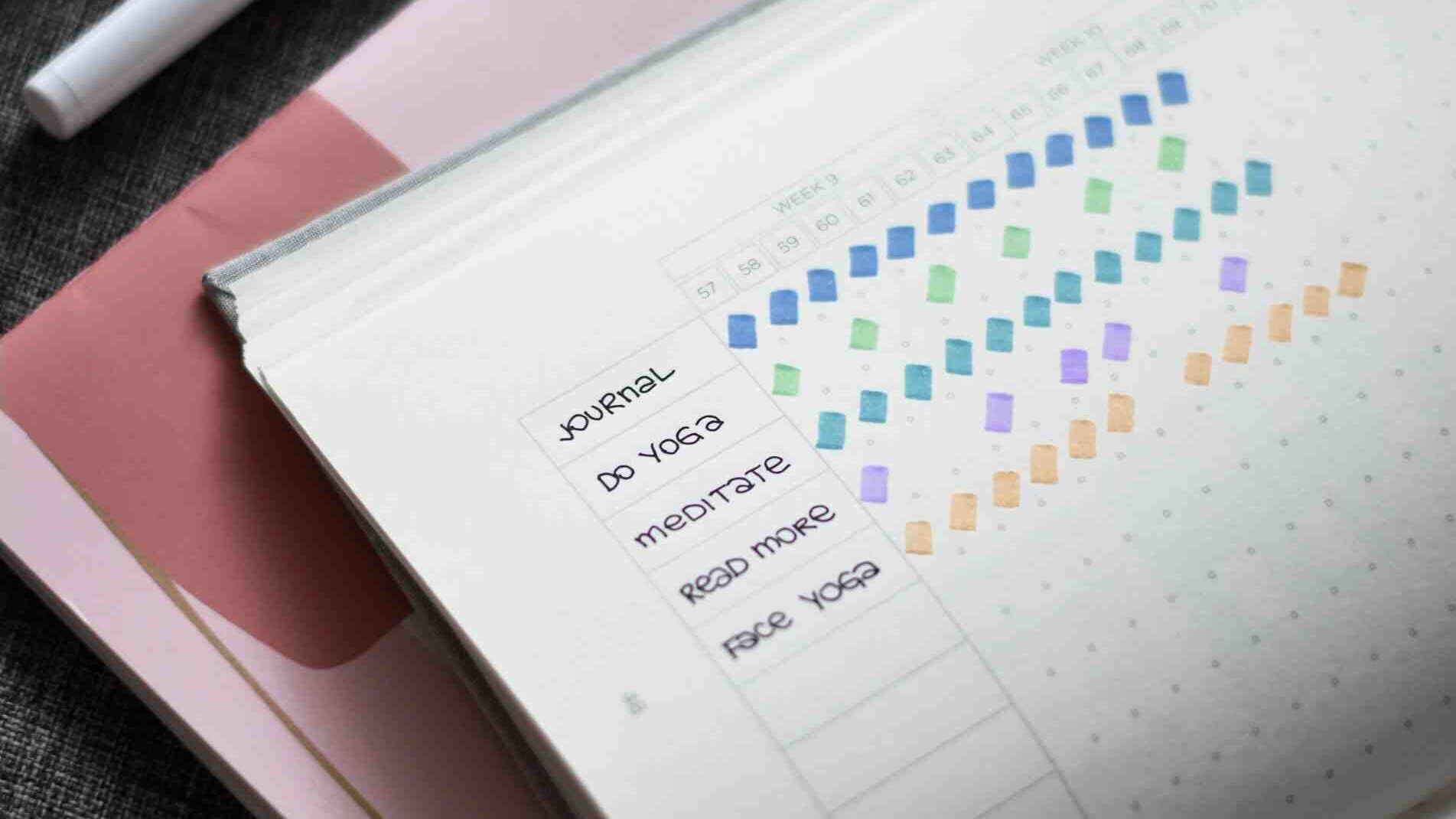 Here are the step,
Make a 7-column table, one for each day of the week.
Maintain one row for each habit you wish to track.
Mark the box next to the day and habit that you completed.
A new habit is said to take 21 days to build. You can track that more effectively with this layout. Here are the steps,
Create a table with 31 columns, depending on the number of days in the month.
Number it from 1-31.
Maintain one row for each habit you wish to track.
Put the habits in front of the corresponding rows.
Mark the box next to the day and habit that you completed.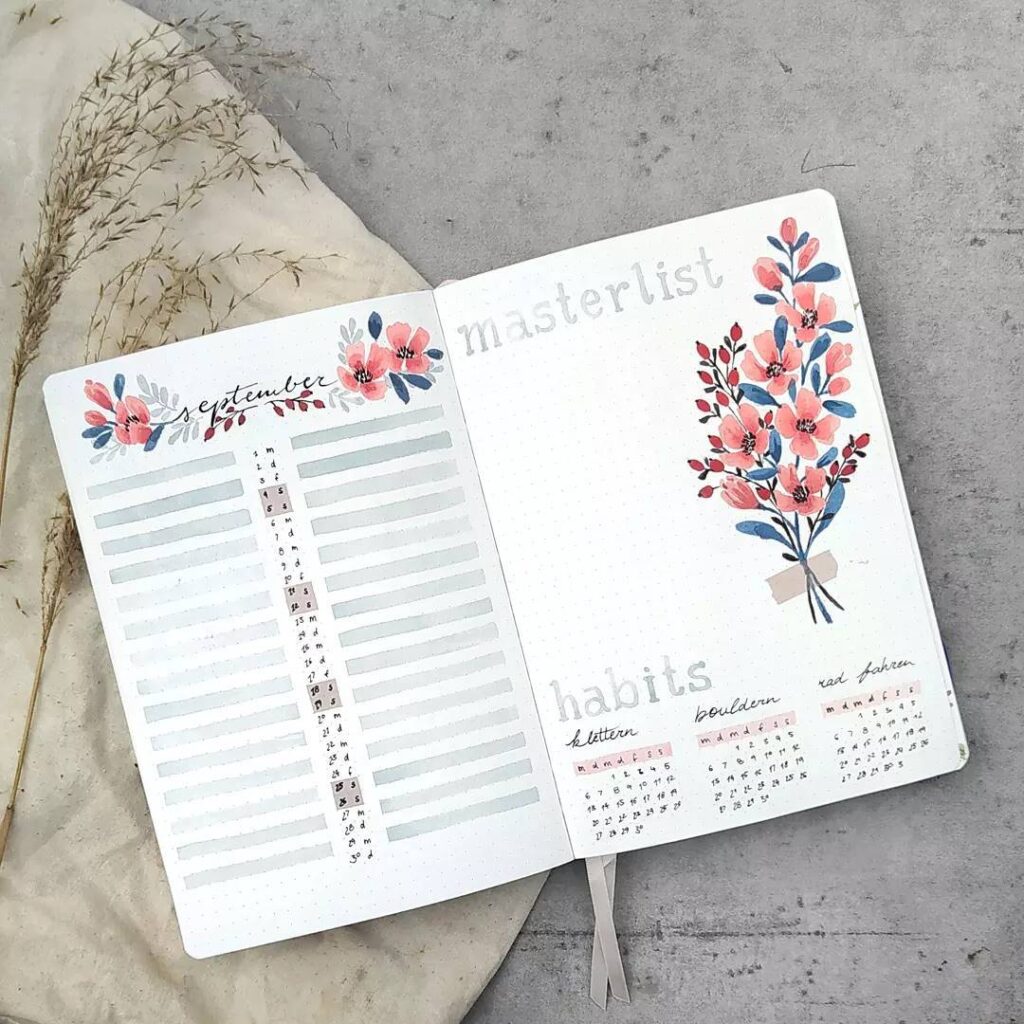 Here, utaisjournaling included the monthly habit trackers in the monthly log spread.
If you have more time on your hands, create a circular habit tracker.
Here are the steps,
Draw the circles, one outside the other. One circle for each habit you want to track.
Write down the corresponding habits.
Divide the circular arcs into 30 parts, one for each day.
Mark the box next to the day and habit that you completed.
This tracker is used to track some information along with the check box. For example, if you use a sleep tracker, you can insert a small column inside each box to record the number of hours you slept each day.
You can tailor this layout to the type of data you want to store.
To make this process a whole lot easier for you, I've created a pack of 35+ bullet journal templates. Download them here for FREE!

Mood Trackers Bullet Journal Spreads
Along with your habits, you should keep track of your mood. This allows you to assess the impact of the habits you're forming.
After all, who wants to create a new habit only to feel bad?
Let's say you're starting a new habit, like eating healthy. This will lead you to feel more energized and productive throughout the day. Tracking these emotions in your mood tracker will also encourage you to continue.
If you're trying to wake up early. And have been grumpy or lethargic all day. Tracking this in your mood tracker will force you to examine the cause of your mood.
Maybe because you stay up late and don't get enough sleep. This will force you to start sleeping earlier.
Mood trackers are extremely useful in analyzing what makes us happy so that we can do more of it.
Here are some bullet journal spreads for habit trackers and mood trackers to give you some inspiration.
Bullet Journal Spreads Ideas For Trackers
Here's a colorful habit tracker and mood tracker spread by a.journalx.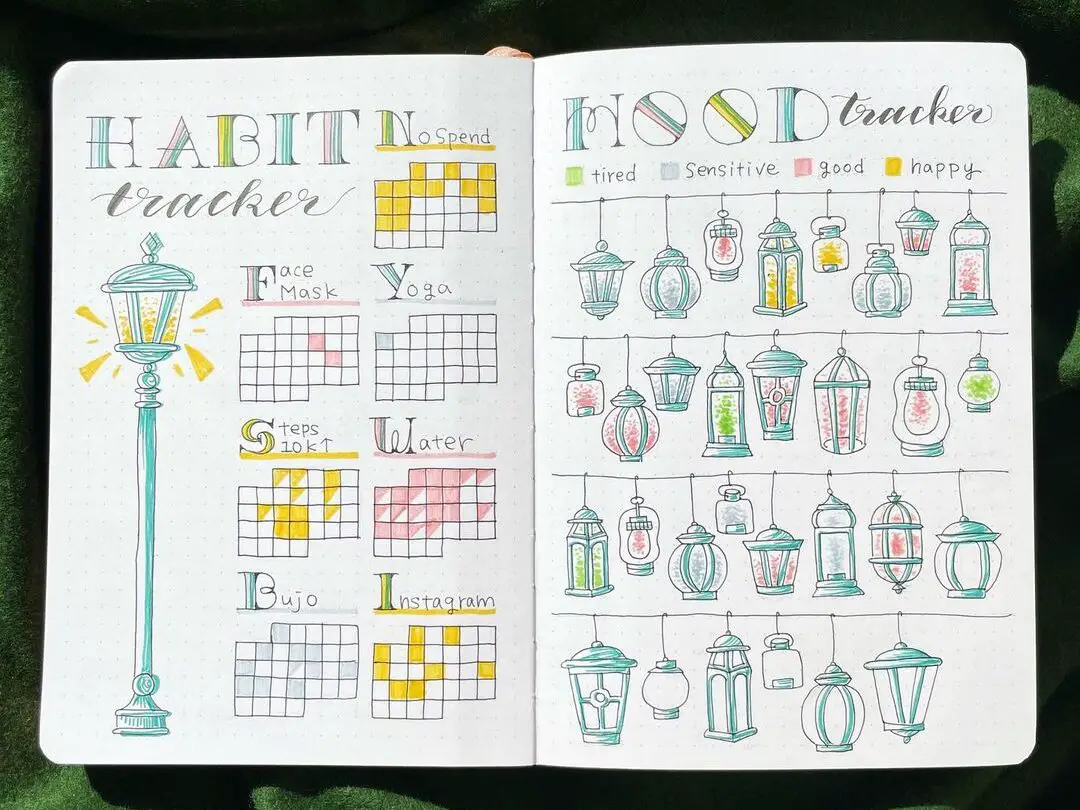 Check out this this bee themed mood tracker layout by Julies.Paper.Crafts.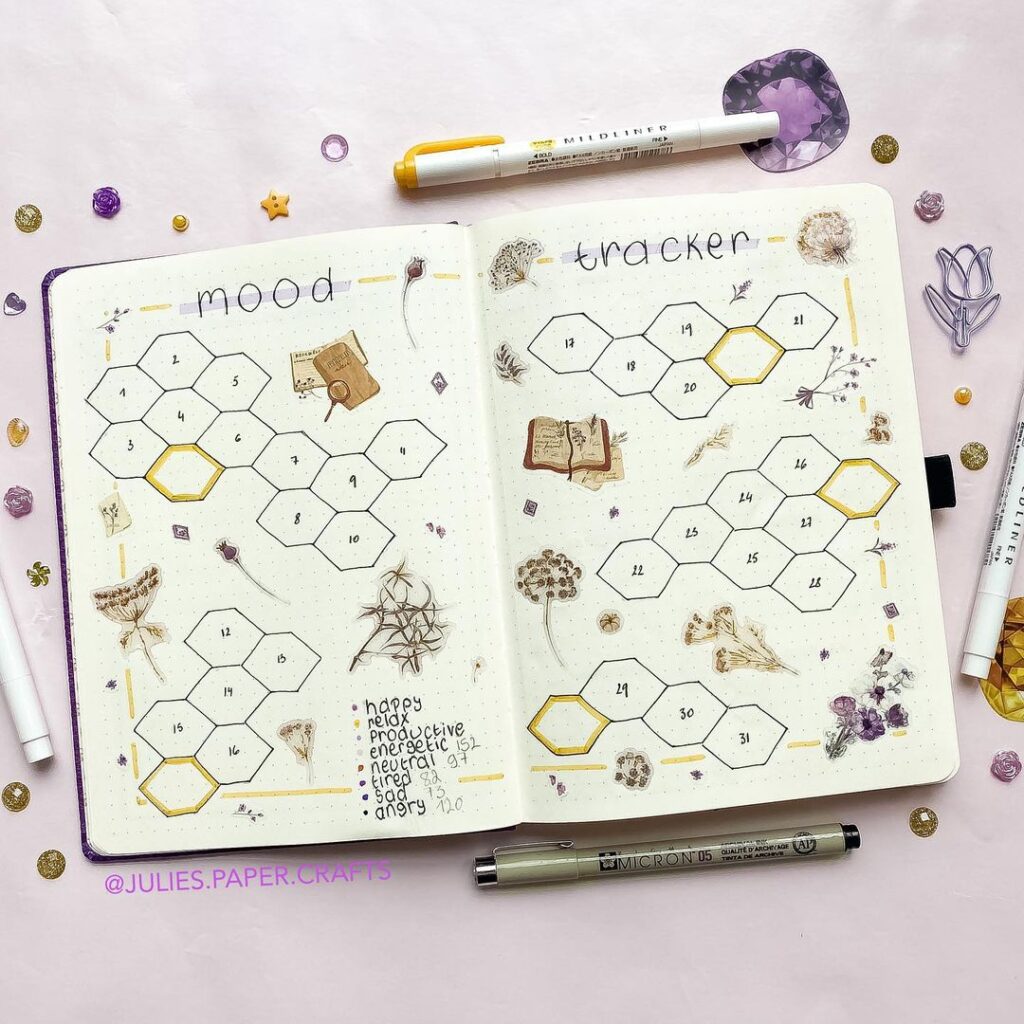 I absolutely loved this beautiful spread by Annajournals. Simply use scrap papers and sketch pens to elevate your design.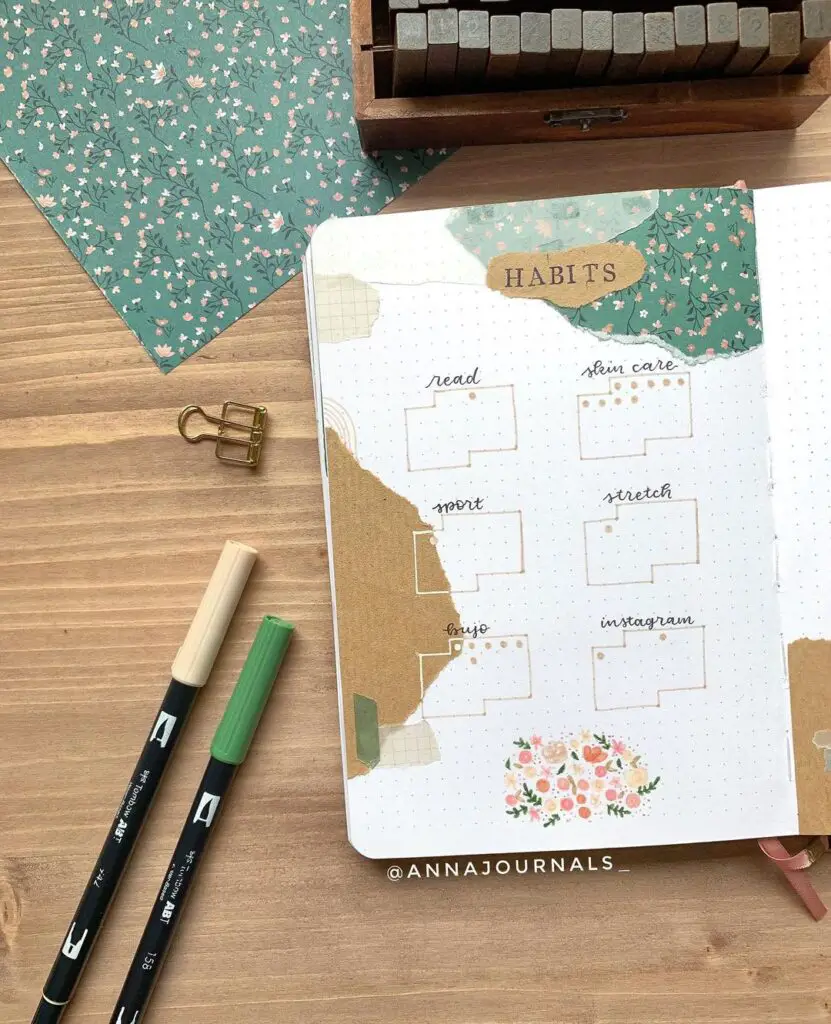 You can also divide your habits into categories and use a tabular format to track them. This one's by kanyue88_plans.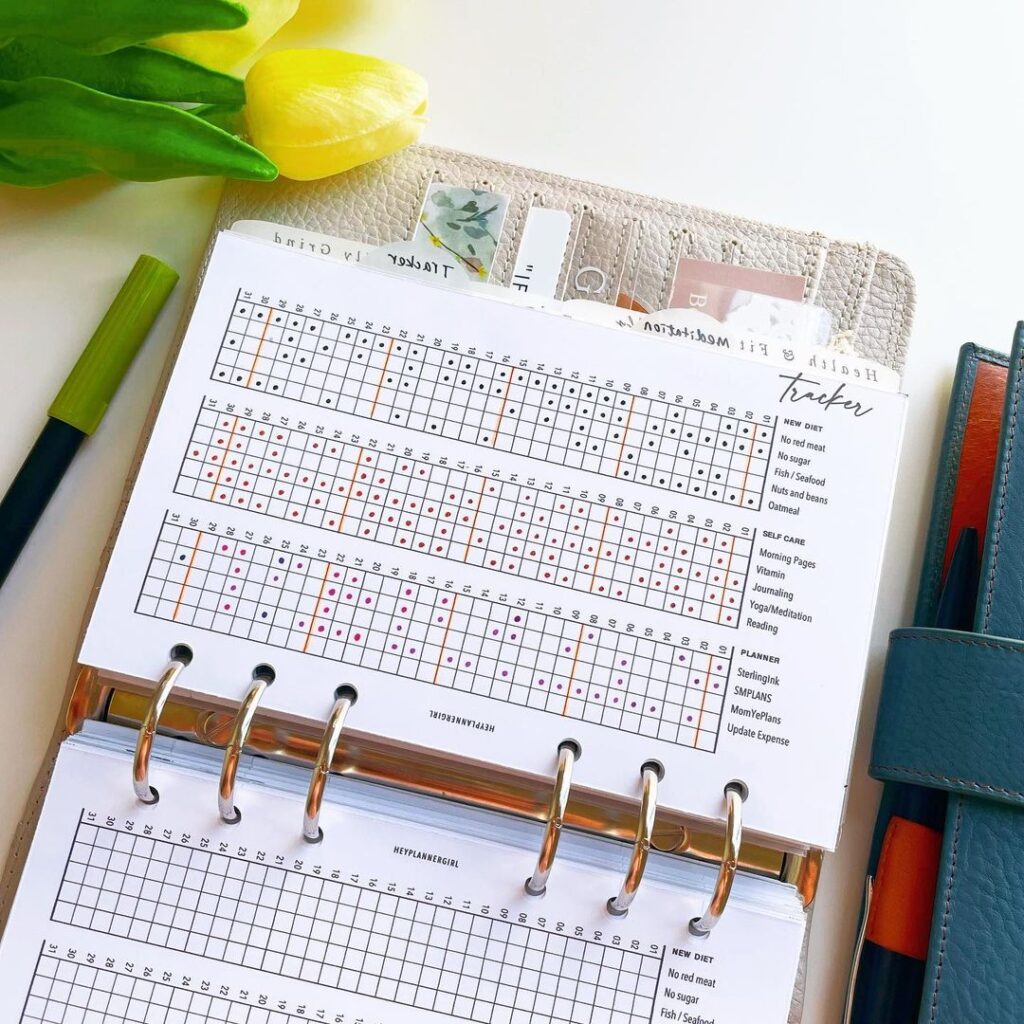 Who doesn't love simple and classy bullet journal spreads, as shown by bujo.4ileen?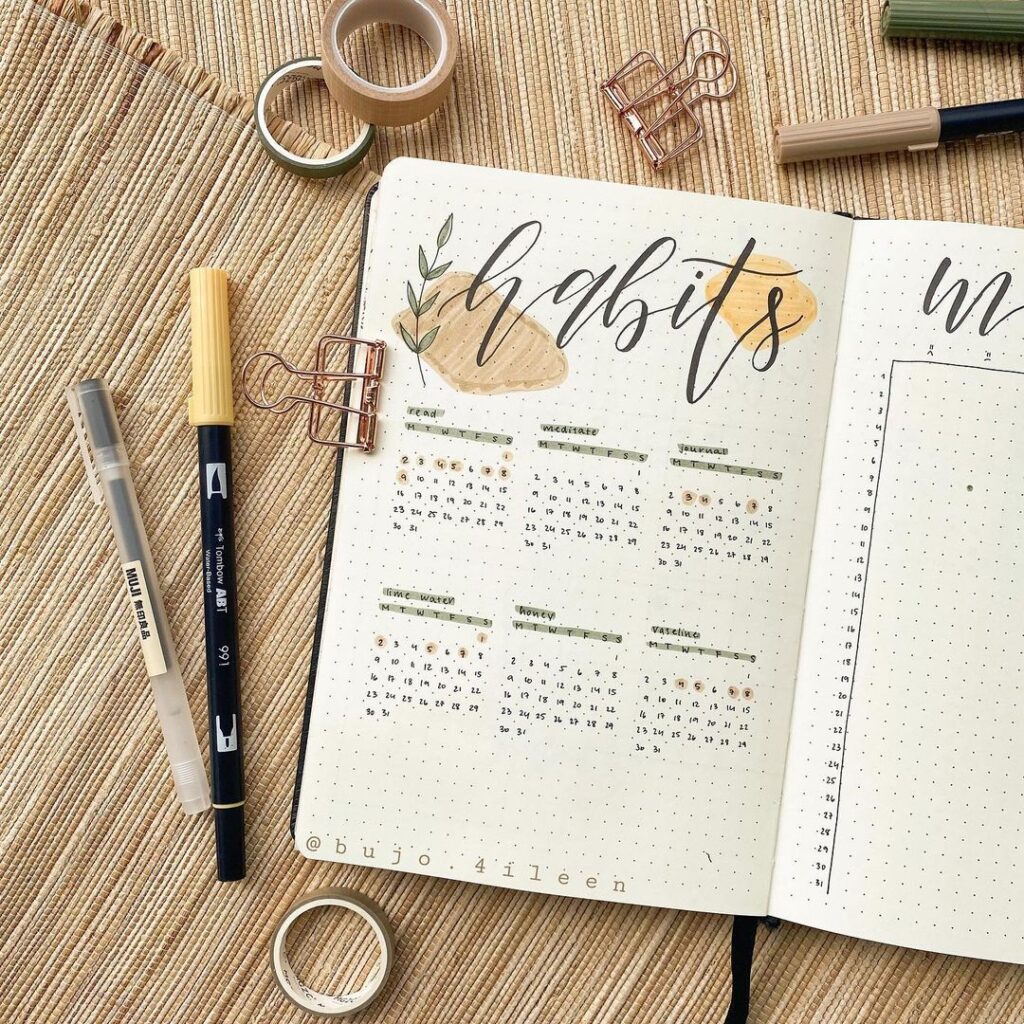 If you don't want to dedicate an entire page to habit tracker, you can create them at the bottom of your monthly log. This one's by athomewithtamra.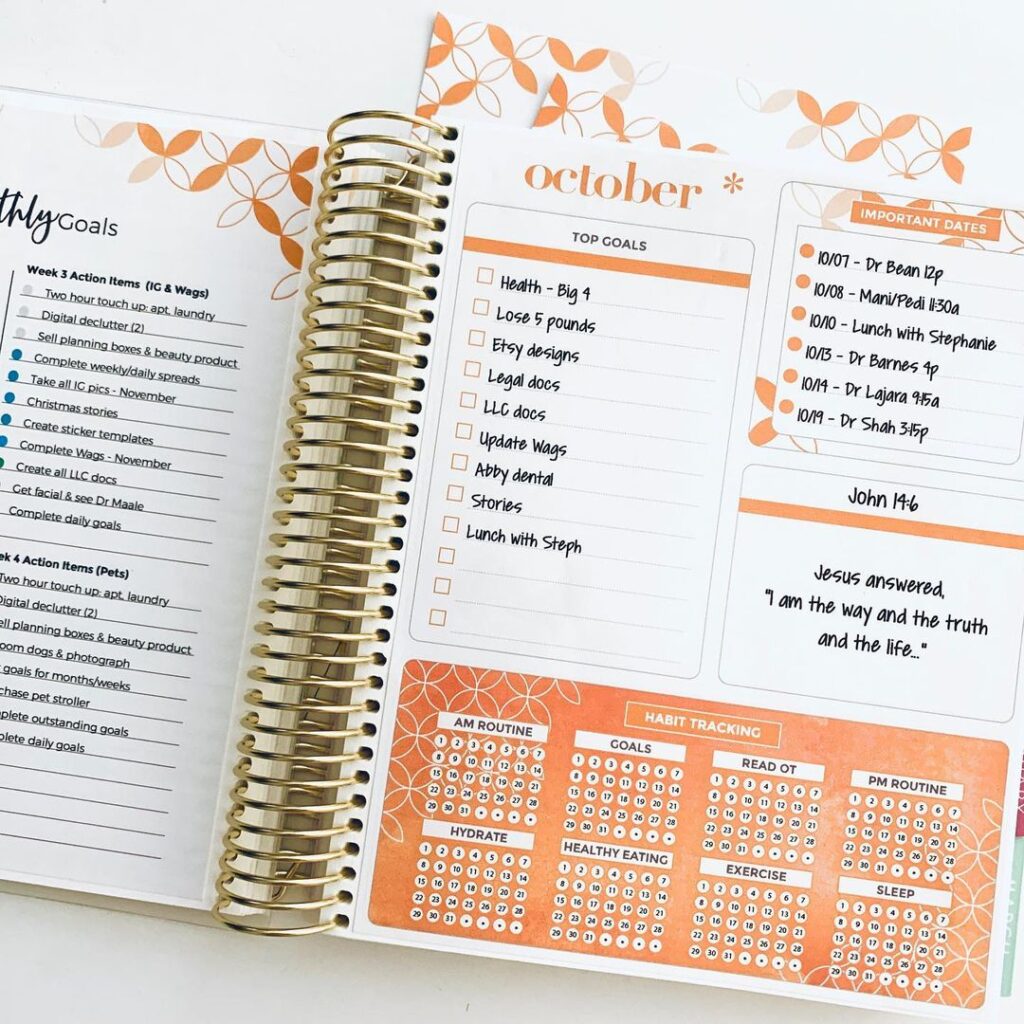 Create cute bullet journal spreads with mini calendars that match your theme. Take inspiration from bujobyjennie.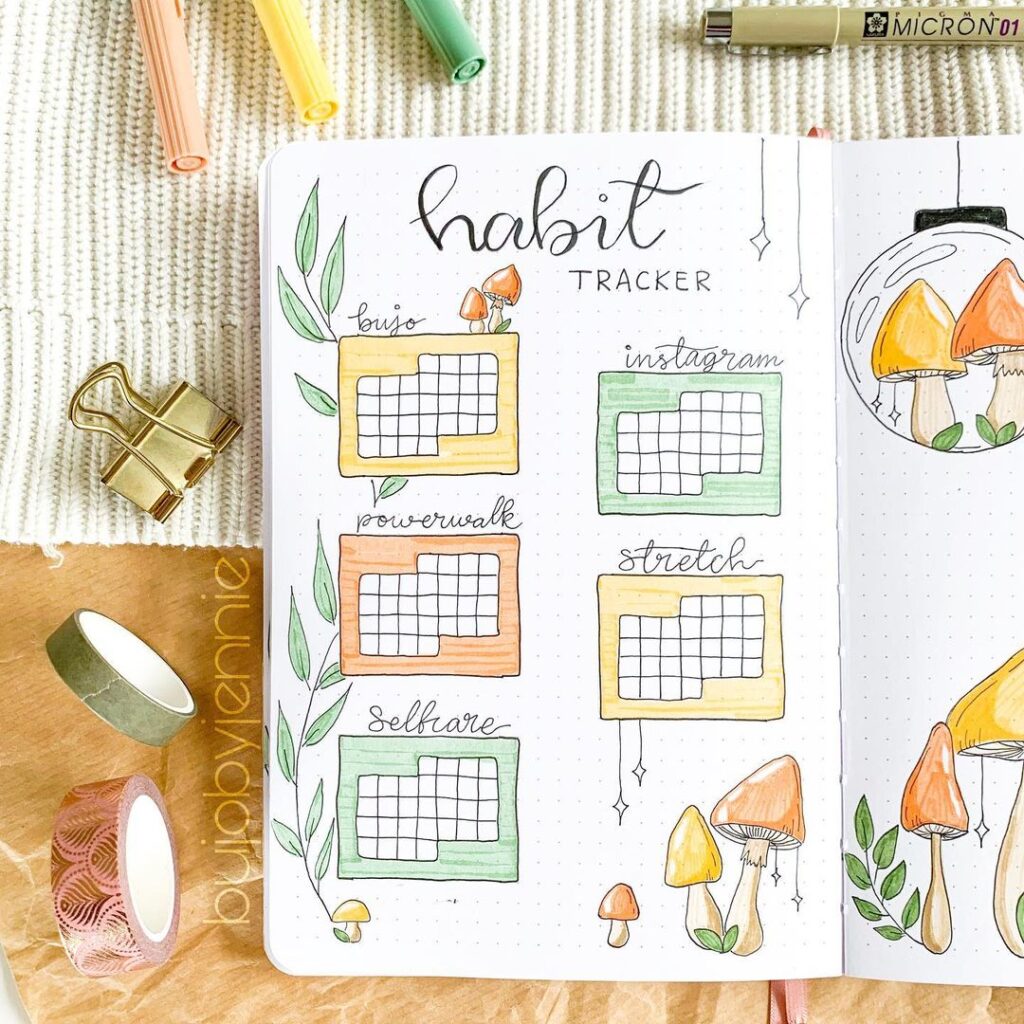 Day 9
Use these trackers to help you become a better version of yourself! Tomorrow, I'll help you create your first weekly layout. A weekly layout is one of the most fundamental pages in a bujo. I hope you're excited!