Future log is the page in your bullet journal where you jot down all your upcoming events for the following year. It gives you the bird's-eye view of your entire year. So, you know what you're dealing with in the coming months.
Our brain stores information in bits and pieces, and if you don't act quickly, you'll forget it. As a result, a future log is a better way to store this information in an organized manner.
Note – This is the 3rd post in a 10-day Blog Series on 'How To Start A Bullet Journal For Beginners'. If you are a beginner and have no idea how to start your bujo from scratch, this series will definitely help you! Here are the links to all the posts.
Day 1 – How To Start A Bullet Journal ( No Art Skills Required!)
Day 2 – How To Easily Create Your Introduction, Key And Index Page
You're On Day 3!
Day 4 – How To Create A Future Goals Page In Your BuJo
Day 5 – How To Create Bullet Journal Quotes Page and More
On Day 6 – Must Have Bullet Journal Pages For A Better 2022
Day 7 – How To Create A Bullet Journal Monthly Spread
Day 8 – Bullet Journal Habit And Mood Tracker Ideas
On Day 9 – Simple Bullet Journal Weekly Spread Ideas For Beginners
Day 10 – 15 Easy Ideas For Bullet Journal Collections
Why You Need A Future Log In Your Bullet Journal?
Remember the last time you forgot your friends birthday? I'm pretty sure you don't want to go through that embarrassment again.
A future log allows you to keep track of birthdays, meetings, appointments, and holidays. So you can see your entire year at a glance and plan accordingly. For example, if you have a doctor's appointment every three months, it will be much easier to schedule and spread out in your future log.
You won't need your future log everyday. However, it is beneficial when you plan your months using task migration. Which means, copying the tasks mentioned in future log for this month to the monthly log.
You can also use this future log to set reminders on your phones every month.
What To Write In A Future Log Bullet Journal?
If you're still confused about what to include in your future log, here are some suggestions:
Birthdays
Anniversaries
Important days
Holidays
Festivals
Appointments
Meetings
Bill Payment Dates
Vacation dates
Basically, everything!
Before getting started, if you want to save yourself some time and energy from finding the perfect bullet journal ideas, here's a 35+ Bullet Journal Printable Pack for FREE!

How to Create A Future Log In A Bullet Journal?
The simplest way to create a future log is to divide your page horizontally into three sections. In the left corner, write the name of each month. Then, start logging the important dates and events for that month.
But, because it's bullet journaling, there are a million other ways to design your future log page. Here are some future log in bullet journal ideas for beginners.
1. Ryder Carroll's Method
He used the straightforward method of dividing your page into 3 or 6 months. And start rapid logging your events, tasks or notes. If you're not a creative nerd and just want to reap the benefits of a future log, this method is probably the best.
Here's a template for the same.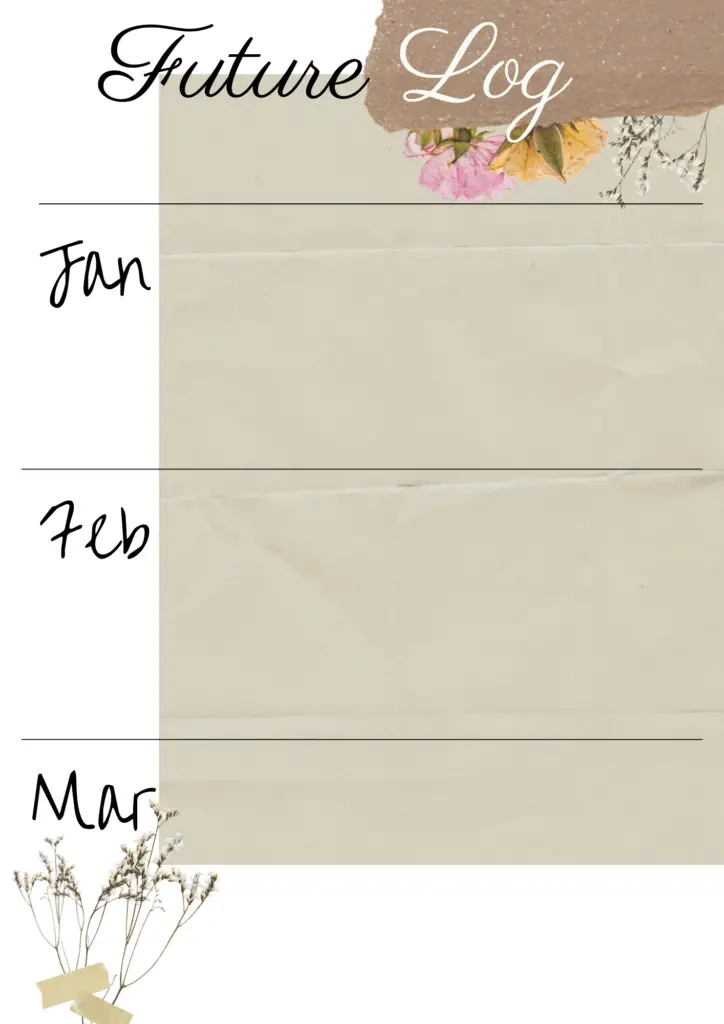 2. Using Small Calendars
Use the layout mentioned above (In Carroll's method) and insert little calendars below each months name. This gives a better idea of the month and helps you plan better.
If you don't want to draw, you can get these calendar stickers from Amazon.
3. Vertical Layout
Divide your page into 3-6 months; this time vertically. And then start logging your events for the month. You can also add calendars below each month if you like.
4. Year At A Glance
Most people divide a page into three columns, owing to the fact that bullet journals are typically A5 in size (like this one). That means you can only see 6 months at a time, in a flatlay.
But if you don't have a lot to record in your future log or have an a4 bullet journal, you can create the future log for an entire year in a single open notebook spread.
Divide one page into six sections, one for each month. And start logging. Here's an 'year at a glance' future log template.
5. Circular Format
This one's a little more creative. However, I believe it can also help you save some space.
Open up your journal. Draw a circle in the middle. Write down all your months around this circle. Then, alongside each month, include important dates and events.
Steps To Use A Future Log Bullet Journal
Step 1 : Setup The Future Log In Your Bullet Journal
Before setting up, you need to decide on a few things.
How far do you want to go in the future?
Choose whether you want a future log for an entire year or just the next few months. Many people keep a bullet journal for six months.
In addition, there is no right time to start a new bullet journal. You can start at any point during the year and plan your layouts accordingly. Create a future plan for the months of August through December if you're starting a new bujo in August.
What kind of layout do you want?
Choose your preferred layout. You can use any of the beginner-friendly layouts listed above or create your own. And leave pages as you see fit.
Suppose, you want to keep a year's worth of future log while using a three-month-on-one-page layout, you'll need four pages in your bullet journal.
I created a simple 3 months on one page template, and drew these borders with an orange pen to give a polaroid effect.
If you're still not sure, you can just download the free printables and get started.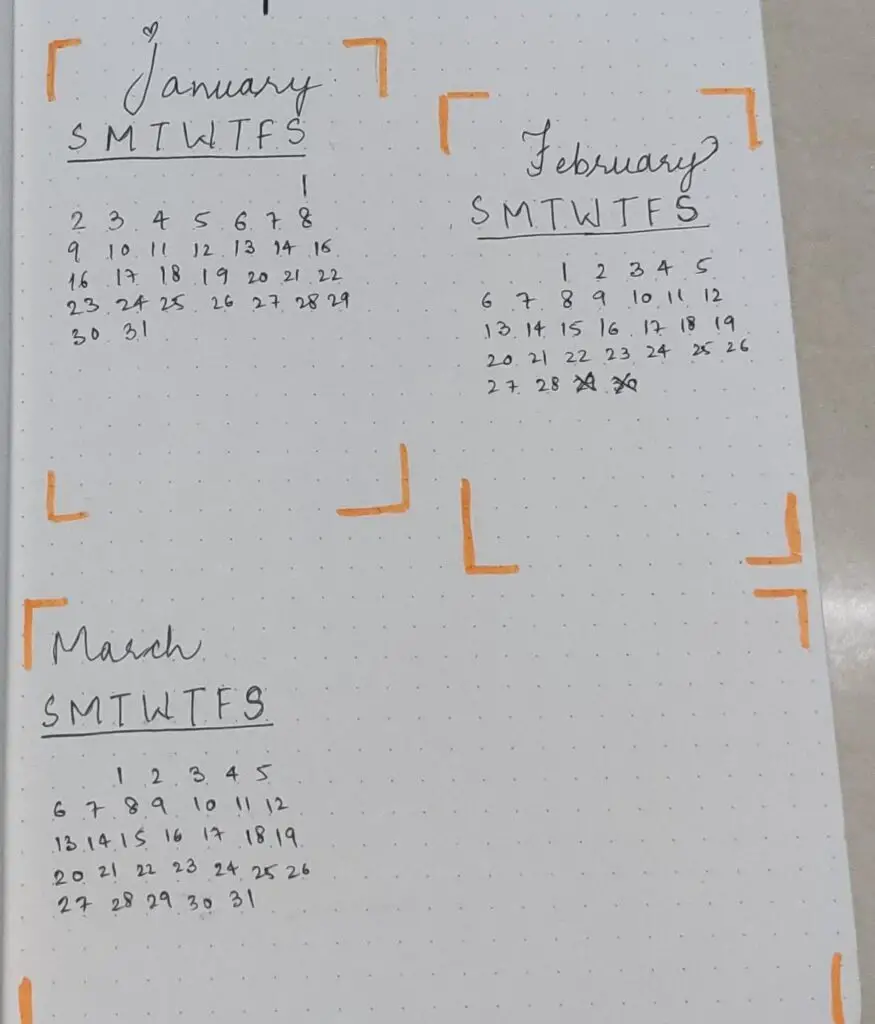 Step 2 : Record Your Future
Brain dump all your upcoming events, meetings and important dates in your future log.
Use your mobile phones or old journals for reference.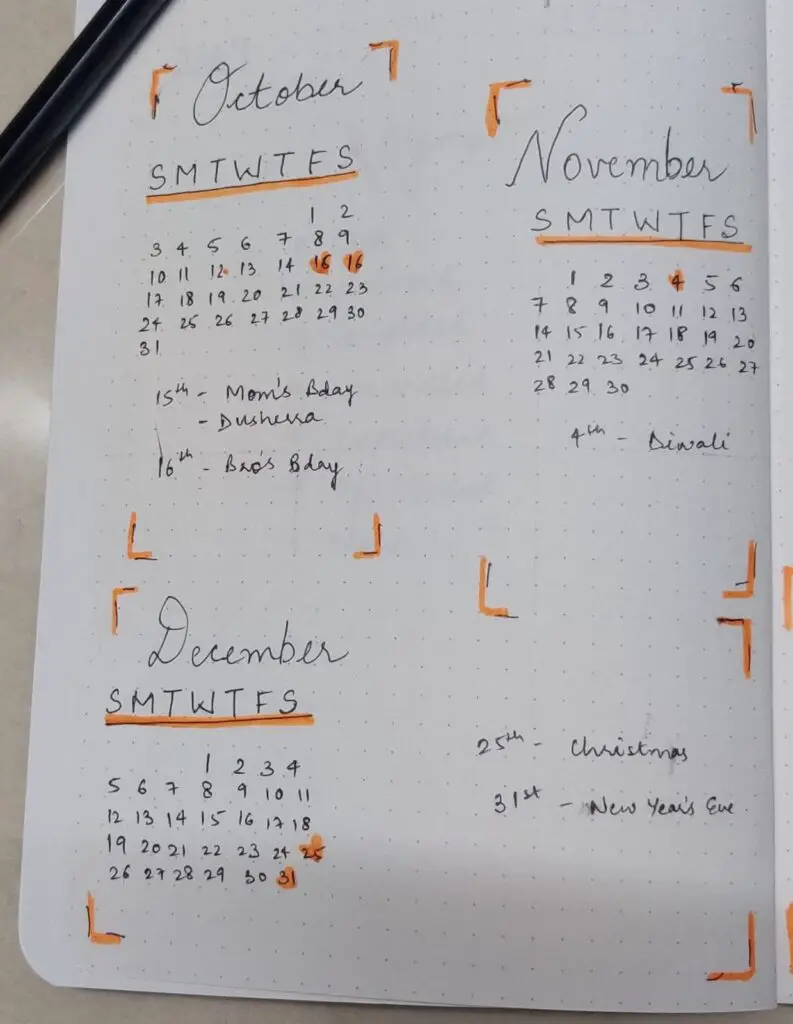 Step 3 : Migrate Your Tasks
Once everything is in place, it's time to start thinking about your future! Migrate all tasks from the future log to the monthly log at the beginning of each month.
Also, for each new week, migrate all of the bullet points from your monthly log to your weekly log. This way, you'll never start your day/month unaware of what's going on in your life.
Day 4 On 'How To Start A Bullet Journal For Beginners'
Hopefully, you now have a good idea about the future log for your bullet journal. Create one for yourself and let me know in the comments how it goes.
Before moving on to the monthly log section, we'll create some optional page layouts tomorrow, i.e. a few pages to keep you inspired and on track. I'm very excited!