Disclaimer – This post may contain affiliate links, which means I'll receive a commission if you purchase through my link, at no extra cost to you.
---
New Year is right around the corner. You're excited to turn the leaf and restart with the whole 'new year, new me' attitude. And, to help you live a better life this year, here are some bullet journal page ideas.
Today, I'm going to show you how to create a few "must have" bujo pages for a memorable year. You'll begin by making a new year's resolutions page.
Then you'll create a bucket list of things to do and places to visit this year. These are not just your wish lists, they are going to be your roadmap for the entire year.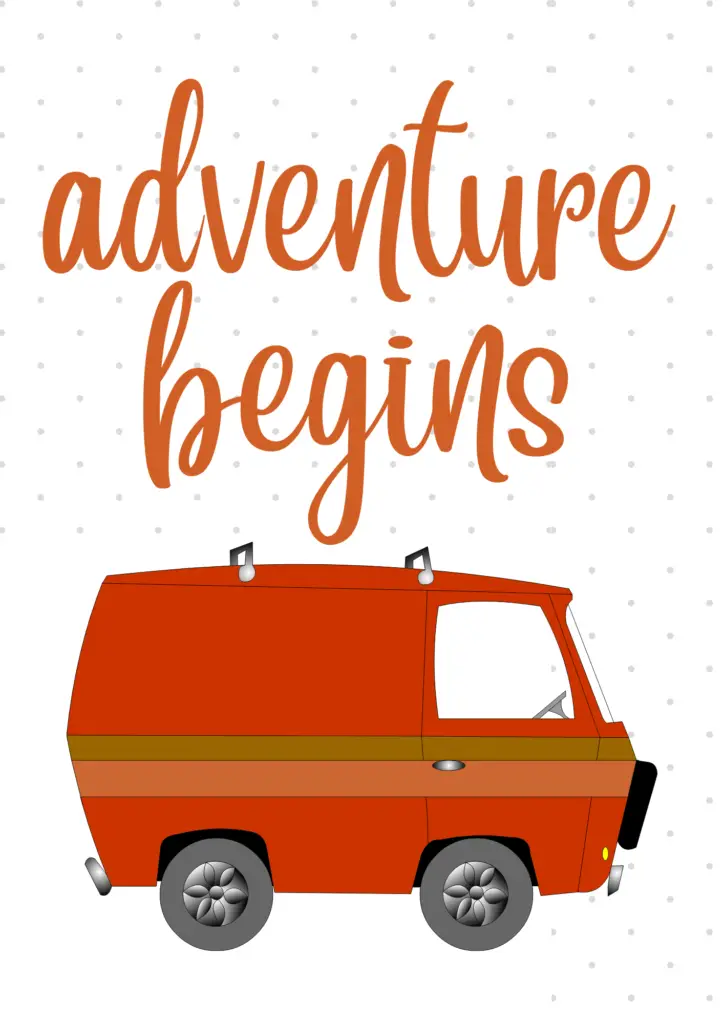 Note – This is the 6th post in a 10-post series on 'How to Start A Bullet Journal For Beginners (With No Art Skills)'. If you're new to bullet journaling and are unsure how to get started, this series will be extremely helpful.
I'll help you set up your bullet journal from scratch in just 15 minutes per day! Here, are all your resources.
Day 1 – How To Start A Bullet Journal ( No Art Skills Required!)
Day 2 – How To Easily Create Your Introduction, Key And Index Page
On Day 3 – How To Create A Future Log In Bullet Journal
Day 4 – How To Create A Future Goals Page In Your BuJo
Day 5 – How To Create Bullet Journal Quotes Page and More
You're On Day 6!
Day 7 – How To Create A Bullet Journal Monthly Spread
On Day 8 – Bullet Journal Habit And Mood Tracker Ideas
Day 9 – Simple Bullet Journal Weekly Spread Ideas For Beginners
Day 10 – 15 Easy Ideas For Bullet Journal Collections
Why You Need These Bullet Journal Page Ideas?
Bullet journals are the best way to set new goals. Here are a few reasons why,
Writing down helps you get clear on your goals.
Provides motivation
Helps you visualize your dreams
Helps You Focus More
You're able to track them better
Forces you to take action on your goals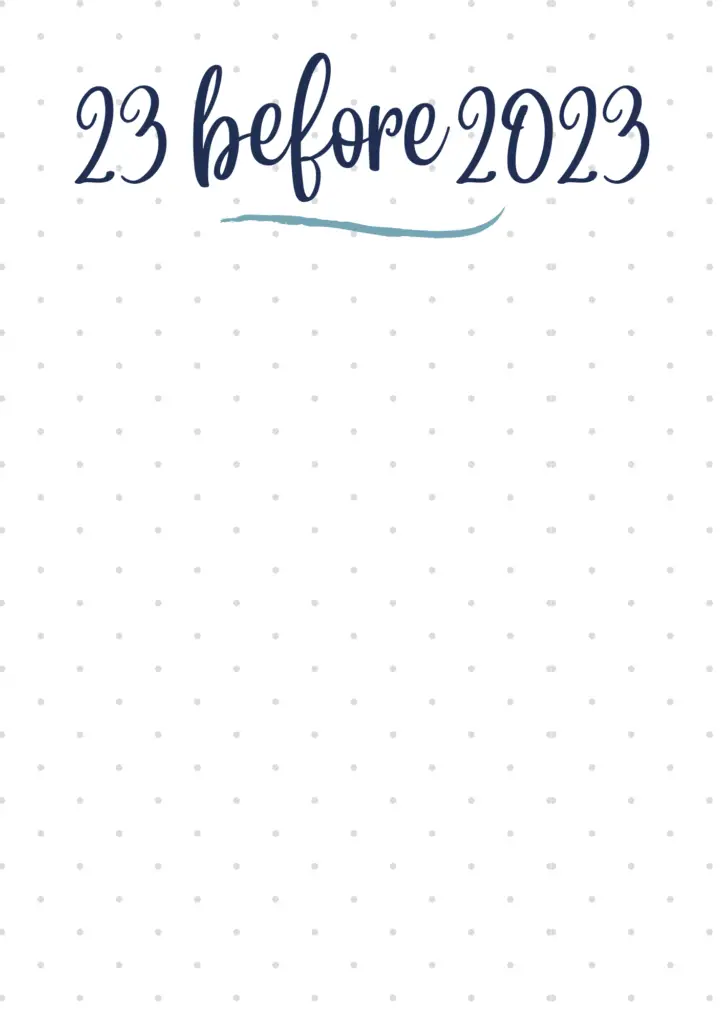 Well, now that you know the benefits, here are some bullet journal page ideas for a better year.
Also, if you're new to bullet journaling, check out this Bullet Journal Template Pack. To make this process a whole lot easier for you, I've created a pack of 35+ bullet journal templates. Download them here for FREE!

1. New Year's Resolution Page
Include this page in your bullet journal as a reminder and to hold you accountable. Because, let's face it, most of your new year's resolutions won't even last until February. And that is not what we want this year! If you're looking for some new year's resolution ideas, here's a list of 50+ suggestions.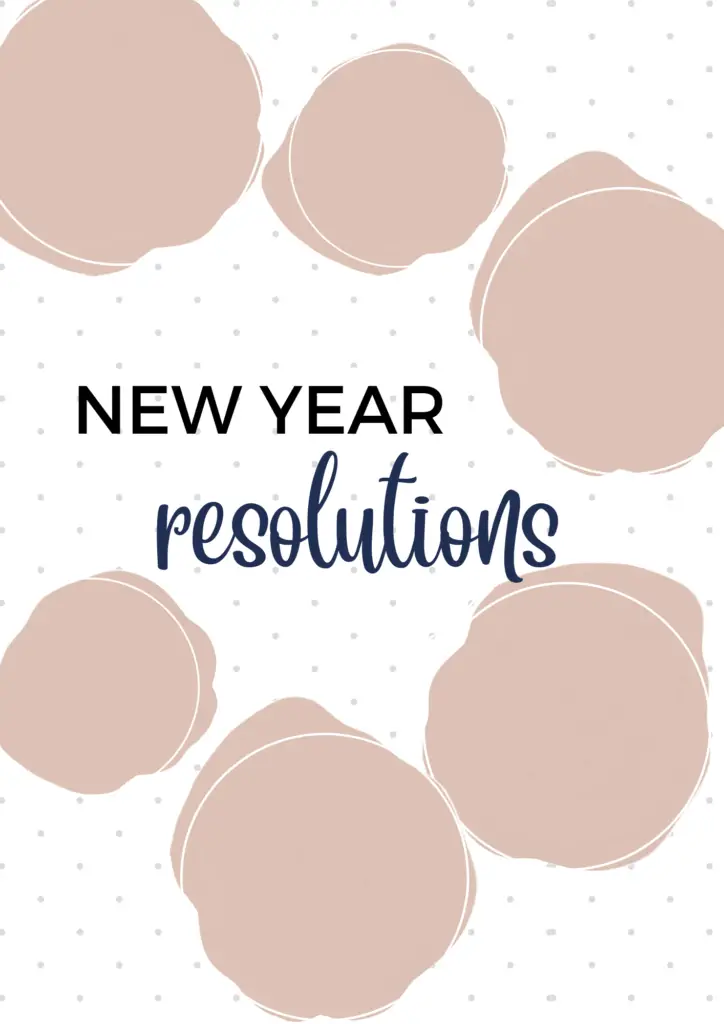 While setting your new year's resolution, keep these things in mind.
Make sure they're realistic and practical.
Divide them into actionable steps.
Focus on the first few steps instead of stressing about the 100th step right away.
Track your goals regularly.
Build habits around them.
How To Create A New Year's Resolution Page?
Make a list of your new year's resolutions. Here are some suggestions for you!
Keep in mind the points mentioned above.
Divide Your Goals into categories. This helps you prioritize better. Here are a few categories you can put them in.

Health – eg: I will loose 10 pounds this year.
Family – eg: I will have Friday night dinners with my family every week.
Work – eg: I will improve my skills in *this* field.
Studies – eg: I intent to score an 'A' this year.
Personal – eg: I will read 12 books this year.
Ps – See how specific each goal is. This increases your chances of actually following up on them.

Take a marker and your bullet journal, and write down your heading at the top.
Choose a template for this page. I prefer to simply divide the page into 4 categories. To keep things simple, you can also use a list template.
Here's a printable journal template that you can customize according to your needs. And it's available at 50% on Black Friday!
Write down your resolutions for each category.
Doodle around. Add some quotes that you like. You can also use these stickers.
Keep track of your resolutions. Here are a few ways you can keep track.

Divide them into quarterly or monthly goals.
If your resolution is something you do daily, use a habit tracker.
Every Sunday, do a weekly checkup to track your progress.
List down your achievements, or the goals you've accomplished to keep yourself motivated.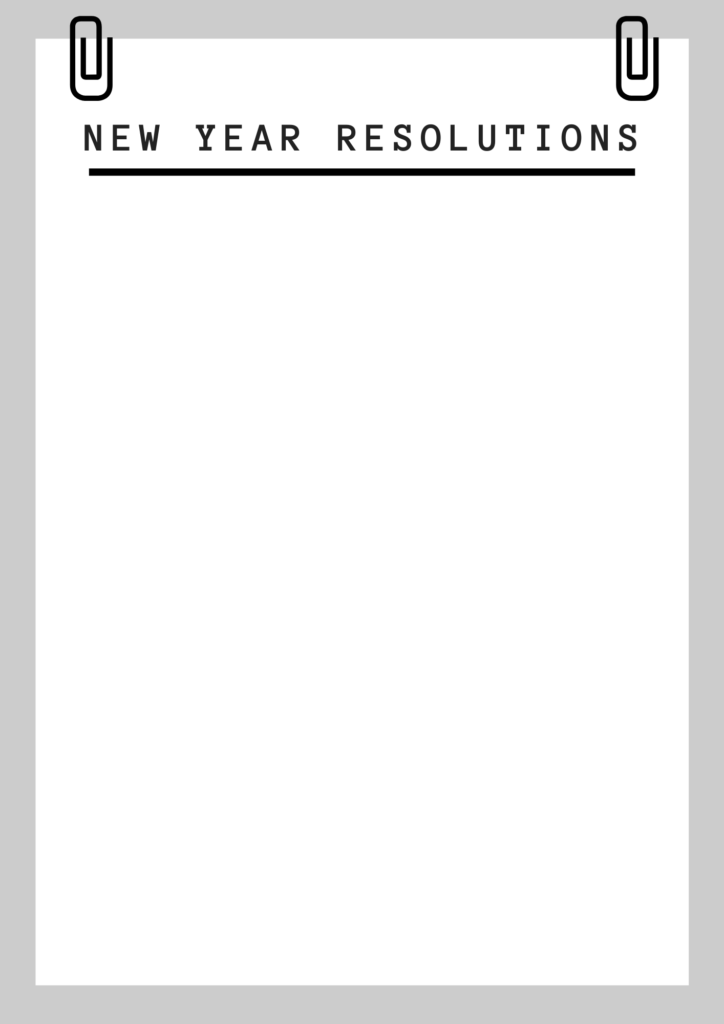 2. Ideas For Travel Bullet Journal Pages
Travel is something that you can never have enough of. So, why not create a system that will allow you be more intentional with your travel.
There are numerous bullet journal page ideas to use for your travel plans. Here are some options,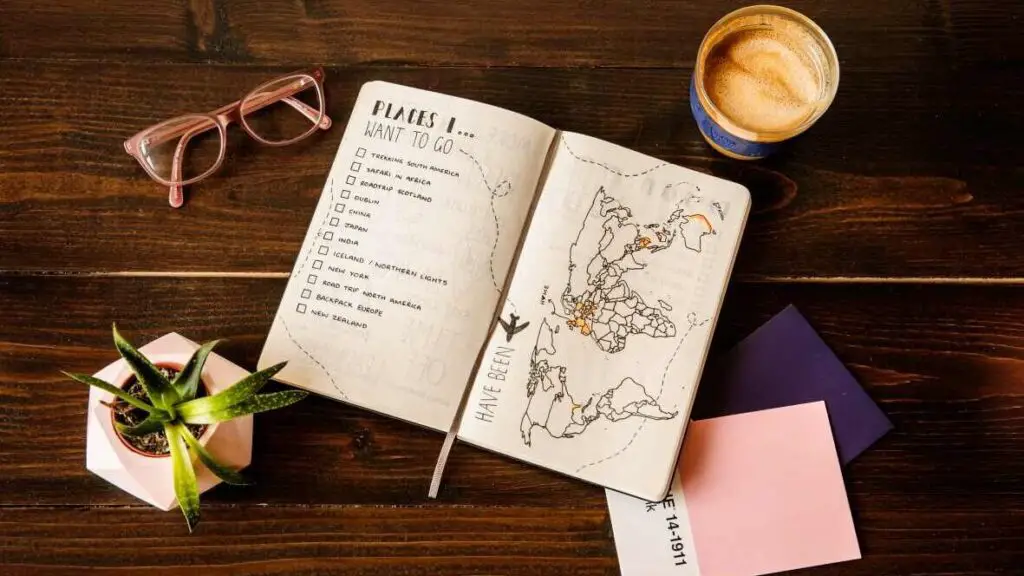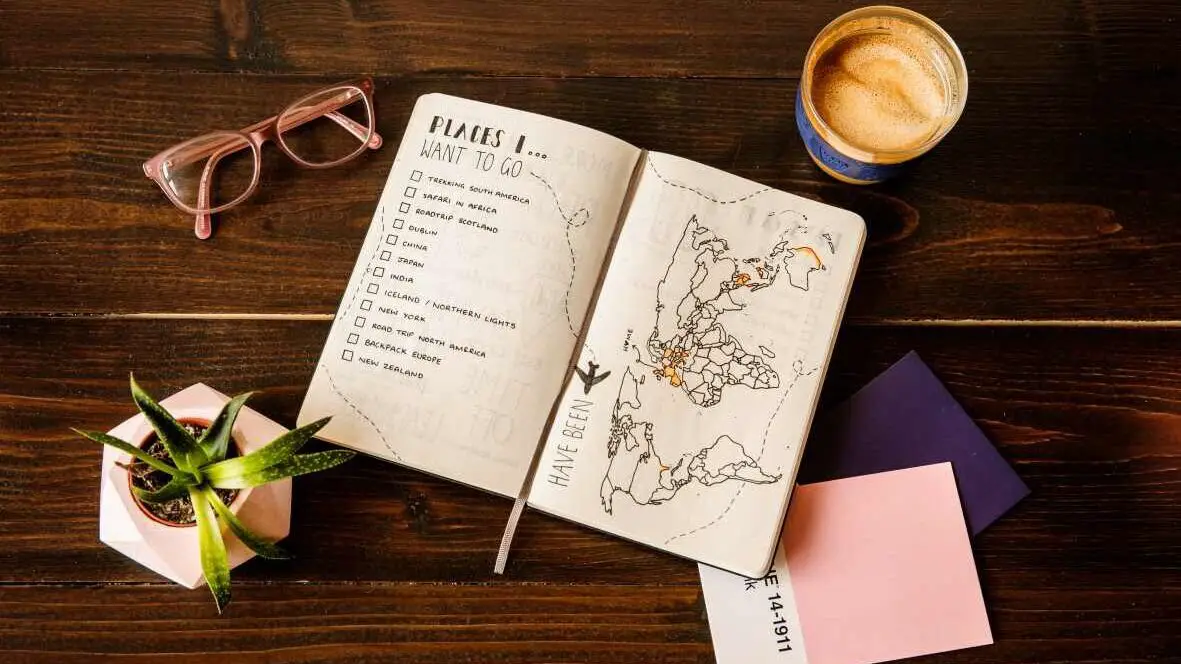 1) Bucket List
I'm sure you have a lot of places you want to visit! Make a list of all your dream destinations and start crossing them off one by one.
2) Travel Planning
Pick up your bucket list and start planning. At least, determine how much money you need to save and start saving a small amount each month. Track this in your bullet journal.
This way, you're already one step closer to taking that trip.
3) Staycation
You don't have to travel outstation to enjoy some me-time. View your city through the eyes of a tourist. Make a list of all the places you want to visit. For example, cafes, historical sites, Airbnbs, and hotels where you want to stay.
4) Travel Journal
Create a spread in your journal for each trip you take. You can do a simple diary entry. Add collectibles from that trip, such as stamps, subway tickets, and so on. You can also make a collage of everything you want to remember from that trip.
3. Things To Do Bucket List
Aside from travel, I'm sure you have a wish list of things you'd like to do. Dream big. You might want to do things like
learn horse riding,
doing an ironman,
launch a business,
surprising your mom with her dream car,
Meet your idol,
Skydive,
this list can go on and on . . .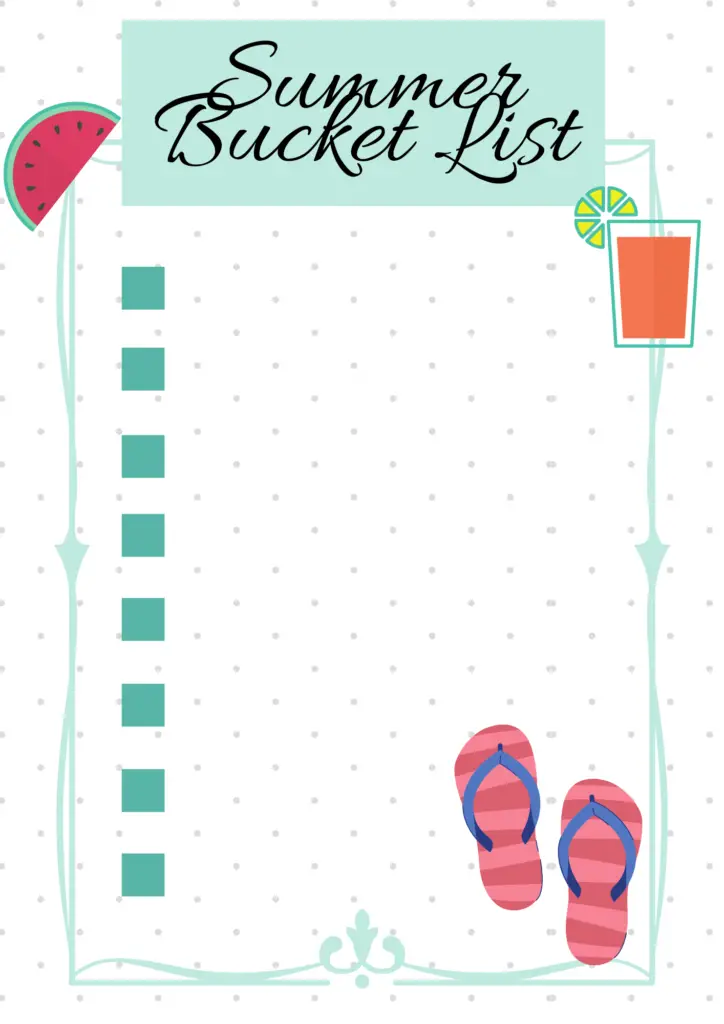 Write everything down because you never know when inspiration will strike and one of your dreams will come true. You can continue to add to this list as you go.
You can find all these templates in the Free Bullet Journal Printable pack.
Psstttt : Aren't you already tired of feeling overwhelmed and confused all the time? What if, you could live a life where you can spend rest days sipping mimosas with your girlfriends without cribbing about how busy you are!
Well, the Design Your Life Planner will help you achieve that. Buy yours and transform your confusion into confidence.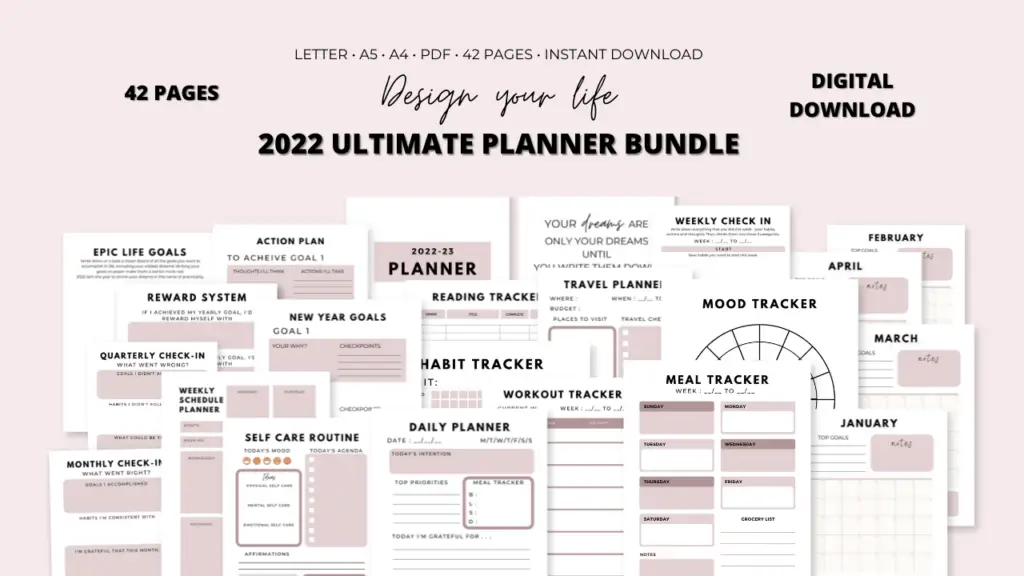 Day 7 On 'How To Bullet Journal For Beginners'
Include the pages that'll inspire you to do better this year. It's important to keep reminding yourself of your dreams. Tomorrow, we'll create a monthly log. Before the monthly log page, leave 3-4 blank pages in your journal. We'll come back to these pages on Day 10.