This post is all about ideas for new year goals list you need to add to your list this year!
Disclaimer – This post may contain affiliate links, which means I'll receive a commission if you purchase through my link, at no extra cost to you.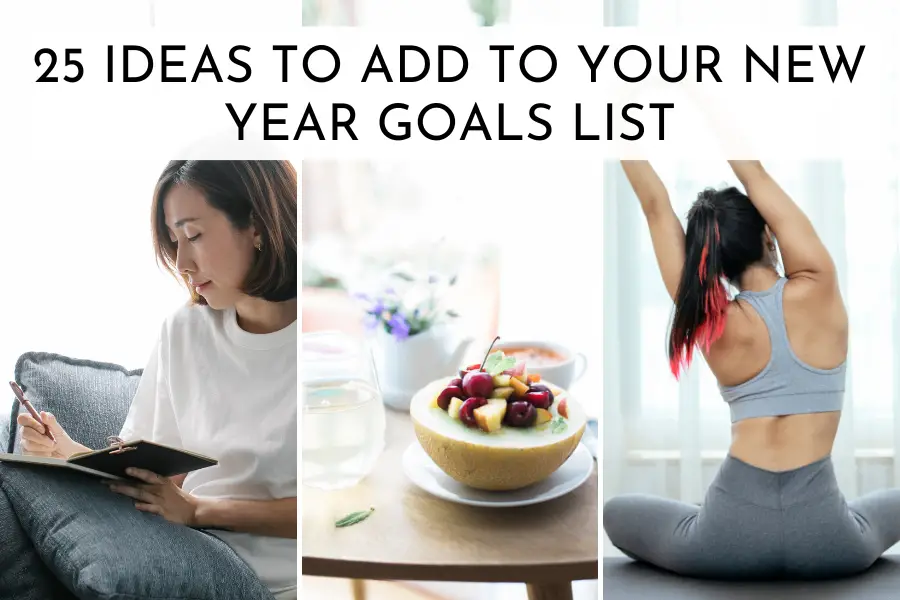 If you're tired of making the same new year's resolutions that don't seem to work, I've got something special for you! You don't have to keep up with the joneses this year and make resolutions like "I'll go to the gym every day", if you don't give 2 hoots about exercising.
Because that doesn't work! In fact, 80% of people abandon their New Year's Resolutions by February.
And it's mainly because people set vague resolutions without even considering what is the end goal they're looking for. That's why it's more important to spend time creating a new year goals list instead.
Goals give you a direction, instead of binding you to an action or a habit, even when it's not working for you! Try this simple new year goal setting process to help you be more clear. And get your mind going, here are 25 amazing ideas to add to your new year goals list today.
Most Common New Year Goals
Here are 3 most common new year's goals that I'm sure have been on your list more than once.
1. Get in your best shape
It's funny how this is the first goal we think of after being hungover at new year's eve parties. Eating healthy and exercising more are most popular on new year goals list, even though most people quit them 2 weeks later.
So, if you really want to get in your best shape possible this year, try this instead :
Start small
Set clear goals and intentions
Pick a form of exercise that you actually enjoy
2. Spend more time with family
I'm sure you've heard this one before! The holiday season fills you with love and care for your family and ofc, you want these good times to last forever. But soon you get caught up in your to-do lists and forget all about it.
Check out new year relationship goals ideas below to actually achieve this goal in 2023.
3. Save more money
People often aim to live more sustainably and increase their income at the start of the year. Which also drives you to make new career choices. This resolution is hard to follow because most people are ignorant towards their money.
You need to be intentional towards your financial goals to finally accomplish this.
New Year Goals List IDeas
new year relationship goals Ideas
1. daily gratitude together
Many studies have revealed that a 5 minute gratitude practice with your partner can result in increased support level, feeling of intimacy and overall love for each other.
It's crazy how something as simple as sharing 3 things you're grateful for with your partner every night before going to bed, can bring such a huge difference. Try this gratitude journal, if you're just getting started.
2. make time for date nights
I know we all love this new year relationship goals – date nights! But randomly spending time together and intentionally putting in the effort to plan a date night are two very different things.
Now, I'm not asking you to do something fancy every week. Cooking dinner together while having Modern Family on in the background also counts! And you can keep up the excitement with this scratch-off date night ideas book.
3. Start a new hobby/ project together
Sometimes, it can be hard to find time for your family amidst the busy schedule. But you can always involve your family to help you out with work.
Maybe start gardening this summer with your kids. Or ask your husband to help you with your new business.
4. Schedule meetings to analyze your family goals
I saw Jess and Gabriel doing this and I thought it was a genius idea. Basically every month, you sit down with your partner and discuss your goals, priorities and schedules.
This new year relationship goals comes down to intentionality. Even tho you're living together, it's important to take out time to discuss how do you want to do this life thing together!
5. Become A Better Conversationalist
As someone who's not very expressive, I know first hand that holding grudges will only harm your friendships and relationships. And your mental health.
It's always a better idea to focus on having clear conversations as this new year relationship goals. To make it more fun, use this deck to have deep conversations over the game.
healthy new years resolutions
6. Start meal planning
If healthy eating is on your new year goals list, you need to get on the meal planning train. It helps you be more mindful and saves you $$$. If you're on a busy schedule, these recipes inside TOH meal planning book is gonna be your life saver.
7. no phones in morning
When you wake up to all the messages, and response to mails, you start your day on other people's terms – thinking what they're asking of you.
You don't even take out enough time to think about what YOU want this day to look like. And this leads to increased anxiety and stress levels.
You can also use Freedom app to block notifications in the morning, so you can have your me-time.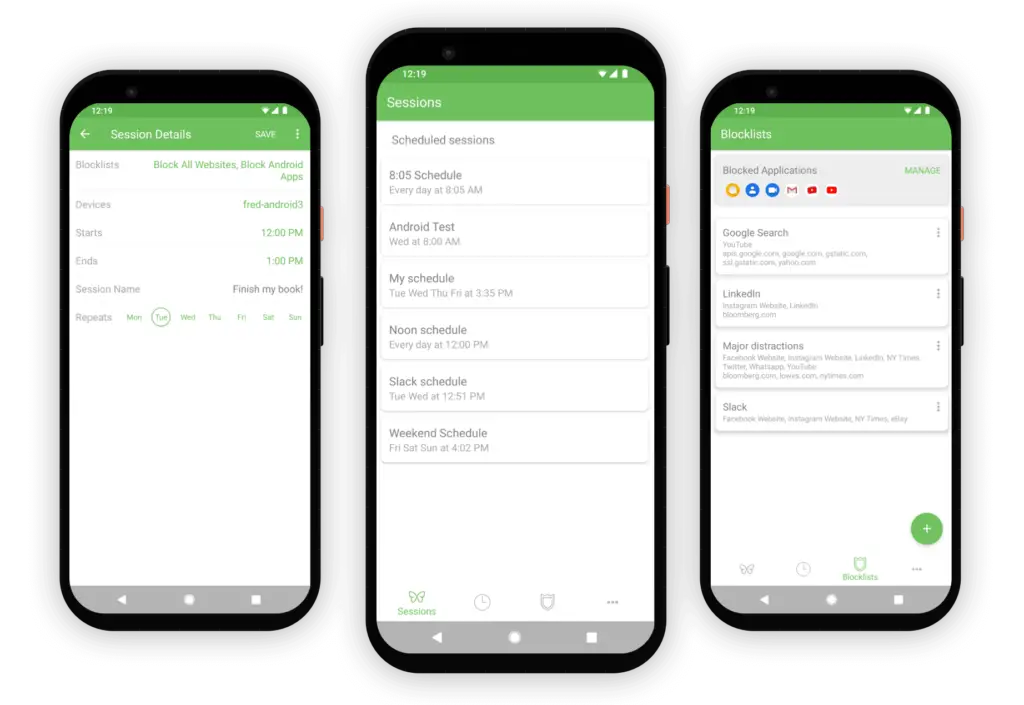 Related Post: 10 Digital Detox Day Ideas
8. Coffee intake limit
You're not gonna like this one, even tho you know you need to add this to your healthy new years resolutions. Try to find a healthier alternative to coffee like the Tazo organic chai.
And make sure you drink enough water in the morning before having any coffee.
9. physical activity you enjoy
Exercising more is on the top of everyone's new year goals list, but you don't need to sign up for a gym membership if that's not your thing.
Remember, the goal is to stick with it for the next 365 days. So, if hot girl walks are your thing (hi-five!) , go for that!
hot girl walk essentials
10. Cold showers
This is a fun healthy new years resolutions that'll push you out of your comfort zone a little everyday. Cold showers have a lot of mental benefits along with physical benefits.
When you're inside the bathroom, your brain will tell you to skip the cold shower because nobody will know. You need to learn to silence that voice everyday and follow through.
11. Journal
Journaling really helps you process your feelings and thoughts, since we consume a lot of information daily without taking time to silence your thoughts. This healthy new years resolutions will keep you sane.
This 'Burn after writing' Journal is filled with journal prompts to help you self-reflect better.
New Year financial goals List for 2023
12. $10k in 52 weeks
This is an interesting financial goals for 2023. You have to save a small amt of money every week. Some of them might not seem like a huge amount, but by the end of the year you'd have an $10k sitting in your savings.
And ofc, if you choose to invest that amount you might just get better returns.
13. weekly money date
A lot of people are not aware about their own money and therefore aren't financially successful. A money date, is nothing but an excuse, to start having a better experience around money.
Go on a proper date with yourself to evaluate your bank account, budgets, money goals. Also, use these dates to imagine what you want your bank acc and wealth looks like, what do you invest in and spend money on?
14. budget to the last dollar with an abundance mindset
This goes back to knowing where your money goes. Make it a financial goals for 2023 to have a monthly budget. But make sure, you're doing that with an abundance mindset.
Don't get into this with a "I have so little, I can't spend any of it!" mindset. Instead be grateful for what you have and know you're going to spend it smartly and it'll come back multiplied.
15. Improve your financial knowledge
If you're anything like me, then using Kokumber monthly planner to budget and investing in crypto once in a while is as far as your financial knowledge goes.
Add this to your new year goals list, to take course on coursera and read money books to up your money game this year.
The best money bibles!
new year goals list for students
16. Learn a new language
This is definitely the most fun idea on new year goals list! Learning a new language makes you smarter, helps you learn about different cultures, and gives you an edge in the professional world.
17. Read 10 pages everyday
This isn't just a new year goals for students, anyone can add this to their list. Reading a self help book in the morning is a great way to start your day.
You can also read something to increase your domain knowledge. Or get lost in a fictional world.
Related Post: 10 Must-Read Books In Your 20s
18. take an internship that'll help you learn more
If you're in college then this new year goals for students is a must! Internships are a great way to make some extra cash. But you can also use this opportunity to gain some experience in your field.
Their are also some amazing online internship opportunities on linkedin and internship.com
19. Sleep more
Studies have found that your quality of sleep directly impacts your ability to focus. In 2019, MIT professers found that less sleep during semester actually results in less grades.
Make it a goal to at least have 8 hrs of sound sleep everyday. You can also use the Hatch Restore machine to help you create a personalized sleep-wake routine and ease the process.
new year resolution ideas for work
20. Go to at least 3 networking events
If you're finding it hard to make friends at your workplace, or having friends who have similar interests, then networking events should be on your new year goals list.
It's a great way to meet people outside of office. Make atleast one friend from every event you go to.
21. just deal with today's mails
IF your inbox is a mess, like mine, you're probably scared to even look at it. Here's an easy new year resolution ideas for work to get organized.
Only deal with one day's email at a time. If you only focus on that, it'll take less time and you'd actually be able to declutter the mess.
22. monthly deep cleans
Just like your home needs a deep clean, your workplace does too. And that means, clearing your drive, organizing your digital files, and the physical ones, going through your planner and calendars.
Stick to a cleaning method that works for you as your new year resolution ideas for work.
23. build a side hustle
The best thing that you can add to your new year goals list is to start a side hustle. If you have a passion project in mind (& I doubt you don't have one!), now's the time to start building it.
In fact, with all the social media and influencer marketing, it's never been better.
24. increase your net worth
You work goals this year don't need to be limited to your job profile and your salary. You need to build your personal brand as well.
What are the things you can learn to enhance your personality? What investments can you make to grow your net worth? Think bigger this year.
25. Do 5 things to stay healthier at work
This is a simple new year resolution ideas for work. You're always glued to your laptop screens – work or otherwise- and you know it's affecting your health.
Come up with 5 things to keep you healthy at work; be it taking stairs instead of lifts, or doing a 15 min walk on your floor twice a day.
This post is all about ideas for new year goals list you need to add to your list this year!
Related Post