January not only marks the beginning of a new month, but also the beginning of a new year! Which means new themes and layouts to organize your life for all Bujo addicts. Whether you're starting a new bullet journal or updating an old one, here are some January Bullet Journal Theme ideas to get you started!
This collection includes everything from snowflakes to sushi, k-dramas to constellations. You'll undoubtedly come across something that catches your eye. Use them to create your cover page, monthly log, habit trackers, and more.
---
Disclaimer – This post may contain affiliate links, which means I'll receive a commission if you purchase through my link, at no extra cost to you.
---
If you're new to bullet journaling here's a 10-day challenge to help you setup your bullet journal from scratch!
BuJo Tools You'll Need
Bullet journal supplies do not have to cost a lot of money (Unless, of course you love to). Most beginners, however, become overwhelmed by the long list of journals, pens, and stickers that bloggers recommend. So, here are some affordable tools that work great for me!
1. Bullet Journal
I use this simple Dotted Bullet Journal. The dotted sheets make drawing lines and dividing layouts easier. The pages are quite thick. It also has a small pocket on the back for storing loose items.
Other journals that I love . .
2. Pens
These micron pens are my all time favorite. I use them for headings and doodling. They come in different nib sizes, so choose the one that best suits your needs.
3. Highlighter
These Stabilo Swing Cool highlighter pack is a good save if you love adding a pop of colors to your bullet journal layouts. If you use lots of colors in your bullet journals, invest in a good set of highlighters.
People also love investing in these two sets.
4. Stickers
Adding stickers to layouts is the simplest way to make them more interesting. You can use this pack of 550+ bullet journal stickers.
5. Bullet Journal Templates
Bujo template packs can save you a lot of energy and time, specially if you're just getting started. Here, I created a bullet journal template pack with 35+ templates for you! You can download this for FREE here.

January Bullet Journal Ideas
The internet can be a minefield when it comes to finding bullet journal ideas. The thousands of creative layout designs on Pinterest and Instagram frequently cause analysis paralysis, leaving us wondering if our spreads are good enough!
To save you the trouble, I scoured the internet for 21+ unique January bullet journal ideas you CANNOT miss! Try these in your bullet journal (with your own spin, of course!).
Whether you love a minimalist layout or enjoy different themes, there's something for everyone!
1. Happy New Year
New Year's all about celebration! Create a Happy New Year page on the left and a mini January calendar on the right.
To add some color to your layout, use washi tapes or stickers.
Credits : Raesdailypage
2. Music Lovers
This layout is colorful, vintage, creative, and everything else! If you enjoy music, this January Bullet Journal idea may be of interest to you.
I love the colorful vintage record player with the leafy doodles here.
Credits : Marthasjournal
3. Winter Fruits
Add some P(f)un to your layout as done here by nora_the_artsy_girl. You can create a similar layout with your favorite winter fruit.
Don't forget to add quotes that inspire you!
4. Out Of The Box
A duck on a skateboard! How cool is that? Open your minds, grab your sketch pens and doodle something fun and unique.
Tombow Dual Brush Pens are used to create this layout.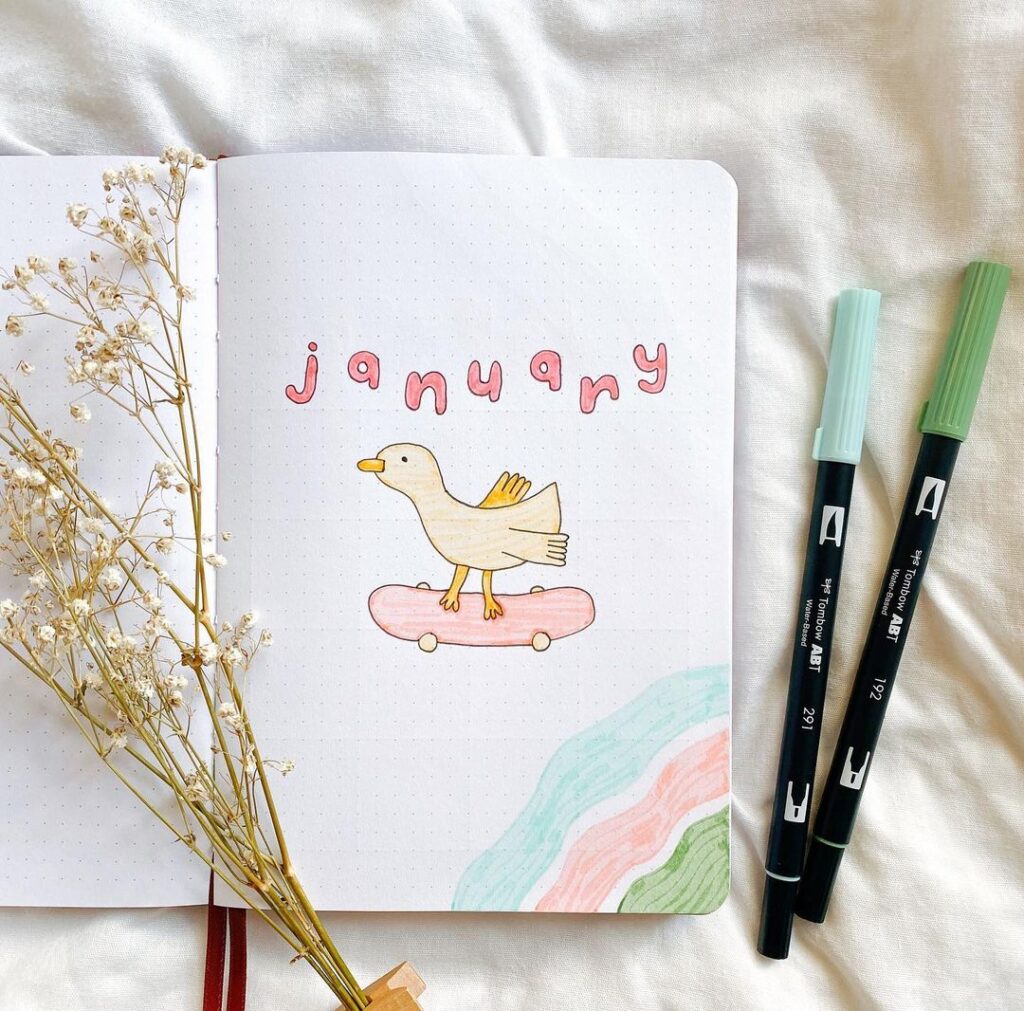 Credits : eggyhues
5. Monthly Log
Make a January calendar on the left page and a task list on the right. Bridgetsjournal themed this layout around Italy's Winters.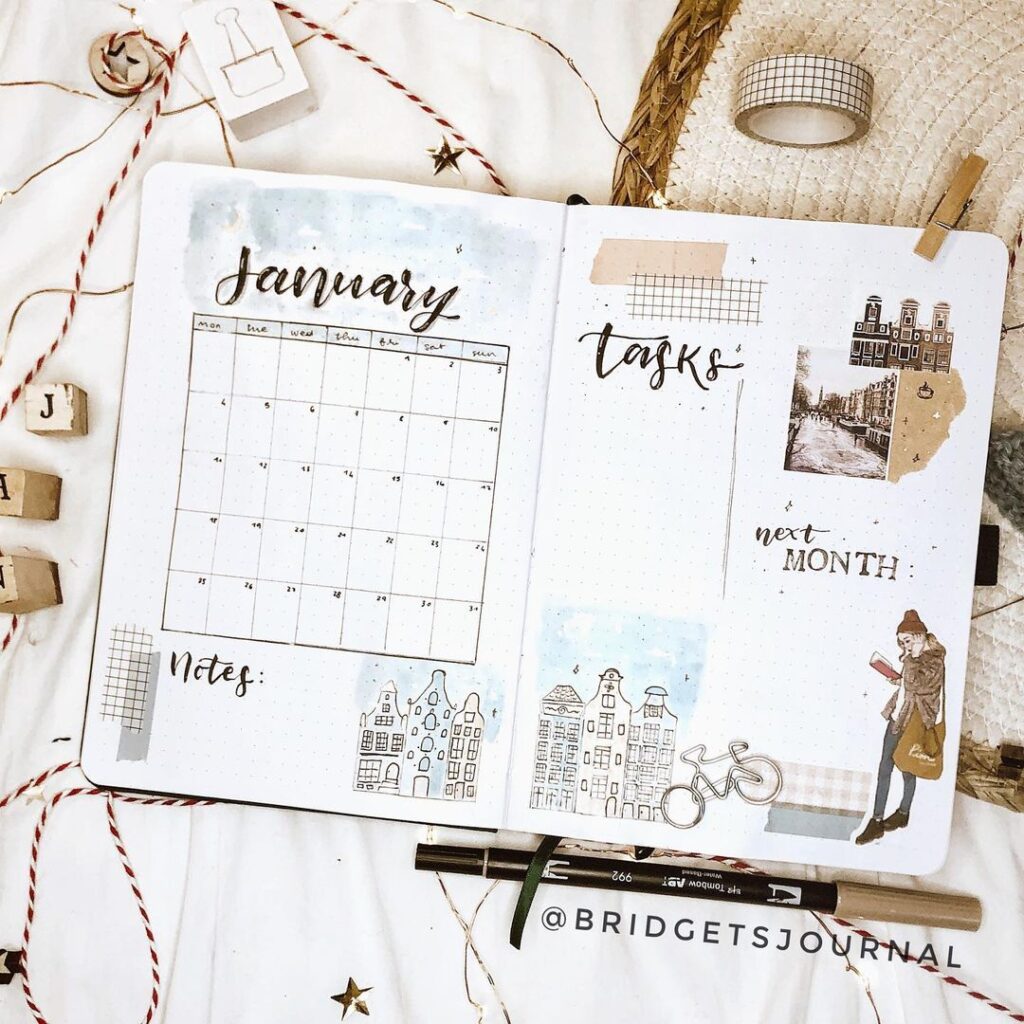 6. Sushi-Themed
For all you foodies out there! Make a 2-page monthly log spread. Mention the month's important dates and events. Here's how to make the most of a monthly log layout.
Credits : its_marta_bujo
7. Jellyfish January Bullet Journal Idea
Add a black and white contrast to your layouts.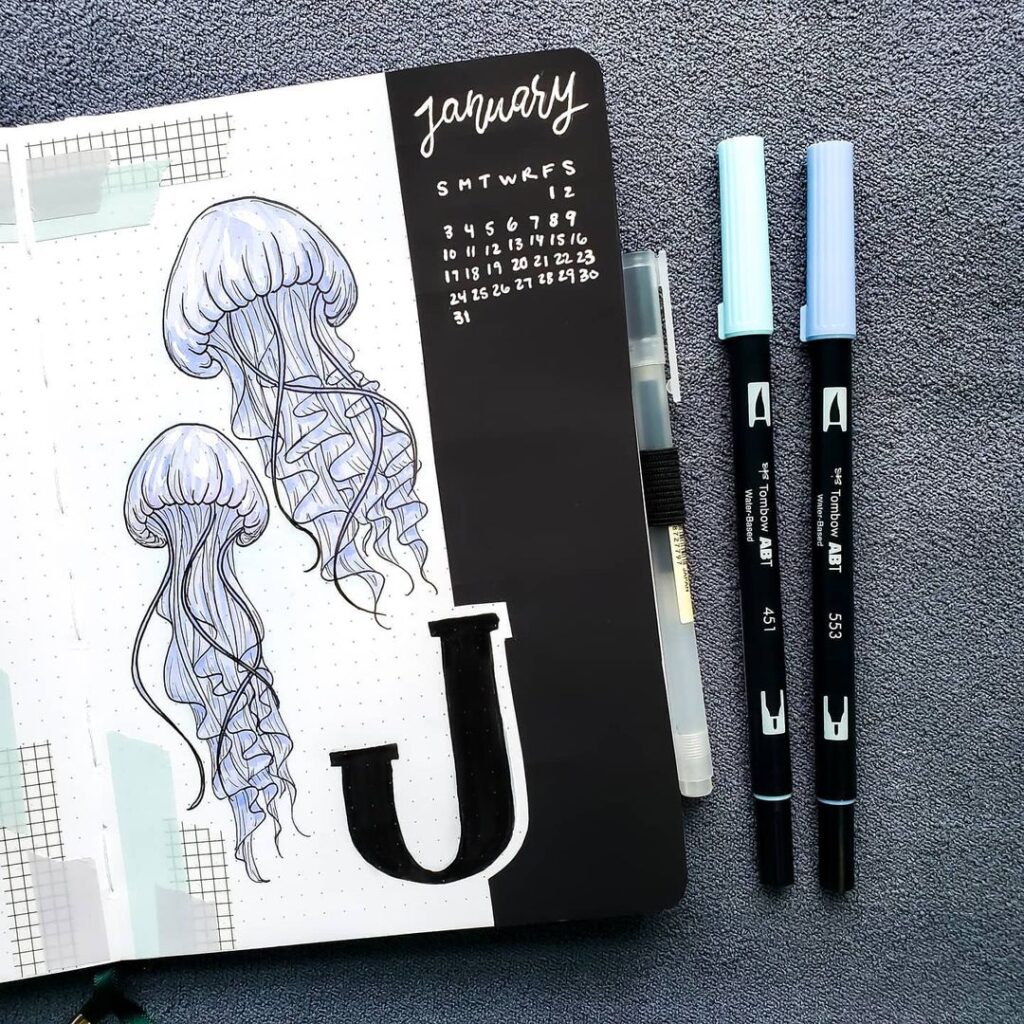 Credits : Kesysbujo
8. Habit Tracker
I'm sure you've a list of healthy habits you want to start in 2022. Keep track of those habits with a bullet journal habit tracker. Make it your year!
Related Post : 50+ Realistic and Achievable New Year Resolutions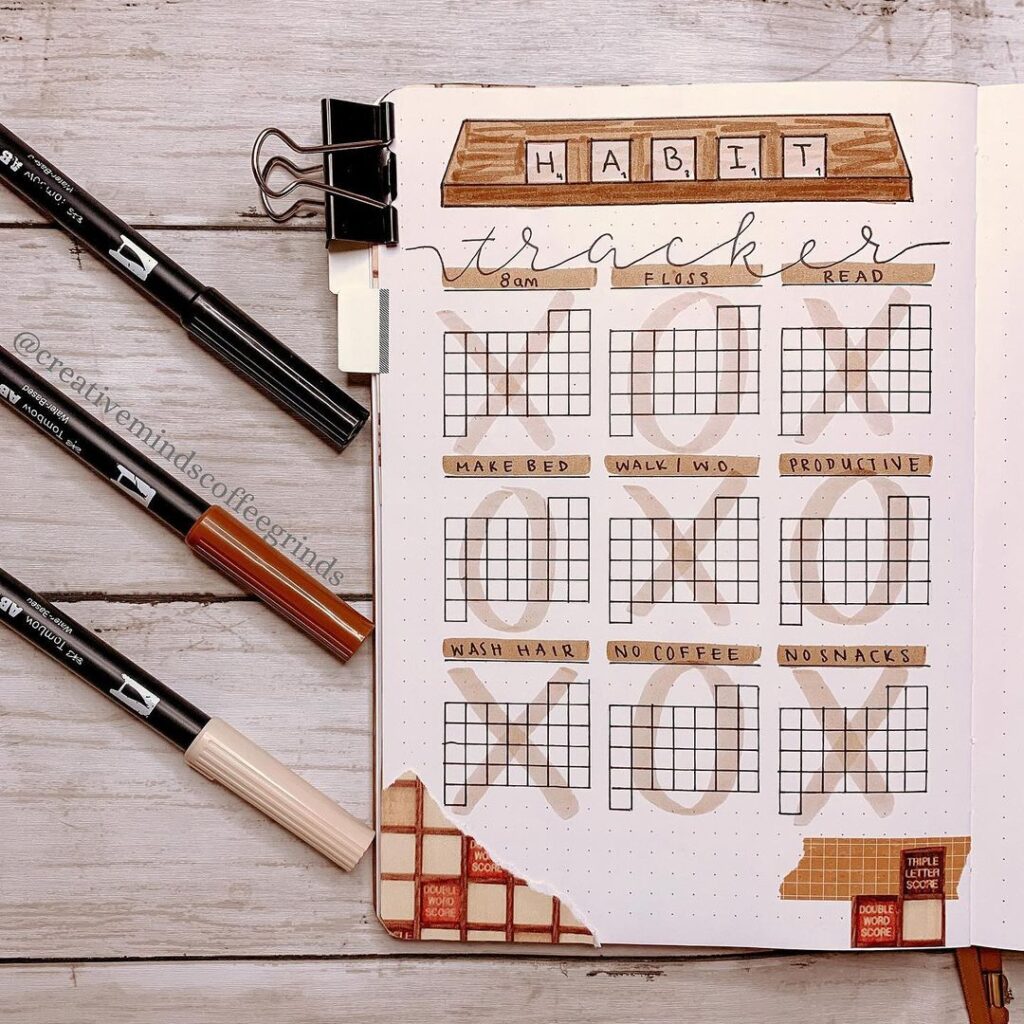 Credits : Creativemindscoffeegrinds
10. Rainbows
Here's a simple yet elegant January Bullet Journal Idea. Write your month's name in the center and draw different colored rainbows around it to create a dreamy aesthetic.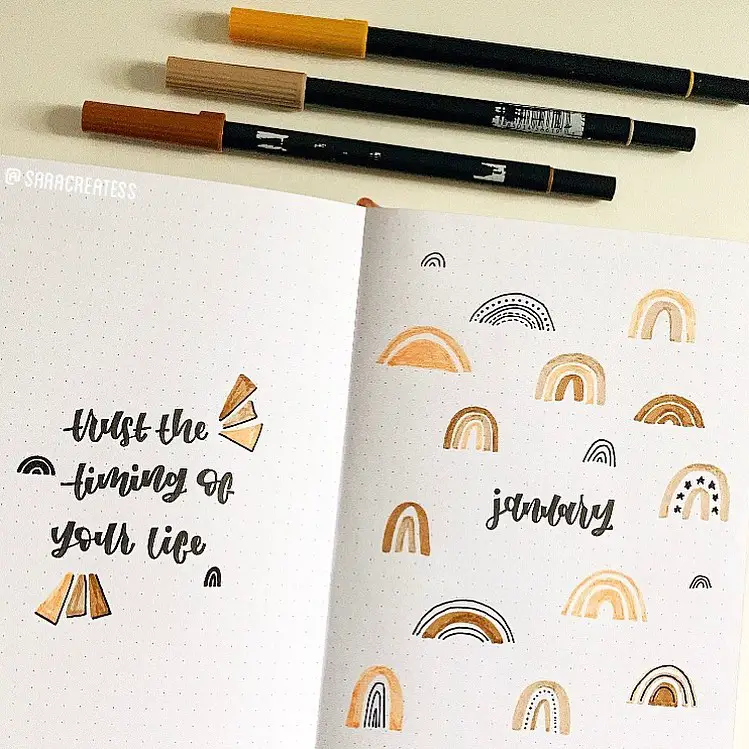 Credits : Saracreatess
11. Book Theme
It's amazing how quickly and easily you can create an appealing layout. The key is to use washi tape to add elements that match the theme like this one.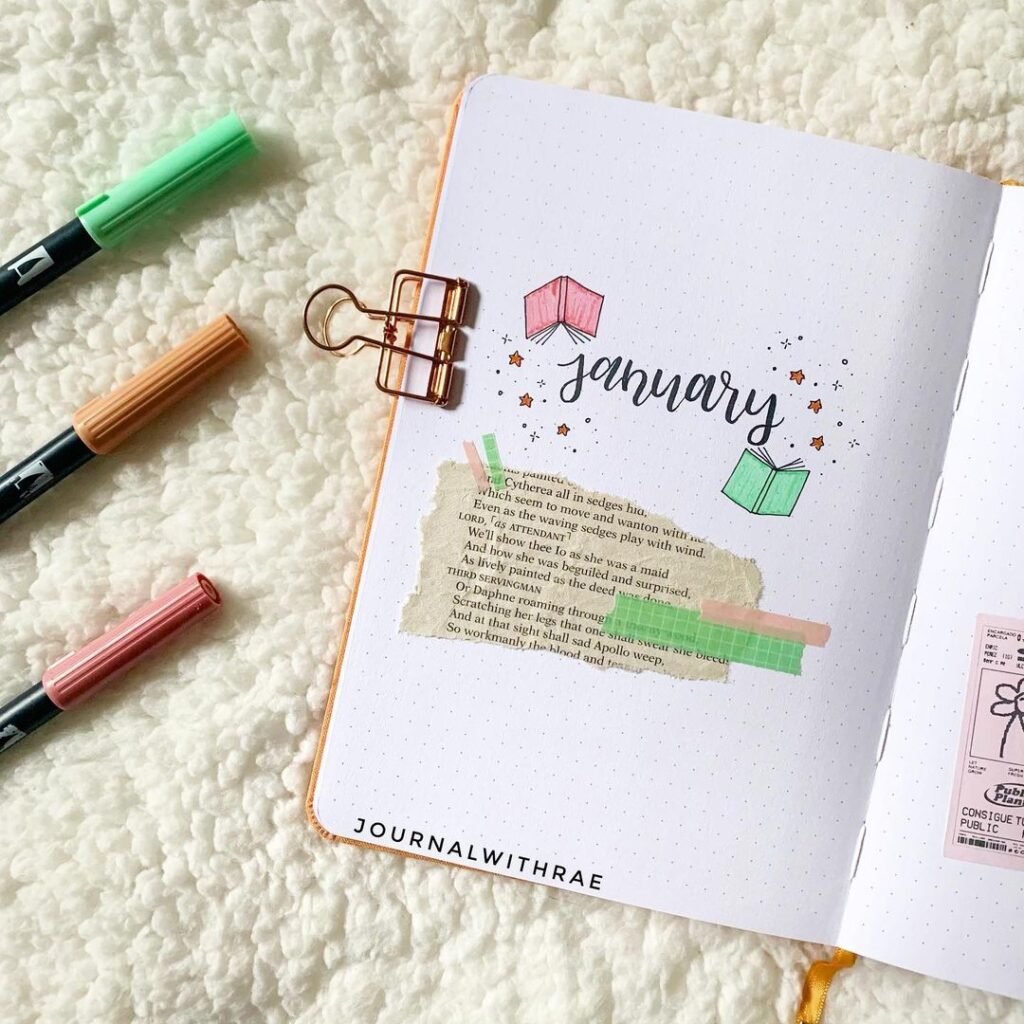 Credits : Journalwithrae
12. Self Care
Make yourself a priority this year! And let your January theme reflect the same. Take this 7-day Self-Care Challenge to kickstart your year by prioritizing yourself.
Credits : the.bujogirl
13. Mountain Themed Cover Page
Add different colors to make it look more vibrant. I also loved the glimmer effect on the mountains and in the sky.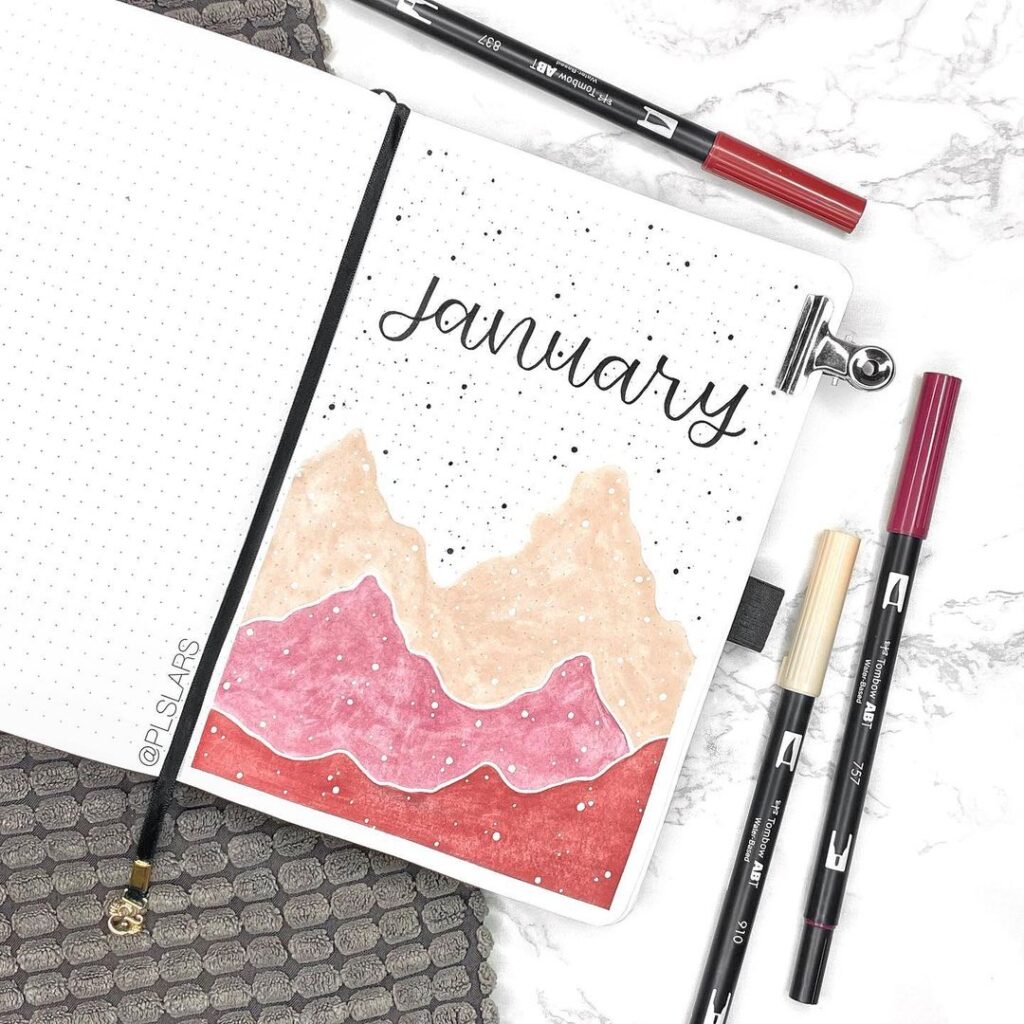 Credits : plslars
14. Casino
This January Bullet Journal Idea is based on 'Casino'. New Year is all about celebrations after all!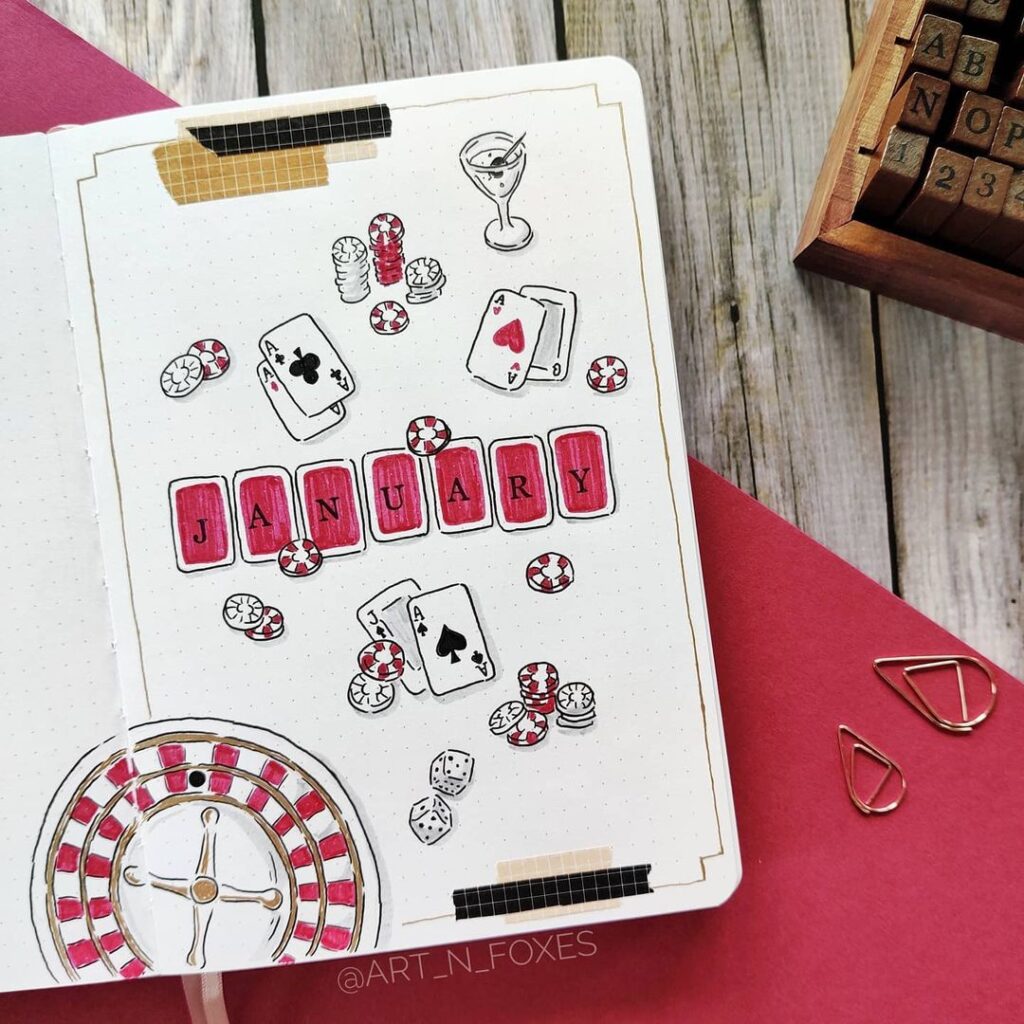 Credits : art_n_foxes
15. Crystal Ball
If you're into horoscope and fortune telling, here's a design by @bulletjournalbychloe.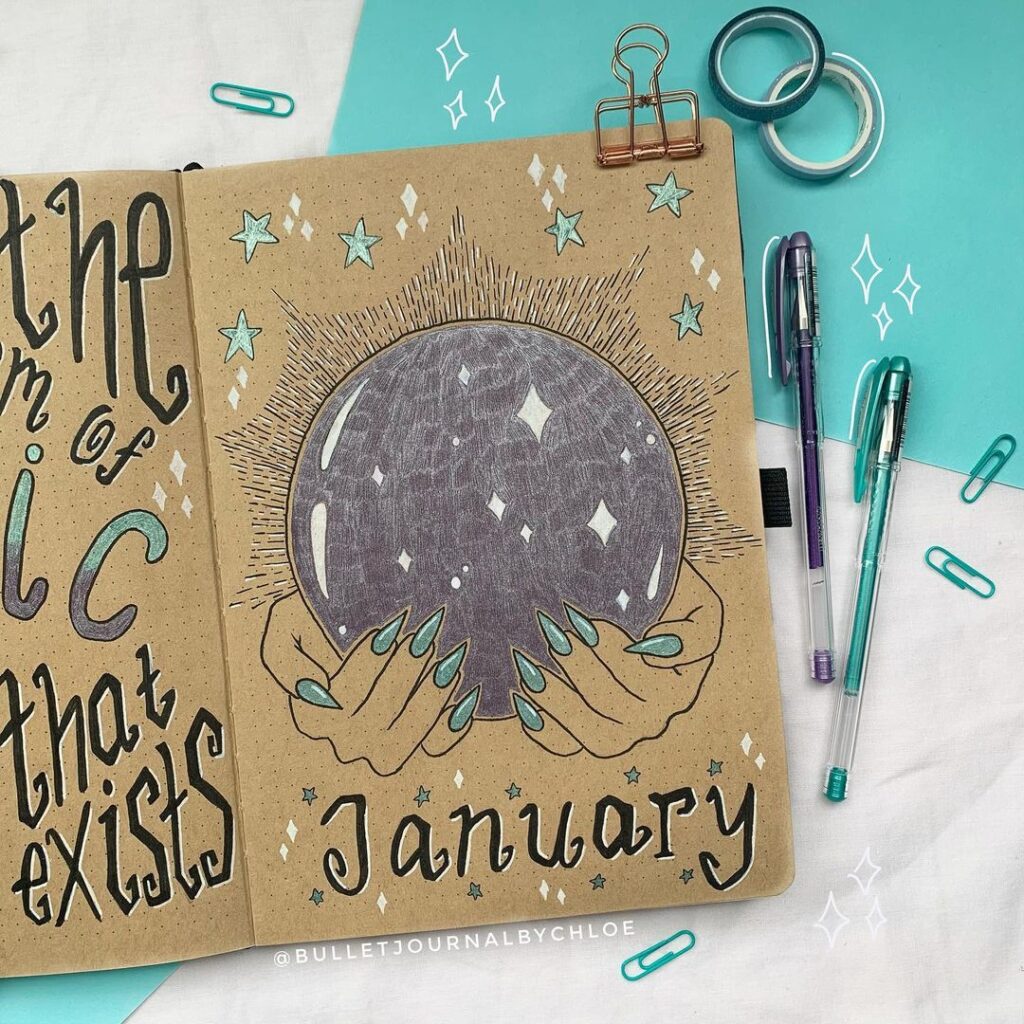 16. All About Stars And Constellations
Ah! so magical. Don't forget to add a quote that matches your theme.
Credits : _redwritinghood
17. BTS
Although this is a 2020 layout, but 2021 was also all about K-dramas and BTS craze!!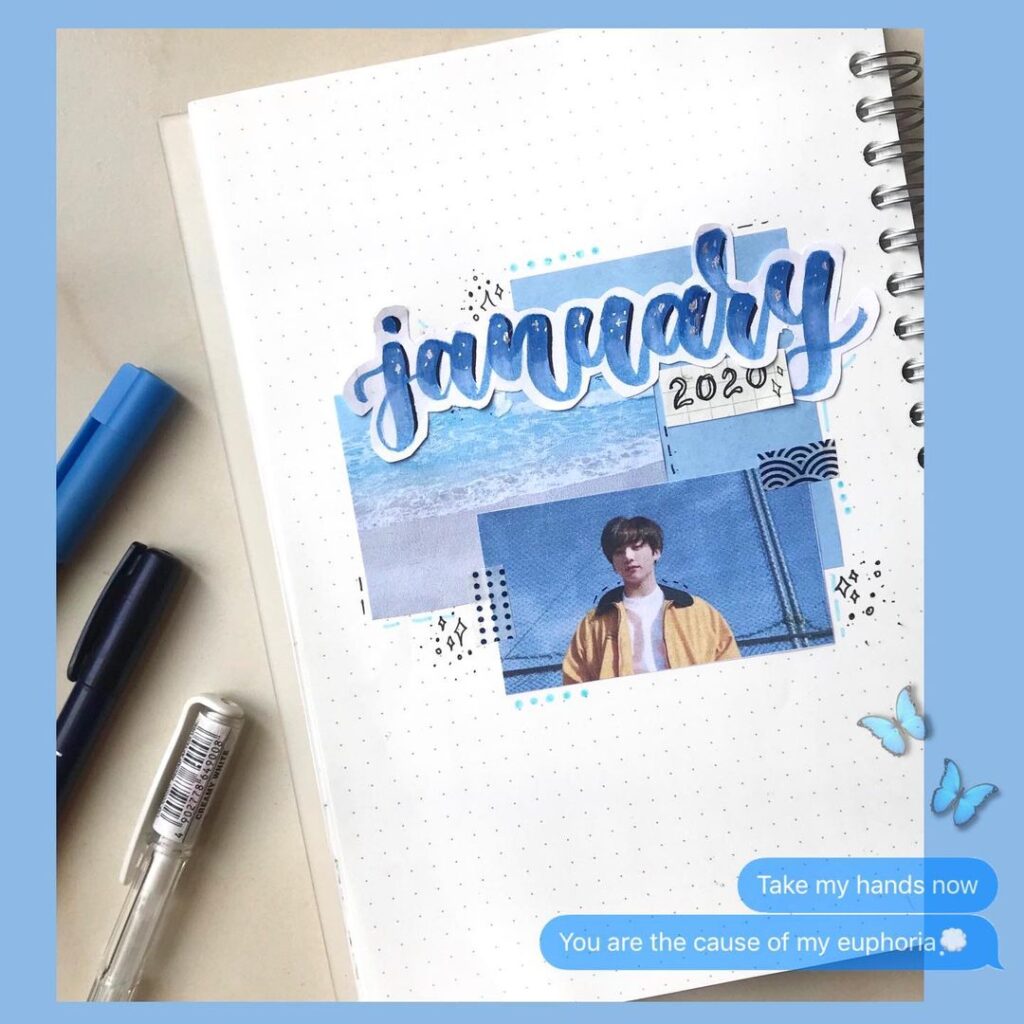 Credits : persona_notes
18. Origami
I love this minimal and clean design. Medstud.ies created this January bullet journal idea with 'origami' theme in mind.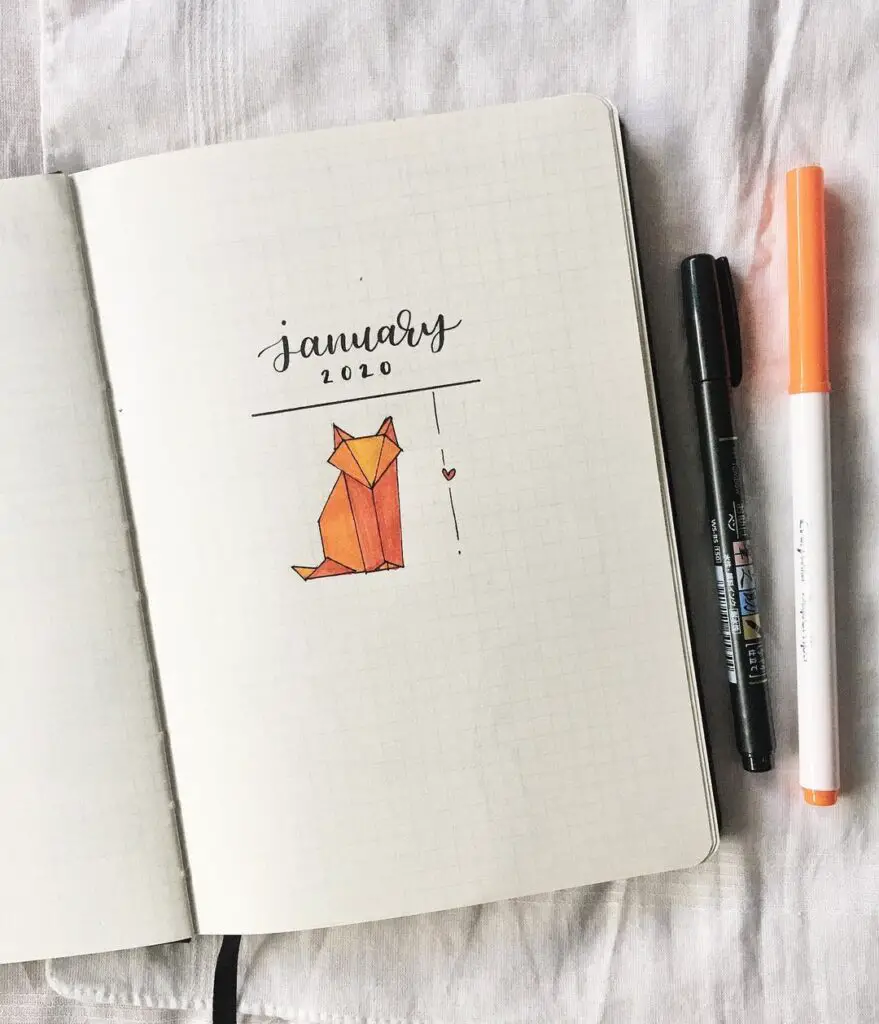 19. Mood Board
Grab your stickers, pictures and scrapbook paper, and create a collage. Take a cue from this one.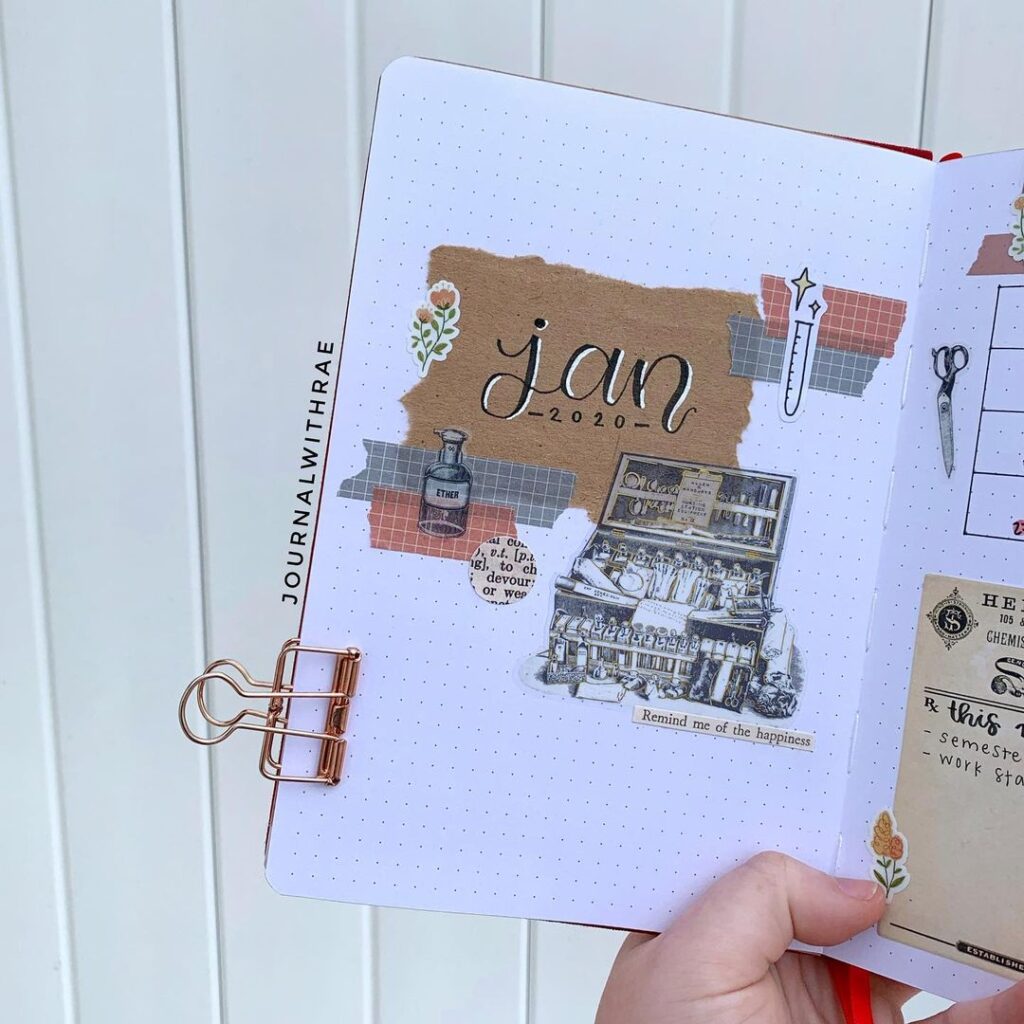 Credits : Journalwithrae
20. Bring the Christmas Spirit Into January!
This is your reminder that don't always need to add lots of colors to create a beautiful layout.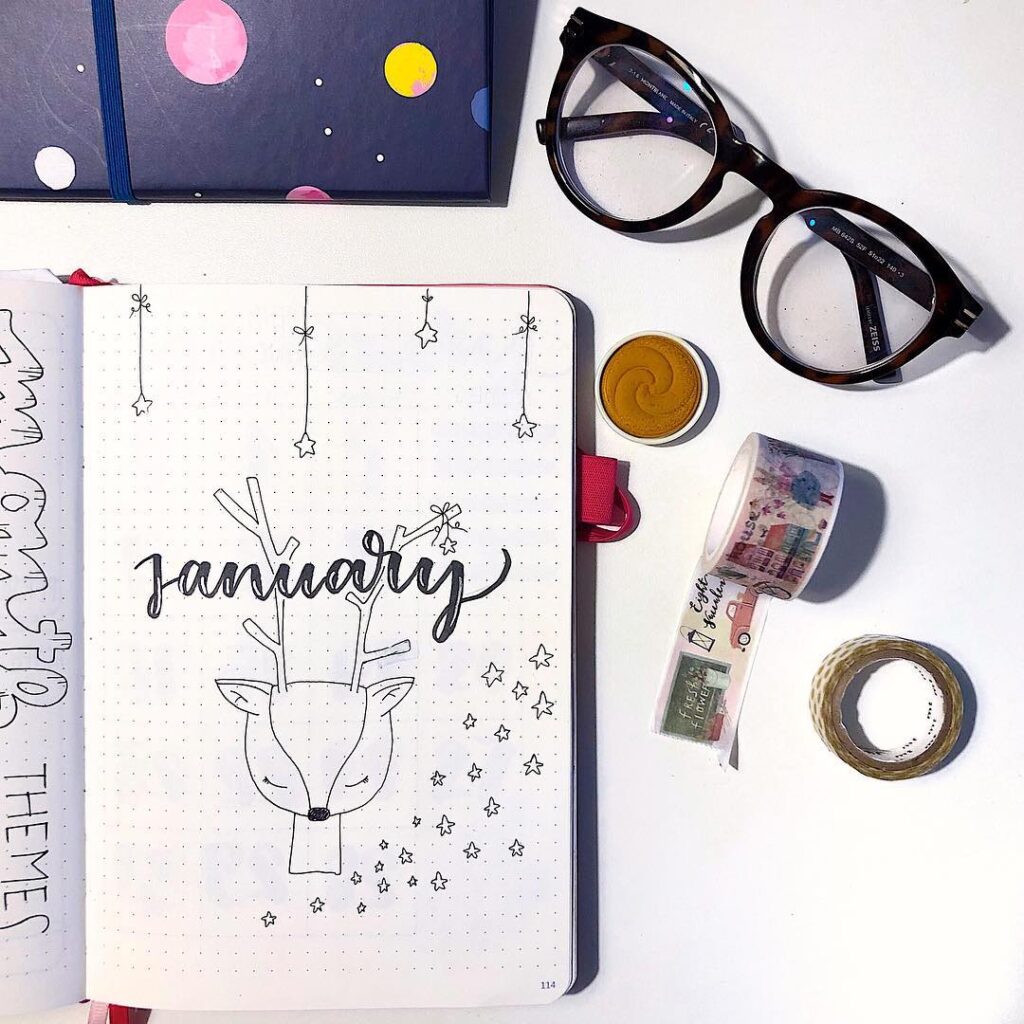 Credits : alebuba
21. Another January Monthly Log
Log your days as you go in this calendar and add stickers to match your day's vibes.
Credits : journalbycia
22. Spice Plants Themed
Paper layering is another cool way to create an aesthetic layout as done here.
Credits : bujo.by.filo
Psstttt : Aren't you already tired of feeling overwhelmed and confused all the time? What if, you could live a life where you can spend rest days sipping mimosas with your girlfriends without cribbing about how busy you are!
Well, the Design Your Life Planner will help you achieve that. Buy yours and transform your confusion into confidence.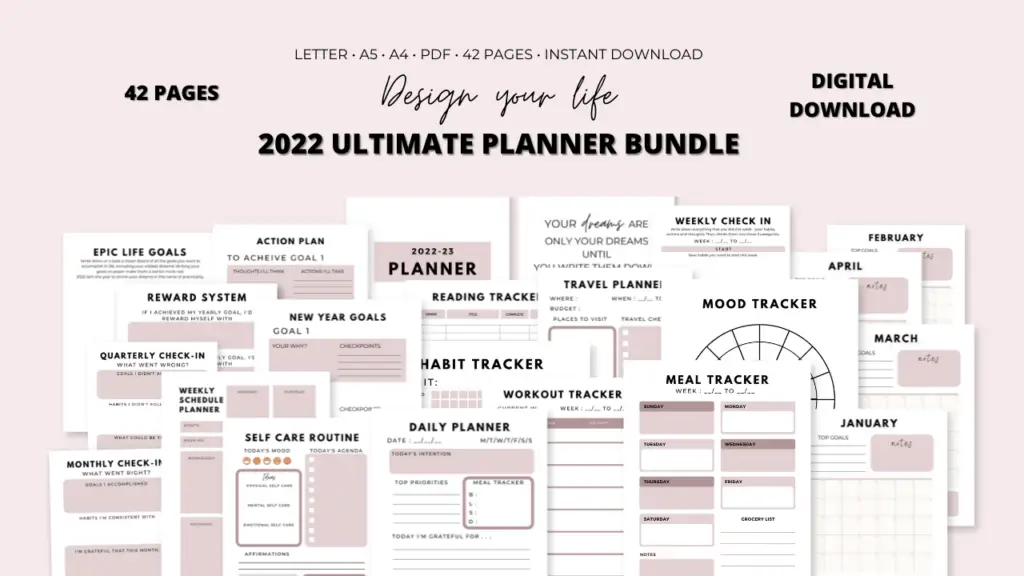 Which January Bullet Journal Idea Are You Excited To Try?
Comment below your favorite layouts from the list. If you recreate any of these, please send them to me via Instagram or mail; I'd love to see them!