This post is all about self care tips for women to practice daily.
Disclaimer – This post may contain affiliate links, which means I'll receive a commission if you purchase through my link, at no extra cost to you.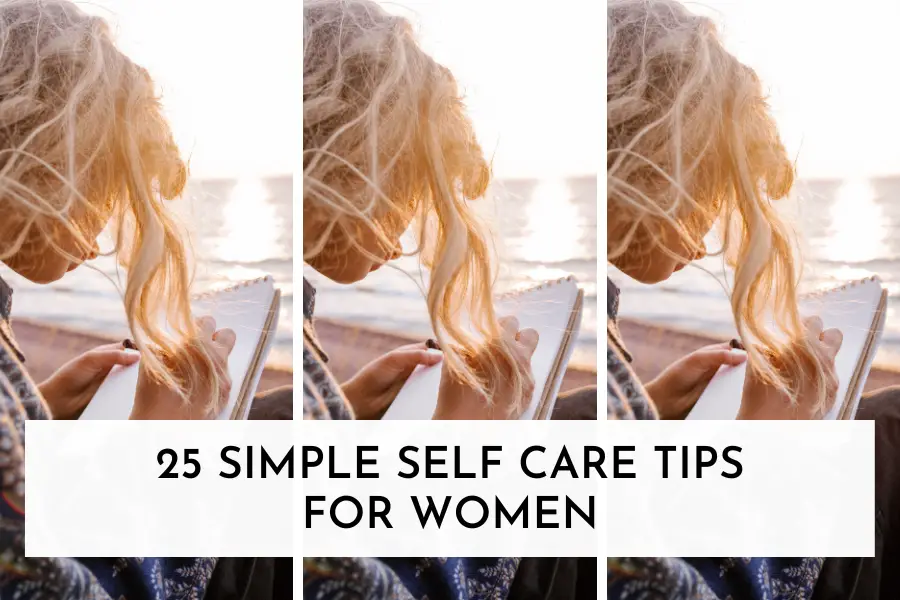 Self care is all the buzz these days. And I'm sure Instagram has got you convinced that it's all about 'taking bubble baths sipping red wine',
But in reality it's the simple act of prioritizing and taking care of yourself, no matter how unconventional that looks.
I mean, if taking a 30 minute nap before your 4 pm meeting helps you relax and rejuvenate then that is a proud self care tips for women.
And with a schedule as busy as yours, you actually need these little pockets of self care within your day to rejuvenate yourself, more than you think.
So, if 'not having enough time for an elaborate self care routine' is your excuse for not treating yourself, you can't use it anymore after reading these self care tips for women, haha.
Frankly, I was the same. Waiting for the perfect Sunday to start my self care shenanigans. Until I realized that staying consistent with it is what matters.
It's scientifically proven that of those who practice self-care, 64% feel more confident, 67% feel more productive and 71% feel happier. 
So, instead of waiting for the next weekend, start including these everyday self care tips for women in your routine today.
They're actually quite simple to effortlessly blend them into your daily routine and add little pockets of relaxation and happiness throughout the day.
This post is all about self care tips for women to practice daily.
22 Relaxing self care tips For Women
1. have a solid night routine
If you're having a long exhausting day, your night time self care will literally save you!
Whether you put on your comfy pjs and watch a trash show, or journal your thoughts out to clear your mind.
I just put on my favorite night suit (having a cute outfit helps!), get in my bed and read a cozy book. Or watch my comfy youtubers till I feel better. This might sound weird but it always works!
Sometimes, taking a hot shower to wash your day off works too.
Related Post : Evening Routine Checklist To Relax & Unwind
2. solo dates are the best
Solo dates may sound challenging.
Take it from someone who avoided going on a solo date for four months because it seemed too scary. But once you get it, you realize how simple it is and how confident it makes you feel.
It also helps you come to a stage where you enjoy your own company. Don't wait for your friend's availability to go to your favorite café, do it right now!
Or buy yourself the movie tickets. You don't even need to do something extravagant like a solo trip, the little acts of self care ideas count!
Related Post : How To Actually Build Self Confidence
3. try a new workout
Cuz who doesn't want those endorphins rolling, right?
Working out is one of the best self care tips for women because it's good for your health and instantly boosts your mood.
And trying new workouts really makes me feel like I'm in my hot girl era! So, book a Pilates class, do outdoor yoga, or go for a swimming session this week.
4. afternoon breaks
These are slowly becoming my new favorite self care tips for women.
Taking a 30-60 mins break in the afternoon helps you take a step back from work, refresh yourself and come back at it with a fresh energy.
I usually spend my afternoon breaks listening to music, reading, or trying to sleep. And it always makes my evenings so much more productive.
5. 3 things you're grateful for
We need self care to relax our mind more than our body these days. And strengthening your gratitude muscle is the perfect self care ideas for that.
Just grab your journal and come up with 3 things you're grateful for right now. And try to be very specific. Or just use a guided journal to get started.
Another amazing idea, go through your old photo albums and I'm sure that'll bring those feelings of gratitude.
6. hot girl walks can fix anything
Walks are literally the best way to free your mind and put all the thoughts aside.
Just walk to your mailbox if you don't want to stroll around your neighborhood.
My after work walks are really something I look forward to every single day. Pair it up with a fun podcast, and you're good to go! Also, getting outside and spending time in nature automatically boosts your mood.
hot girl walk essentials
7. can never go wrong with a cozy read
If you want to turn off your thoughts and worries for a while, pick up a book.
Fiction books, specially, will transport you to a completely different world. But you can also pick up a non-fiction book if you're in the mood to learn some expert life hacks.
I'm currently doing 75 hard, so I try to read a self help book in the morning (as part of the challenge), and read a fiction book before bed. That's a good day scenario obviously!
Here are my current reads.
8. get artsy with Paint by numbers
You don't even have to be too artsy to try paint by numbers. One of my favorite youtubers, Jess, recommended this as her go-to Self care ideas for Sunday.
In her words, it helps her be more mindful and present in the moment, and has a calming effect on her mind. And it's even more fun when she includes her husband in this activity.
9. reflect on your days
I was recently reading a book called, 168 hours, that mentioned that people who take time to reflect on their days and journal down their thoughts are 10x more calm and organized than people who don't. Not sure on the stats but you get it!
Take some time everyday to reflect on your days and analyzing your achievements and setbacks, and how can you use those lessons to be better tomorrow.
It's probably the smartest self care tips for women.
Related Post : Daily Journal Questions To Ask Yourself
10. watching comfy shows
There's nothing like a reality T.V. show to switch your brain off, and sometimes that is all you need!
I have recently been obsessed with YouTube, so I always binge watch my comfy channels whenever I'm in a bad mood. And funny enough, this always makes me feel better in no time!
11. therapy calls with bestfriend
There's nothing a good facetime with your bestfriends can't solve!
Because sometimes when you're in a crappy mood all you want to do is to talk to someone who'd just listen, instead of trying to fix everything or judge you.
Also, another reason why journaling works! 😉
12. anything skincare
I know applying face masks is the cliché self care advice that probably makes you cringe at this point! And I'm all about self care being more than just skincare.
But there's something about looking at your glowing skin after applying a face mask, on a bad day, that makes you feel confident and gives a sense of 'I've got this covered.'
13. lighting a candle
I don't know about but I always feel a tad bit classier if my home's smelling nice.
Clean your house, put everything in it's place, and light your favorite aromatherapy candle. Or get the homesick candle to take you back to your safe space. Trust me, it's a vibe!
14. Drink water
Like now!
Starting new healthy habits is the ultimate self care tips for women, that most of us avoid. But it's really the only self care ideas that has long term effect!
Pick a new habit that you want to start. Even if it's drinking 3l of water everyday. Get yourself a time marked water bottle that you can carry around easily and track your water intake.
15. Make a vision board
If you're in the mood for some fun self care ideas that would also be useful, create a vision board.
This will allow you to set some goals for yourself, and actually visualize what you want those to look like.
And keeping this vision board in front of your eyes (as your desktop wallpaper, or on your work table) will also motivate you everyday to do better.
Use this vision board kit to make this process a tad bit easier.
16. take a looong shower
There's nothing like taking a long hot shower to wash off all your stress.
My Sunday hair wash days are sacred! I usually take my time to do body scrub, face mask, hair wash, everything, and by the end of it, I feel like a completely new person.
Here's the current body scrub I'm loving!
17. let's get creative
The best way to keep your mental health happy, is to create more than you consume. Something, most of us are failing at!
It works, because humans are natural creators, and this is what brings us joy.
Give yourself 30 mins this week to create, whether you start a simple bullet journal, or a scrapbook. Or spend time learning a new instrument or a skill, like pottery.
Related Post : How To Start A Bullet Journal For Beginners
18. do something that you really enjoy but don't get time for
And I'm talking about the little things that make your day better. Whether that's sipping your morning coffee in peace , or playing with your pet, or calling your sister.
It's the little things that matter! Take any excuse to include these small self care tips for women in your everyday life and show yourself how important you are.
19. smile at someone
Smiling is contagious.
When you smile at someone, not only does it releases the feel good hormones in your body that reduce stress, it also makes the other person smile and feel better about their days.
And while you're at it, greet people, say thank you more often. This would only bring a positivity in your attitude that changes everything.
20. drop some essential oils before you sleep
Half of the times you're feeling lazy, have body pain, and can't focus, because you haven't had a good night sleep. It's the ultimate self care ideas.
So, catchup on your sleep. Use this dream essential oil to help you ease into serenity and have the perfect uninterrupted sleep.
21. prioritize yourself in the morning
Mornings are the best time to work on yourself. The world's quieter and there are so little distractions.
Use your morning to spend some quality me time – reading your favorite book, journaling your thoughts out, or simply sipping your morning coffee in solitude.
Related Post : Best Morning Checklist For Adults For Stress Free Mornings
22. go on a long drive
I recently learned to drive and honestly, going on long drives with my favorite playlist in the background is such a vibe! And my new favorite self care tips for women to clear their head.
23. do a social media detox
Do a social media detox every week. If this seems daunting, maybe start with a few hours on the weekend.
Whether you want to accept it or not but social media has a huge role in increasing your stress and anxiety. Take a day away from your phone and you'll notice how free it makes you feel.
Here are some fun things to do during a social media detox so you're not bored.
24. guilt free 'do nothing' time
I'm gonna be honest with you here, there's no point of following any of these self care ideas if you're going to secretly feel guilty about not working instead.
Most women think that they don't deserve a self care break. And this is exactly the type of thinking that later on leads to burnout.
If you don't want to go down that route, allow yourself to take breaks and be fcking unapologetic about it. And no, you don't need to do something productive or aesthetic in those breaks.
Related Post