This post is all about the ultimate monthly reset checklist.
Disclaimer – This post may contain affiliate links, which means I'll receive a commission if you purchase through my link, at no extra cost to you.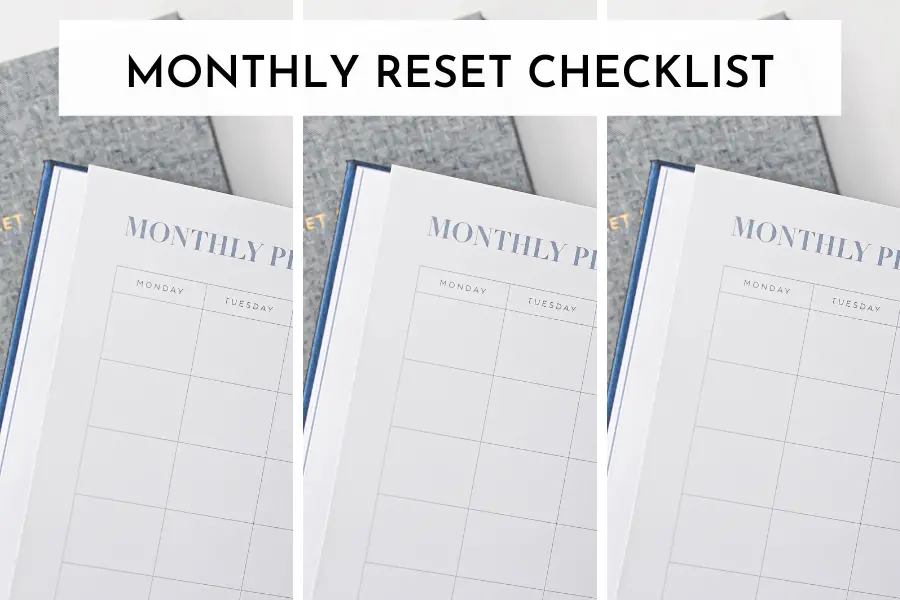 Are you ready to hit refresh and make the most of the next month? If yes, then this monthly reset checklist is just the thing for you!
This trusty little list will help you declutter, refocus, and honestly, just be an organized mess for the most part 😉 Whether you are a type A person, or simply want to bring order to your chaotic life, this checklist has you covered.
I love the feeling of starting fresh every month. And while most monthly reset checklist help you cleanse and recharge, they don't help you plan for the next month.
That's why here's a simple 5-step process to start your month strong. This post will also solve the dilemma that everyone faces when they first start – 'What's the best time to do a monthly refresh?'
If you're someone like me who doesn't want to waste 2 days every month getting prepared, this monthly reset checklist is the easiest and quickest way to start a month on the right foot without feeling overwhelmed.
Along with 10 genius monthly reset ideas that'll help you hit refresh in every area of your life.
Let's get started!
what's the Best time to do a monthly reset?
This was honestly the biggest reason why I wasn't able to stay consistent with my monthly reset routine. Because I just couldn't find the best time to do it.
Now, you may think that the answer's too obvious. 'You do a monthly refresh at the end of every month. Duh, Mayu!'
But here's the thing, it's hard to find time to do a monthly reset if the end of the month is falling on a weekday. We've all got busy lives after all!
And once the month starts, it all seems pointless. You might start thinking, 'meh! We're already in it, what's the point of a reset now' .
I know it's just a mental thing but that's how it goes in reality. There's something about preparing for the month before 1st that feels motivating! I hope I'm making sense, haha.
That's why, I've found that the best time to do a monthly reset is 'the last weekend' of the month. You have enough time, excitement and motivation to hit reset and prepare for a new month.
How to start the month strong?
Most people start a new month by just turning a page on their calendar and just moving on. At most what you do is that you set some vague monthly goals.
But that's not how you start the month strong.
The best way to start a new month is by analyzing your previous month, taking time to celebrate your accomplishments, learning from your failures and setting intentional goals accordingly.
Here's exactly everything you need to do before started a new month – including the little things that most people overlook that can drastically improve your month.
I know all this might seem like an elaborate monthly reset plan, so here's a dialed down monthly reset checklist that only contains 5 steps so you won't have to spend an entire day doing this!
Monthly Reset Checklist
1. monthly check in + monthly reset journal prompts
Before starting anything on your monthly reset checklist, do a monthly check in and analyze your previous month to see what worked for you, what didn't and how can you improve going forward.
Most people avoid this step because they'd rather spend time setting goals and monthly planning than doing a check in.
But as my coach says, this is where the money lies!
Even if you spend 15 minutes of your monthly reset to do a check in, it will radically improve your results the next month.
Because you can always take someone else's plan and implement it in your life, but unless you take out time to actually see what's working FOR you, how'd you ever succeed?
Here are some monthly reset journal prompts to get started with :
Goals I accomplished this month (Don't forget to celebrate!)

What helped me the most in accomplishing them?

Habits I'm consistent with

I'm the most productive when . . .

I'm grateful that this month . . .

Highlights of the month

Goals I didn't accomplish

Habits I didn't follow

What could be the reason?

How can I eliminate that?
2. set up a money date
If you get anxious just looking at bank statements, money dates will be extremely beneficial to you.
It's essentially a regular date where you check in on your finances.
Make it a whole affair! Dress up, go to your favorite café, or light a candle in your drawing room and pour some wine, bring out a cute journal and get started.
I learned this concept from the book 'Money a Love Story' which basically says that your relationship with money is similar to your relationship with your partner.
And money dates is just a way to spend time and pay attention to where your money is going.
But make sure that you're not judging yourself. Having this information is actually useful to improve in the future.
Here's what you can do on your money dates :
Track your income

And your expenses for the month

Set a monthly budget

Create a savings goal for the next month

Track your bills and set reminders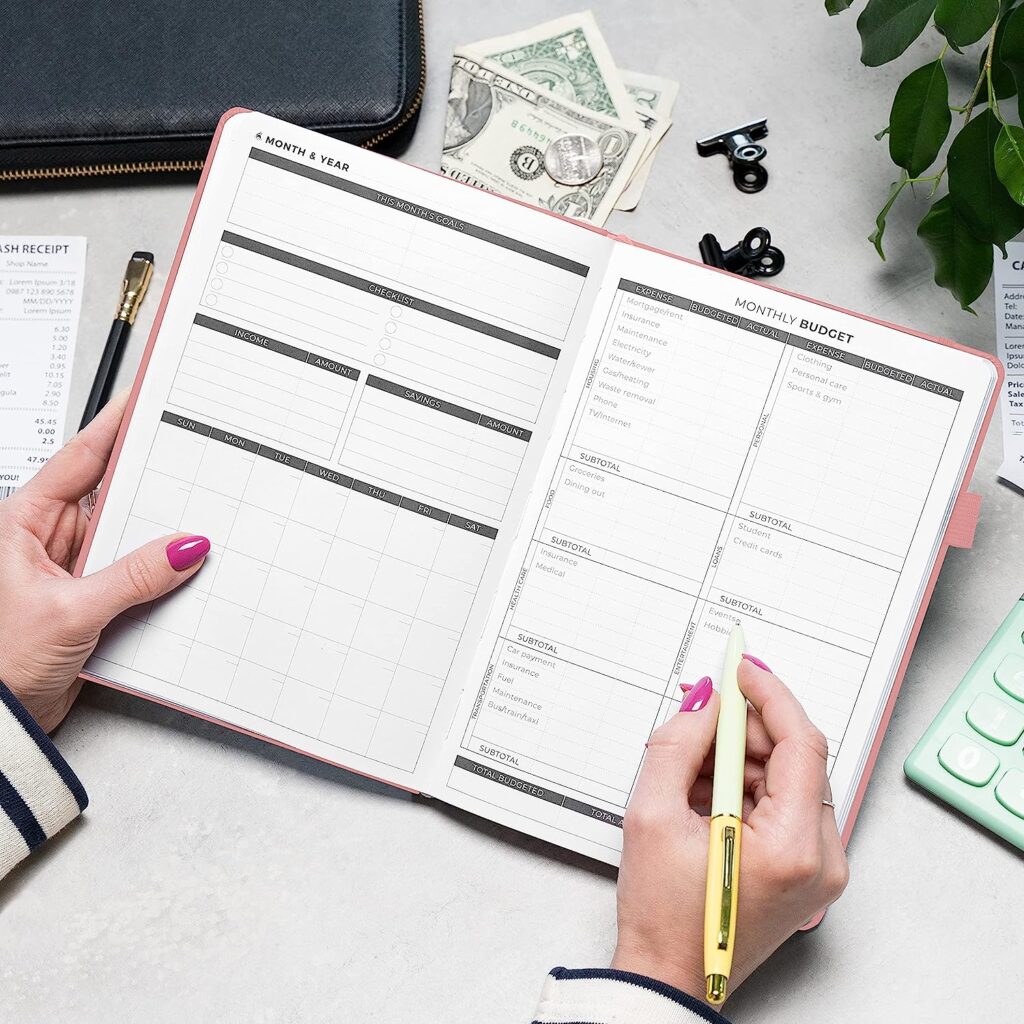 3. set some Monthly goals
This is the exciting part, isn't it?
Beginning of each month feels like a fresh start and you think that you can accomplish any monthly goal that you wanted to, because it's all so exciting and motivating.
But if you don't want to forget about these goals by the 2nd week, try this goal setting method.
How do you set goals for a new month?
1) I really feel that your monthly goals should be the bite sized version of your quarterly or yearly goals. So, if you have a quarterly goal, think about what's the next step that you can take to get closer to that goal. That'll be your monthly goal.
For eg, If you want to save $900 by the end of quarter, your monthly goal could be to save $300 in the next 30 days.
2) If you have no idea what your monthly goal should be and how to set goals for a new month, think about 1 area of your life that you want to improve this month. And set 3 action goals from that.
For eg, if you want to focus on your health this month, set a goal to only have 2 cheat days, exercise for 40 minutes daily and drink 3l of water everyday.
3) Your monthly goals should be very actionable and measurable. So that you have a clear yes/no answer to whether or not you took that action.
Going back to the previous example, instead of creating a monthly goal to save $300 and just wishing to have an extra 300$ in your bank account at the end of the month, you can set your goal to save $10 every day, or to follow a strict budget.
Related Post : How To Set Monthly Goals
Next, set yourself up
Now that you're clear on your monthly goals, use this monthly reset routine to set yourself up for those goals.
For eg, if you want to exercise more, create a workout plan. If you want to start reading more, create a TBR list or join a bookclub.
Basically, just do little things that will make it easy for you to actually follow through on your goals.
4. Planning your month
Monthly planning is really the easy part here. Because you just need to have an overall view of how your month is going to look like.
You don't need to get very granular, just have an overall idea of what's happening this month.
Here are the steps that I usually follow to plan my month :
a) Write down all your non negotiables on the calendar. Like, when you're travelling, your appointments, or any strict deadlines you have.
This way you know exactly how much time you've left for the rest of the tasks.
b) Then, divide your month into three 10-day chunks or two 14-day chunks, and have a brief theme for each half. Like, what you'll be focusing on that week?
For eg, If I have a goal to launch a new product by end of the month. I can divide it like, for the 1st week I'll do research, 2nd week I'll create the product and so on.
c) If you have goals that can be easily tracked (the best kind of goals!), set up a monthly tracker.
Habit trackers work because they're a visual representation of your progress, and once you're a few days in, you don't want to break that streak.
d) Update your routines!
Most people think that they're married to their current routines, but that's not the case. Take some time in your monthly reset checklist to see if you want to change something in your existing routines.
For eg, if you have a 1 hr morning routine but you don't have that much time in the morning now. Trim your morning routine to 30 minutes, instead of trying to rush that 1 hr morning routine everyday.
Related Post : 20 Ideas For A 15-min & 30-Min Morning Routine
5. get to zero
That's the whole point of doing a monthly reset, right? To use a new month as an excuse to start fresh.
Here are a few things that you can do to reset your environment :
a) Declutter your space – Here's the perfect monthly organizing checklist to follow.
b) Declutter your devices – I'd never have a storage warning coming if I did this every month, haha. But digital declutter is important, since our phones are our second home.
Clear all the unnecessary media files.

Delete your alarms

Declutter your inbox

Take backups
c) Stock up on your groceries – And let's try to stick with the healthy eating this month.
d) Refill your monthly medicines – I lovee this monthly medicine organizer, it's such an easy way to never forget about them.
e) Laundry – Fresh sheets are a must if you want to get into the monthly reset aesthetics.
f) Check your monthly subscriptions and cancel the ones you no longer need. Trust me, it's long overdue!
monthly reset ideas
Here are some more monthly reset ideas that are definitely not essential to add to your monthly reset checklist, but if you want an elaborate and fun monthly reset routine, check these out.
1. take a day off
This would be a part of my ideal monthly reset checklist. If you have the chance, take the last day of the month off, to relax and unwind before preparing for a new month.
2. schedule mental health days
It's so important to intentionally schedule your mental health and rest days during monthly planning. It would increase your chances of actually taking off, if it's already on the calendar.
3. Reset your alarms
This might be too niched of a monthly reset ideas, but you have soo many alarms set in your phone, most of which aren't even relevant anymore.
Delete all the alarms and set only the ones that you still use.
4. pick one area of your life to improve on
If you have no idea or too many ideas for monthly goals, try this. Just pick one area of your life you want to improve at and work on improving 10% in that area.
The 6 broad life areas are : Career, finances, health, relationship, and spirituality.
5. one book you want to read
Even if reading is not one of your goals, just pick up at least one non-fiction book to read this month! And just schedule some time to read 10 pages everyday.
Related Post : 21 Best Self Help Books That Actually Work
6. start something new
There's nothing more exciting than starting a new month with a new project. What's something that you've always wanted to learn? Or work on? This is the month to finally do it!
Related Post : 25 Hobbies Of Successful Women To Stay Stress Free
7. deep clean
While you can't deep clean your entire house in a day, just pick one area of your house that needs some loving. It could be your pantry, or bathroom, or your closet.
8. automate bills
This is such a genius monthly reset ideas. Instead of setting reminders for bills, just automate your bills on the payment app, so you never have to manually keep track.
9. schedule appointments in advance
Schedule all your monthly appointments in advance so you're not thrown off guard by a new appointment in the middle of the month.
10. reminder for birthdays and budgeting accordingly
Just make a list of all the birthdays you have this month, so that you can set reminders and be the first one to wish them 😉 Also, create a budget to plan your gifts accordingly.
11. 30 day challenge
This is, in my opinion, the best monthly reset ideas. Start a 30 day challenge.
Starting a challenge helps you start from 0 and then build up in the next 30 days. It also motivates you to stay consistent and push yourself to hit the goal even if you're having a bad day.
Related Post : 20+ Ultimate 30-Day Challenge That'll Change Your Life
Related Post
1) 16 Things To Do At The Start Of New Month
2) Ultimate Weekly, Monthly, Daily Self Care Checklist To Swear By
3) Best Weekly Reset Checklist For An Effortlessly Productive Week