This post is all about the ultimate checklist of things to do monthly to start a new month.
Disclaimer – This post may contain affiliate links, which means I'll receive a commission if you purchase through my link, at no extra cost to you.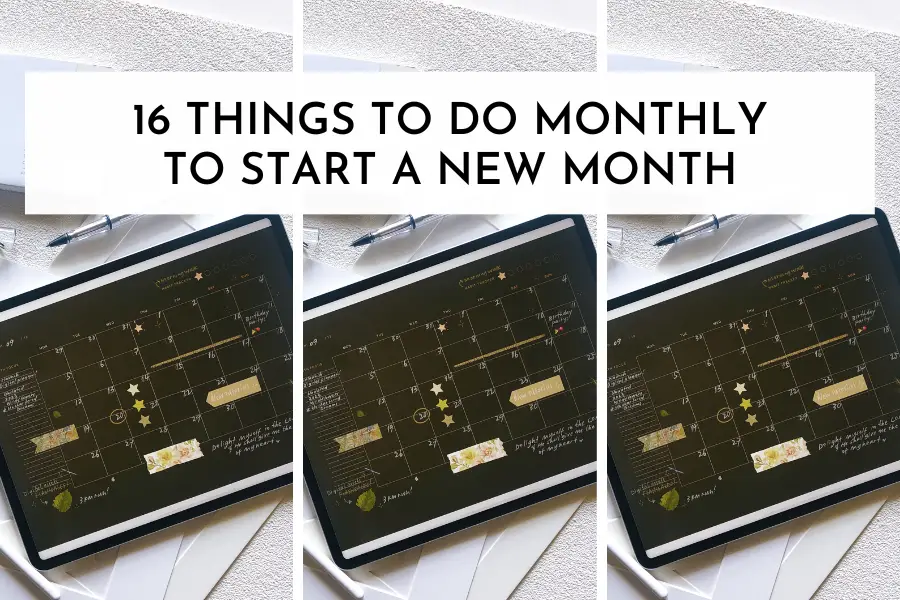 If you're ready to be your most organized, type-A, 'she's-got-her-sh*t-together' self next month, you're gonna love this post!
Here's everything you need to do to start fresh next month, instead of dragging your last month's baggage along with you. And then, wondering how the months are going by so fast!
If you're anything like me, you'd take any excuse for "new beginnings", whether it's the 1st of a month or Mondays! It simply gives you the feeling that you have control over your life, gives you a fresh perspective, and motivates you to do better in the future.
I mean, so much can happen in a month if you're really intentional about it.
From setting your monthly goals, to automating your bills, and scheduling appointments, this monthly routine checklist will really help you be prepared for the new month.
And trust me, once you realize how effective it is, you'll never start your months any other way!
Things to do monthly
1. Look at your last month
There's no point of setting new goals every month if you're not checking in on the previous months.
This is the one thing that'll help you save time and be more efficient & smart.
Take 5 minutes to answer these monthly reflection questions :
What were the goals you accomplished?

And what do you think helped?

What goals you didn't accomplish?

The main hinderance for that?

How can you resolve that in the coming month?

Highlights of the month (Things you've accomplished, things you're grateful for)
2. meditate and set your monthly intention
This might seem like an unnecessary step but trust me starting your monthly routine checklist with a quick 10-min meditation will set the tone for the monthly reset process.
It'll calm your mind and let your think from a clear headspace.
Then, set your vision and intention for the month. Here's a monthly reflection prompt for you :
What do you want this month to look like? Feel like?
How will you show up this month?
Imagine that it's the 30th of the month, how has your past month been?
3. set monthly goals
Now that you have your entire vision laid out and know exactly how you want the next month to look like, extract your monthly goals from that.
Here's a step-by-step method on how to set monthly goals.
The main difference I've found between goals that are accomplished v/s goals that never come into existence, is that it's easier to accomplish goals that are measurable and actionable.
"I want to make more money" can never be a goal come true, because what is more money? $10? or $100?. But "I wanna make $10k this month" can!
Also, these are all circumstantial goals – things that you don't have total control over.
Set some action goals too. For eg : If you want to make $10k this month, how many sales do you need to make this month? And how?
Your action goals could be :
I'm going to make 30 calls every day.

I am going to launch my product twice this month.

I'm going to do market research in xyz way.
Related Post : How To Realistically Set & Achieve Monthly Goals
4. start a 30 day challenge
And if you're scared to commit for 30 days, you need the start a 30 day challenge right away!
Because trust me, finishing this 30 day challenge will literally boost your confidence.
If you don't want to start something complex like this challenge, just pick 1-2 healthy habits you want to start this month and commit to doing them consistently over the next 30 days.
Here are some healthy habit ideas to start with :
Read 10 pages a day

Go on a walk everyday

Meditate for 15 minutes

Wake up at 6 am

Journal everyday
Track them using a monthly habit tracker and analyze your progress at the end of the month.
Here are 20+ ultimate 30-day challenge ideas to try.
5. Schedule meeting & appointments in your calendar
Now, let's start planning the month.
Open your google calendars and schedule all your meetings and appointments for the month.
Don't forget to add reminders for birthdays and other life events as well.
This helps you get a very clear picture of how your month is going to look like and avoid last minute conflicts.
You can also put your meetings on a paper calendar around your desk to have a visual reminder.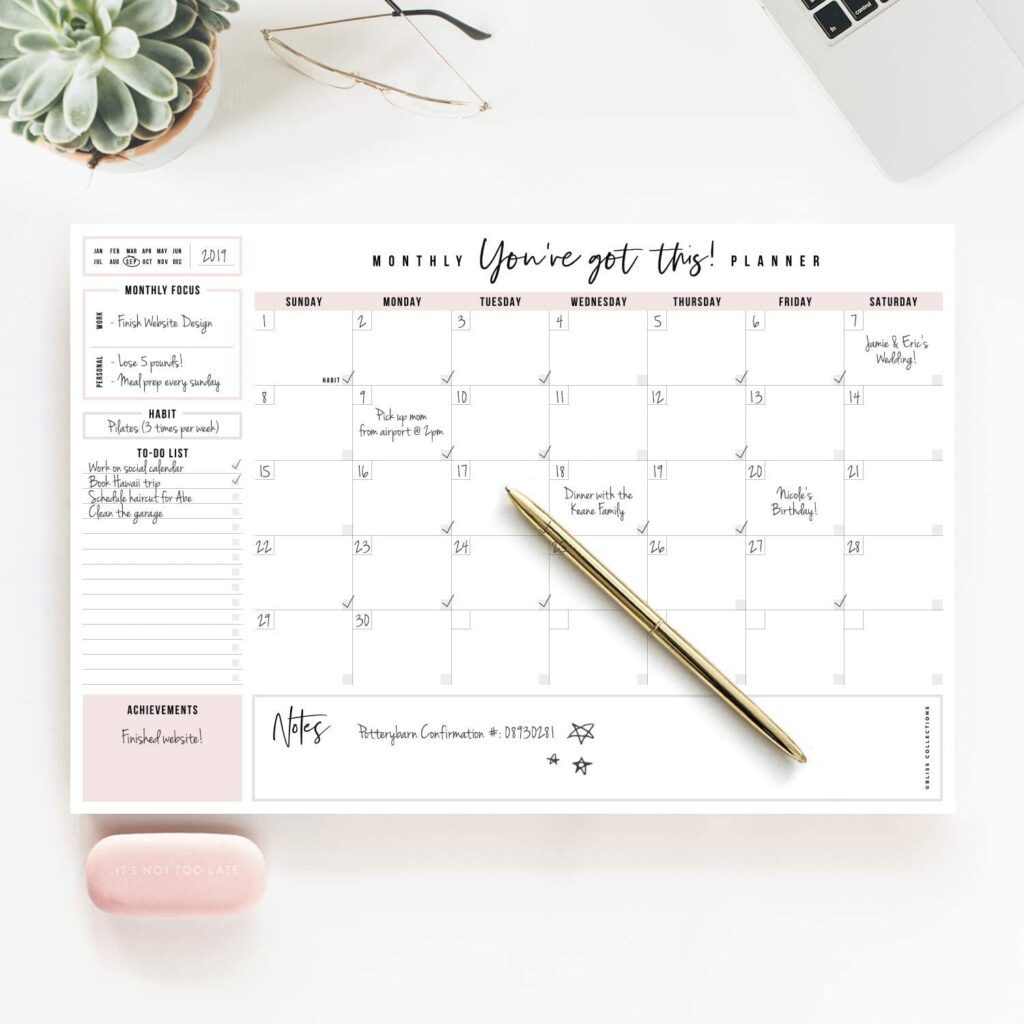 It'll also help you see how much you can get done this month.
I mean, it's kinda unrealistic to expect yourself to finish a month's worth of work if you know you'll be travelling for 14 days.
6. 'Open Tasks' list
Make a list of all the tasks that were on your last month's to-do but never got done.
Revisit those tasks and see if they align with your current goals, chances are most of them aren't even important anymore!
Note down the tasks that you want to add to this month's list. It's time to set these on high priority.
7. brain dump your to-dos and schedule in your planner
Write down everything that's on your mind. Literally everything. From the smallest of tasks.
Now prioritize your most important tasks from the list.
Not everything on your brain dump list needs equal amount of attention, right? Identify the tasks that will get you closer to your goals.
Remember the 80-20 principle? These are your 20% tasks that'll give you 80% of the results. Focus on them.
Also, cross off all the tasks that don't need any attention this month and can be handled later.
Now, schedule the important tasks in your planner. I love the monthly layout on this one.
Now, I'm not asking you to plan out every single task right now. But at least have an idea of when you're doing what.
Assign each task to a week so that you know what your weeks are going to look like. It's the whole philosophy of dividing bigger goals into smaller chunks to make them achievable.
Also remember, nothing is set in stone. Planning just helps you get an idea of how your days are going to look like so you can prepare accordingly. But it's also important to keep things flexible.
8. meetings with yourself
You've scheduled your appointments and meetings with others. But what about your meetings with yourself?
The ones you take lightly. The ones that you promise to yourself but never follow through because you get busy with other stuff.
Like doing weekly check-ins, having your budget meetings, date night with your partner, or your self care nights.
Put them down on the calendar as well. Plan them and show up to them like you would to any other business meeting.
Honestly, these are the meetings that will make your month 10x better.
9. update your routines
Add upgrading your routines to your monthly routine checklist!
Your morning routine, evening routine and most importantly your self care routine.
If you don't already have one, add this to your monthly to do list ideas to create a new morning/evening routine. Here's exactly how to do it!
The thing is, different seasons of your life require different kind of routines. For eg, Having a 2-hr morning routine where you workout, meditate and read might make sense to you right now.
But when things get busy, you might tone it down to a 30 min routine and start working immediately after.
There's no such rule that you need to stick to one routine for the rest of your life. Your routines should change as you grow!
Related Post : Best Healthy Morning Routine Checklist You'll Actually Wanna Wake Up For
10. finance meeting – set a budget
How can I miss finances on your list of things to do monthly, right?
I'm not a big finance girl so here's an easy method that I follow. Start simple, just track your expenses and income from the past month.
Use this as your basis to budget the upcoming month.
Allot a specific amount for bills, and savings first, and then move to other purchases.
11. automate your bills
This is going to save you from paying last minute fees! Automate all your bills, and set reminders for you bill dates.
I'm someone who always forgets about paying the bill until my app sends a last minute notification. And automating them literally saves so much of my sanity!
12. invest in something
People don't think twice before spending money on random things, but take a sh*t ton of time before investing in something, why?
Take a portion of your money to invest. Whether you want to do stocks or jewelry.
But you can also invest in your knowledge. Buy a course to learn a new skill, or invest in a life coach. This can be game changing for you!
13. clean your space
Clean space equals clean mind, right?
I mean who can concentrate on work when you have a pile of laundry on your sofa and dog toys in the entire drawing room, haha.
Don't let it get to the point where you can't even find the important stuff.
So, add this to your monthly to-do list ideas to take the first weekend of the month to do a deep clean.
Here are some areas to focus on:
Organize your work desk and drawers

Change your sheets

Do the laundry and organize the closet

Pantry facelift

Digital declutter
Related Post : The Ultimate Organize Your Life Checklist To Stay Organized All Year
14. to-buy list
Deep cleaning your house would also bring your attention to the things that need to be bought or repaired.
Order your groceries for the next week or so, so that you don't have to do a mid week grocery run!
Next up, order your everyday household essentials.
And then check if any of the appliances and furniture are acting funky, and get that sorted out. Trust me, your future self will thank you!
15. set yourself up
Sure, you've set some amazing monthly goals and have a genius plan.
But here are some things that will help reduce resistance and make sure you actually following that plan with ease!
1) Make a TBR list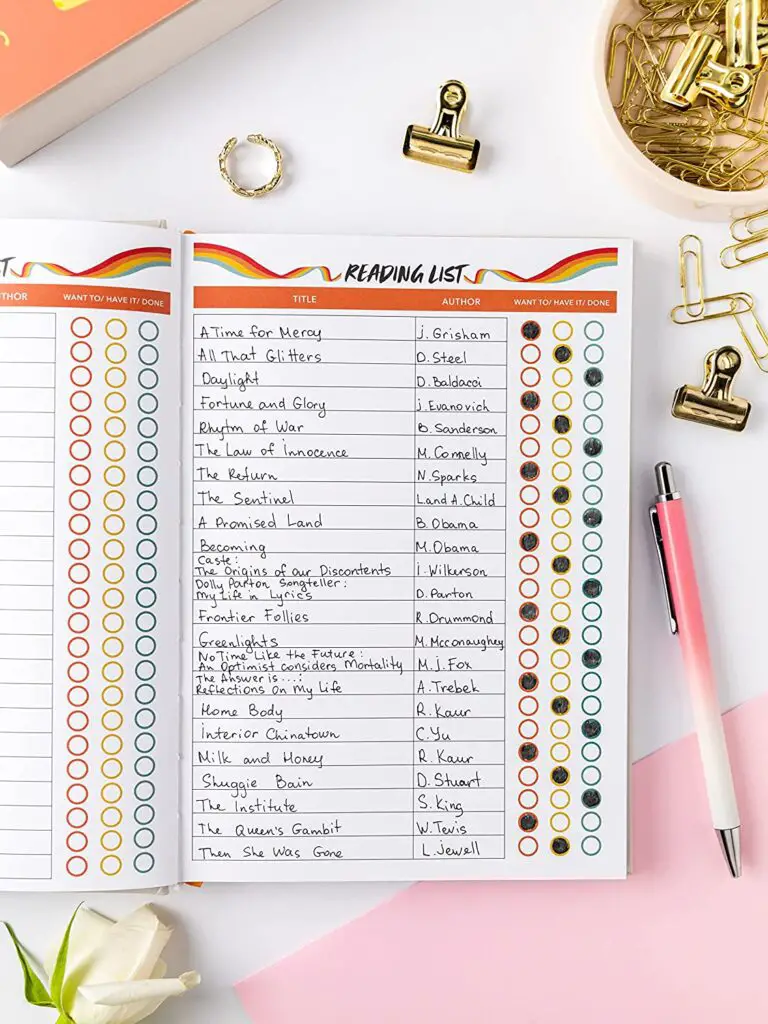 If one of your goals this month is to read more. Make a TBR list, so that you don't have to waste time trying to find a good book. And this'll make sure you're actually reading something you were interested in.
2) workout plan
Getting up everyday and choosing your workout based on your mood is definitely a bad idea. So, just create a workout plan for yourself. Or there are so many amazing fitness influencers out there, you can just follow one of their routines.
3) plan your outfits
Especially your workout clothes. At least for the next week. So you don't have to waste your time or mental energy trying to decide what to wear everyday.
16. create your weekly planning checklist
Don't just set your monthly goals only to forget about them 2 weeks later! Use this weekly planning checklist to set yourself up for the week and check in with your monthly goals.
Related Post : The Best (& Realistic) Weekly Planning Checklist
This post is all about the ultimate checklist of things to do monthly to start a new month.
Related Post