This post is all about the ultimate Sunday reset routine every working women needs.
Disclaimer – This post may contain affiliate links, which means I'll receive a commission if you purchase through my link, at no extra cost to you.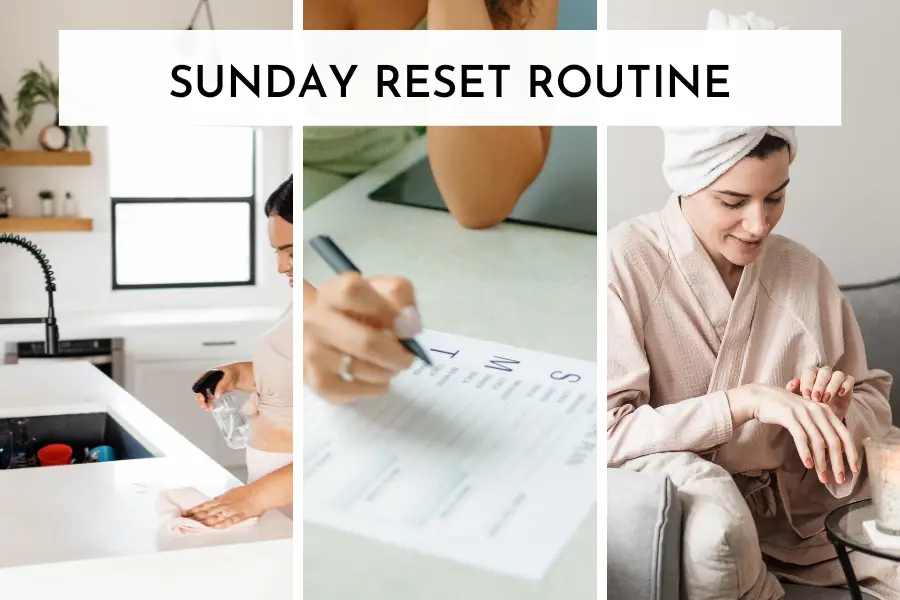 From doing your laundry, to meal prepping to practicing self care, Sundays are the best to get your life in order. Especially if you're a working women who hardly gets any time from Monday to Friday.
But, to be honest, if you have a busy week, you'd rather spend your Sundays lying in bed and relaxing than worrying about sorting your laundry.
If you're one of those people who feel like weekends only last for 5 minutes and you don't want to spend 3 of them trying to get everything in order, this Sunday reset routine is for you.
Here's a simple three-step weekly reset routine that will take only one hour of your precious Sundays and will set you up for a productive week!
Also, to help you wind down and relax, there are 11+ genius Sunday reset routine ideas that you can start incorporating into your routine if you've had a long exhausting week.
On an ideal Sunday, I would plan time for each one of these ideas. But realistically, if you do nothing else on your Sundays, just take some time and follow these 3 steps.
Trust me, your future self will thank you!
what is a Sunday weekly reset?
Simply put, Sunday weekly reset refers to taking time off on your Sundays to relax and prepare for the week ahead.
You don't necessarily need to have a Sunday reset routine for that, you can do a reset on any day of the week.
But I like taking my Saturdays slow and using my Sundays to get my life in order. So, by the time Monday morning comes I've already build the momentum and feel on top of things.
An ideal Sunday weekly reset usually consists of checking in on your previous week, setting goals and scheduling the coming week, and practicing self care activities that help YOU recharge.
If you've no idea where to start, here's how to do a week reset.
Beginner Guide – How To Do A Week Reset?
Now, you might think that you already spend your Sundays cleaning the house and relaxing, so why do you even need a 'special' Sunday reset routine for that?
Well, the thing is routines help you be more intentional – even with your rest time. Having a reset routine might inspire you to read a book instead of scrolling through Tiktok and calling it 'rest'.
I've found that when I don't follow this simple Sunday reset routine mentioned below, I end up :
Having to deal with shiz during the workdays that I should've taken care of on the weekend. For eg, doing a mid week grocery run!
I end up not planning my weeks at all, resulting in running through the week with my head cut off.
Not utilizing my rest time to the fullest. Idk what it is but as a lazy planner I like to plan my off time to make sure I'm spending time doing things I actually enjoy.
The internet is filled with weekly reset routine that can fill up your entire Sunday. But if you're like me and want your Sundays free, here a simple 3-step reset routine that'll help you get on top of EVERYTHING.
---
3-step Lazy Sunday Reset Routine
1. Weekly Check-In
This is the most underrated productivity tip out there!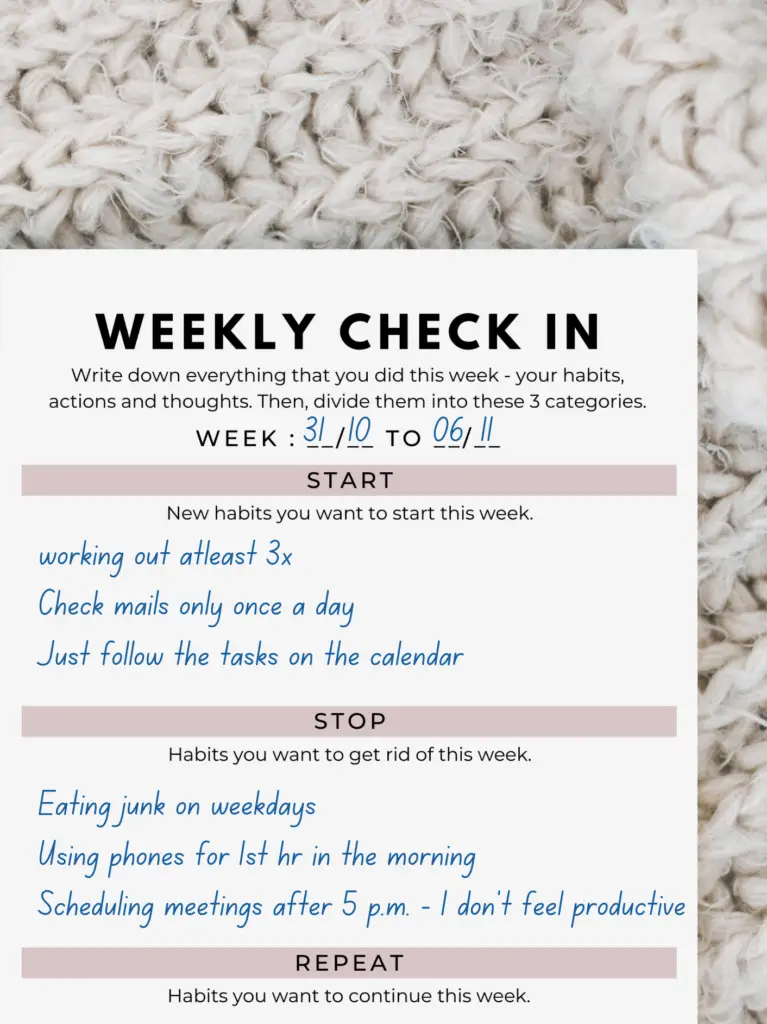 Basically, before starting a new week, take some time to analyze how your last week went. Simply answer these questions :
What went right? – Goals that you accomplished
What helped you in accomplishing your goals?
What didn't went right? And why?
What time of the day were you the most productive?
What are your biggest distractions and how can you avoid them?
This helps you get insights on what works for you, so you can start replicating it, and what doesn't work for you, so you can start improving it.
Trust me when I say that following other people's productivity tips will not provide you with as much insight or help you grow as quickly as weekly check-ins will.
2. brain dump your tasks and look at your deadlines
Brain dump everything that you want to get done this week, even the smallest of things. Because I can tell you first hand that 'If it's not on your calendar, it's never getting done'.
Also, look at your deadlines, meeting, things that can't be moved and put them on the calendar. So you know realistically how much time you have to get things done.
And then start planning your weeks.
I usually time block my entire week on Monday mornings so that I know exactly how my week is going to look like. I think it works better than daily planning (at least for me).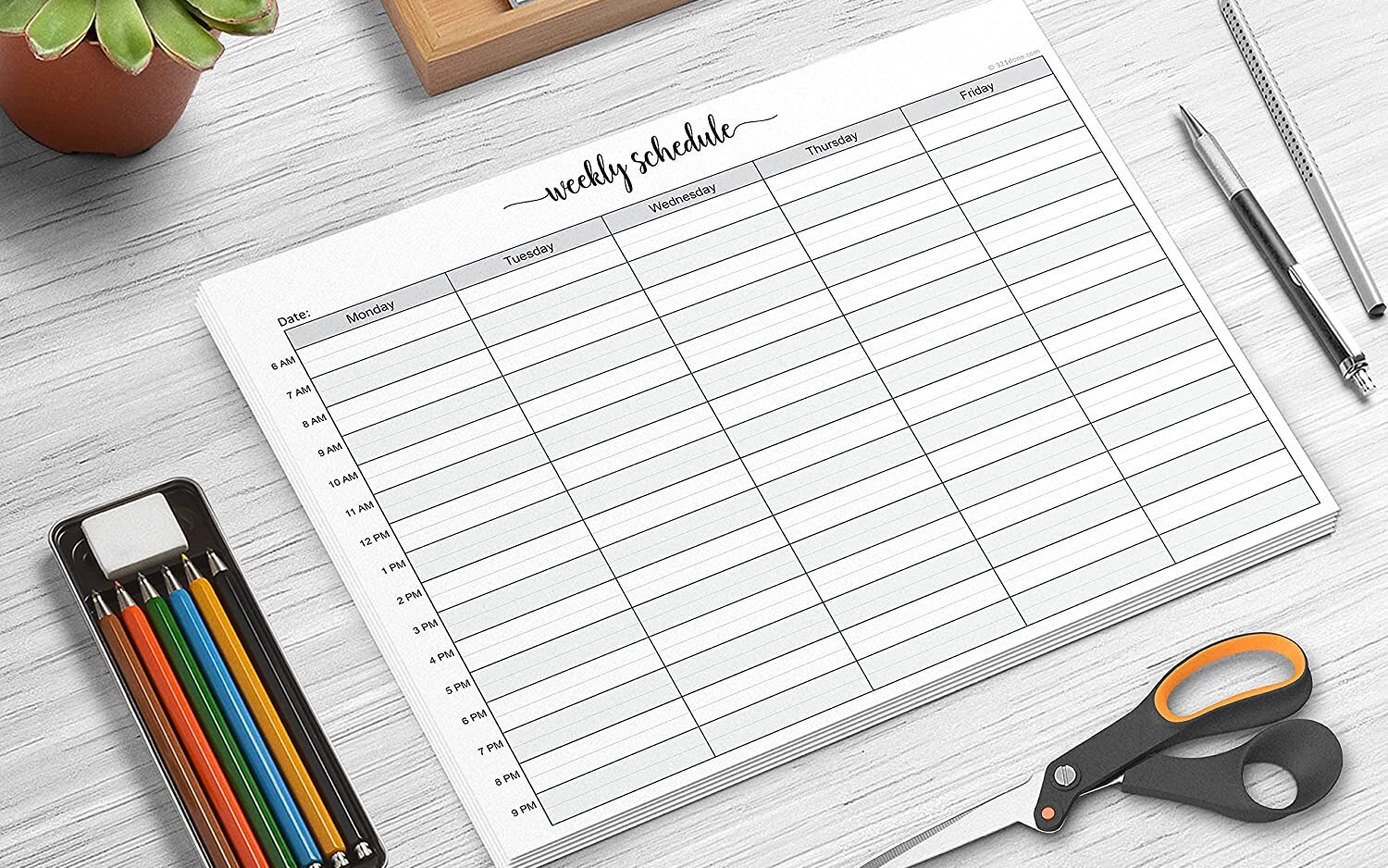 If you want to know my exact weekly planning system that help you get more done in 5 days than most people do in an entire month, check out Take Your Weekends Back course.
But if you're not a big time block person, just assign your tasks to each day of the week to get a basic idea.
Here are some tips to keep in mind while planning :
a) Schedule the most important task during the 1st half of the week. Because as the week goes on, so does your energy.
b) Keep your routine flexible so you can move things around if something unexpected comes up.
c) Schedule time for rest!
Related Post : How To Plan Your Week To Be Productive w/o Spending 3 Hrs
3. Prepare for the week
These are some practical actions that you need to take care of before starting a new week! Trust me, it'll simplify your coming week so much.
Do your laundry on the weekend.

And while you're at it, plan your outfits for the week.

Meal plan and order groceries. And save some time instead of running through every grocery store aisle.

Shopping for the home essentials. (check #5 below)

Follow your cleaning routine.

Also, if you have some weekly goals, put systems in place so it's easier to actually follow those goals. For eg,
If your goal is to workout daily, plan your workouts for the week.

If your goal is to eat healthy, meal prep or prepare a healthy dessert for the week.

If your goal is to journal daily, leave your journal on the bedside table and set alarms to notify you that it's time to journal.

Set up a habit tracker for visual accountability.
The sole purpose of this is to make your life easier, at least for the upcoming week.
Related Post : Ideal Sunday Routine To Prepare For The Week
---
Weekly Reset Ideas
4. slow mornings
This is legit my favorite part about Sundays! You get up and can take your morning routine sloww, there's no 9 am stand up call waiting for you.
You might as well just start watching a movie as you brush your teeth, it's literally so relaxing and the perfect thing to add to your Sunday reset routine.
5. make a healthy breakfast
In fact, experiment with a few healthy recipes to find the one you actually like. I usually stick with my oatmeal or smoothie for breakfast on weekdays.
That's why having this time on the weekend is ideal to find new quick healthy recipes to add to my routine.
But before I forget, Sundays are meant to be cheat days. So if pancakes or waffles sounds more like the ideal reset day meal, have that!
6. afternoon naps
I was never a fan of afternoon naps until recently.
Maybe you start getting used to these things in your mid-20s! 😛
Anyways, catching up on sleep is an essential weekend task. So, make sure you're making the most of that after breakfast slumber.
7. meet friends
Schedule time with your friends and family on the weekend. I can almost guarantee that it'll always leave you with so much gratitude.
As an adult, it might be hard to find time to even call, let alone meet, your friends during the work days. Which is all the more reason why you should be more intentional about meeting your loved ones.
I'm a people person, and chatting with my loved ones just fills me with good vibes and energy. But even if you're an introvert, connecting with your friends and family is never a bad idea.
8. Life Organization Tasks
There are so many random things that need your attention but you only remember them when you actually start working.
Things like, the fact that you're out of shampoo, or you need to change your email signature, or cancel your audible subscription.
Weekends are the best time to tackle these random tasks – from ordering your groceries for the week, to packing the birthday gifts in advance. Trust me, it'll make your life a hell lot easier.
9. try new workouts
It's important to add some movement in your days, but what's the harm in making it fun as well?
If you're anything like me, and don't like the conventional form of workouts – going to the gym – use weekends as an excuse to try different workouts.
Book a Pilates sessions, go for a run in a different part of town, ask your friends to come and play basket ball, or try swimming.
And who knows? You might just find your new favorite form of working out.
Related Post : 11 Hot Girl Summer Workouts That Aren't Just Gymming
10. hobby time
I'm sure there's something that you want to do more of, but can't find time amidst your busy schedules.
Add them to your Sunday reset routine checklist. And take these hobby hours very seriously, so you don't just skip them around.
Whether you join a pottery class, or enroll in a theater workshop, or spend some time planning your small business idea.
This is the era of 'trying new things' and doing more of what you love!
11. Clean the house
Now, I'm no cleaning expert and I won't try to act like one.
But this is what I do to keep my house clean for the most part – put everything back in place and properly clean my most used areas. So, the kitchen, work desk, living room etc.
You can also pick one area of your house, like your pantry or bathroom, and do a deep clean.
12. Do the laundry
So that you don't have to spend time finding your favorite pair of black jeans on a Monday morning.
In fact, while you're at it, just plan your outfits for the week. This way you can be more intentional with your outfits and have one less decision to make in the morning.
13. skincare & haircare
My Sunday baths are sacred. I literally spend an hour doing everything from a body scrub to face masks and hair wash.
And by the end of it, I always feel like a new person, haha!
14. No screens
Do a digital detox. If staying away from technology for an entire day every week seems daunting, start small.
You can do a digital detox for a couple of hours. Or have a detox day once a month.
Trust me, your mind is going to end up feeling soo free and relaxed from just a few hours of technology detox.
Related Post : 10 Fun Digital Detox Day Ideas
15. sleep early
The last thing you want to do on a Monday morning is hit snooze and start your day haphazardly.
It's better to sleep early on a Sunday night and get your 8 hrs of sleep, so you feel refreshed and energetic on Monday.
If you despise waking up to annoying alarm sounds, get yourself a sunrise alarm clock. It uses natural sound and gradually increases the amount of light in your room to gently wake you up.
This post is all about the ultimate Sunday reset routine.
Related Post
1) The Best (& Realistic) Weekly Planning Checklist For Busy Peeps
2) Ultimate Weekly Reset Checklist For An Effortlessly Productive Week
3) The Perfect Monthly Reset Checklist To Restart Life