Want to keep your life organized this year? Well, that's a rhetorical question. Here are the top ten organizers and planners for 2022 to help you live a more balanced life.
Planning and organizing allows you to manage your time in a way that increases your productivity without getting exhausted. As a result, you can work more efficiently while also getting more rest.
---
Disclaimer – This post may contain affiliate links, which means I'll receive a commission if you purchase through my link, at no extra cost to you.
Life can get pretty overwhelming, especially when you're trying to fix everything in your head rather than on paper. When you write down your thoughts on paper, they seem less daunting. And you're able to come up with a solution.
Planners help you keep your life organized. And you can approach your day with more ease and confidence because you know you've got it all figured out!
Not just days or weeks, but your entire life.
Related Post : 16 Simple Ways To Keep Your Life Organized In All Areas
10 Planners To Keep Your Life Organized
Here's a list of planners that'll not only help you plan your days, but will also help you with goal setting, forming better habits, and practicing gratitude.
A lot of personal growth planners are included as well, because if you're starting to get serious about your life, let's do it the right way.
Design Your Life 2022-23 Planner
I might be a little biased but I want to start with the 'Design Your Life' Printable Planner. I created this planner to help people who're sick and tired of living in overwhelm and confusion.
This is not just the basic 'monthly-weekly-to-do-list' planner (although it has all these layouts). It focuses on both your mindset and actions. And includes 40+ exact step-by-step layouts you need to get your life organized quickly. There's no nonsense here!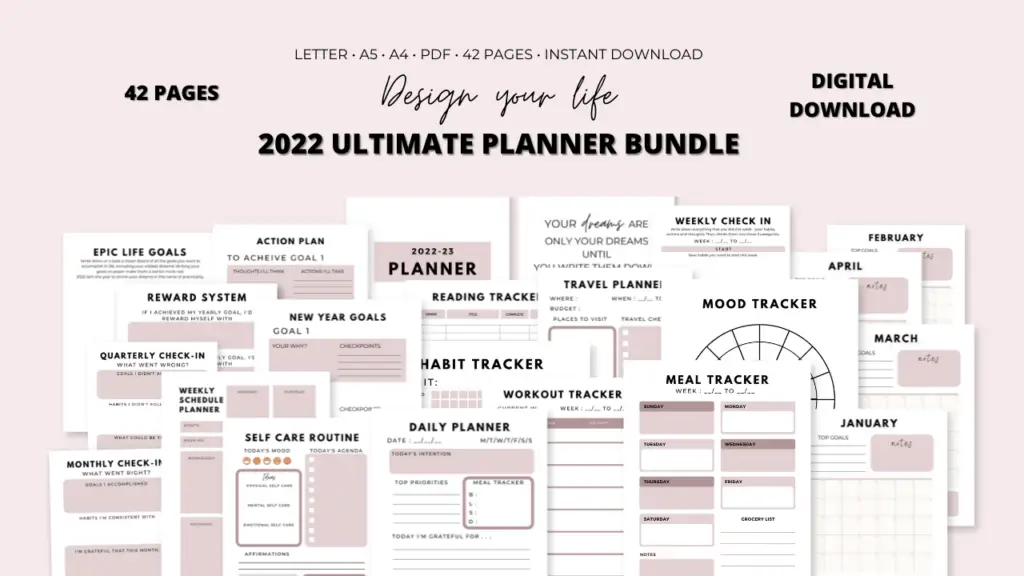 If you just want to see if planners are for you, you can get started with this FREE Planner + Bullet Journal Printable Pack.
1. Panda Planner
Let's start with the OG Panda Planners. They are reusable planners. Basically each page has a QR code. So, you can plan your months and weeks in classic pen and paper style. Once you're done, you can just scan the page, save it to your phone and erase what you had on that paper!
Whaaattt?
This blew my mind too when I first got to know about Panda Planners. Check it out here.
2. Clever Fox
Clever Fox planners are also very popular right now. This one is an undated weekly and monthly life planner. This planner covers so many aspects of your life that it can be intimidating at first.
To solve this problem, the first 6 pages of this planner precisely explain how each section of this planner should be used. It also includes 6 pages of colorful stickers. It's available on amazon.
Related Post : How To Set And Achieve Monthly Goals
3. Law Of Attraction Planner
This planner focuses on increasing your happiness as well as your productivity. My favorite thing about this planner are the vision board layouts.
Apart from the basic monthly and weekly layouts, this planner has sections for goal setting and creating reward systems. It also includes gratitude and habit tracking sections.
If you want something to plan your whole life (not just your career), opt for this one. You can buy it here.
Related Post : How To Set Realistic Goals In 2022
4. Go Girl Budget Planner
Want to prioritize your finances this year? Get the Go Girl Budget Planner. This planner includes layouts for setting your income goals and developing strategies to achieve them.
It also includes multiple income, budget, expense, savings, and debt trackers. If you are someone who finds it hard to keep track of your money, this planner will help you out! Check it out here.
5. Undated Weekly Planner
This is a basic 52-week undated planner, perfect for those who want to plan their weeks at their own pace. This way, you don't have to wait until the new year to start using your planner. Or even worry about the blank pages when you miss a day.
You can write down your weekly goals, your top priorities, and to-do lists for each day. It also includes habit trackers in each week's spread. You can find it on amazon.
6. Legend Planner
This planner is ideal for goal setting. The first few pages of this planner focus solely on planning your goals. Starting with self reflection questions, followed by life goals and year goals spread.
Then there's a spread where you can write down the action steps for each major yearly goal. This planner is also undated, so you can start using it whenever you want. You can grab this one here.
7. 3 Tier Funnel Down Organization Planner
This planner, as the name implies, assists you in developing a better organizational system so that you can accomplish more in less time. If you are having trouble managing your busy life, this is your go-to.
If has 3 sections based on the 3 tiers : 1. Categorizing your tasks. 2. Prioritizing them in your daily to-do list. 3. Scheduling them so you can get everything done. You can find it on amazon.
Related Post : How To Create A Daily Routine To Maximize Productivity
8. 2022 Weekly Binder
The next two ones are pretty basic. This one is a 2022 spiral planner. I love it because they are easy to fold and fill out. And you don't have to worry about the binding. This one also comes with a band to keep your pages in place.
It contains of all the basic yearly, weekly and monthly layouts. Along with holidays and notes section. And it comes in 4 different colors. Get yours here.
9. 2022 Faux Leather Planner
The best feature about this planner is that it is an 18 month planner. So, you're sorted till June'23. If you prefer a basic planner and don't want to use spirals, this is the one for you.
Apart from the necessary layouts (yearly, weekly, monthly and notes layouts), this planner also includes an elastic pen loop, two bookmarks, calendar stickers, and an inner pocket. You can get it here.
10. Paperage Bullet Journal
Lastly, if you dislike the idea of using pre-made planners. Or feel like all planners lack one or the other layout that you need (I feel that too!), grab a bullet journal and start planning.
Here's how you can set new year goals using a bullet journal. The paperage bullet journals are the best and most affordable ones. Here's a 10 day challenge to build your bullet journal from scratch in just 15 minutes per day.
Which Planners Are You Going To Use In 2022?
Don't forget to download this set of 35+ free planner printables to get you started! Comment below your favorite planners from this list. Or some other recommendations that you have.