This post is all about 33 super practical gifts for dad from daughter that are guaranteed to make you his favorite child! 😉
Disclaimer – This post may contain affiliate links, which means I'll receive a commission if you purchase through my link, at no extra cost to you.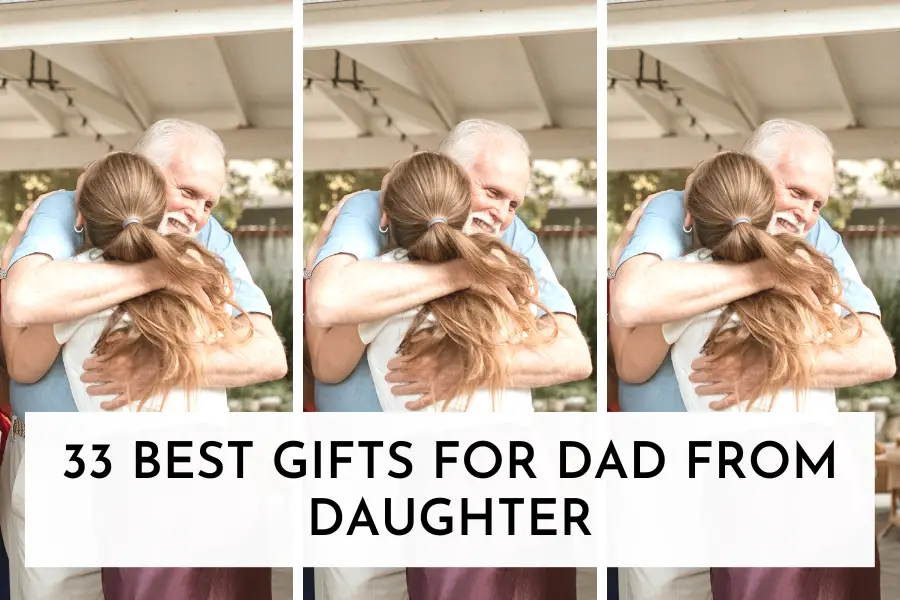 I don't know about you but buying gifts for dad is literally the hardest thing to do. Mainly because you never have any idea what they want. And if you ask them you get the same old "I don't want anything" answer.
But you want to get him something that a) is cool enough for him; not just another *best dad* coffee mug,
and b) is useful enough that he doesn't forget about it in a week, haha.
If you're in the same boat as me, this gift guide will solve your problem. Whether you're looking for unique fathers day gifts, something cool and funny, or gifts for dad who want nothing, there's something in here for your dad.
Seriously, I've already wishlisted 6 things from this gift guide that I know my dad would absolutely love!
So, here are 33 super practical gifts for dad from daughter that are guaranteed to make you his favorite child! Your siblings might not love it, but your dad surely will 😉
33 gifts For Dad From Daughter
useful gifts for dad
1. coffee mug warmer
This is hands down the most useful gifts for dad on this list, especially if your dad has a desk job and is constantly stuck in online meetings. This mug warmer will keep his coffee warm even if he forgets about it for hours!
2. back heater
If your dad has muscle pain issues, this back heater will be the best gifts for dad from daughter. My friend got one of these and he religiously uses this everyday.
Your dad will really appreciate those after work massages!
3. nike air force
If your dad's a runner or play sports, these shoes are exactly what he needs. They have a cool paint look, are comfortable to wear, and obviously, have great quality.
Basically, it has everything you can ask for in a shoe!
4. hand power chopper
So that the next time your dad feels like cooking, he doesn't cry over chopped onions (literally!).
This hand powered chopper easily chops all the veggies in 2-3 spins and this will make his cooking adventures even more fun. This is such a unique fathers day gifts but it's totally worth it.
5. beardo growth set
If your dad has a beard, or is trying to grow one, this beardo grooming set will be the perfect gifts for dad from daughter. He'll start noticing a difference within a week.
So many of my friends use beardo products and 100% recommend these to anyone trying to maintain a beard.
6. Cookbook for men
This cookbook is full of simple, easy to make recipes that hardly require 5 ingredients and don't take much time. It's such a genius useful gifts for dad that he'll end up calling himself the best chef after cooking these recipes.
7. mini projector for in house movie screening
Who doesn't love a little projector movie screenings? Or big screen gaming? Now the picture quality won't be HD, lol. But it's definitely something he'd bring out on date nights or in front of his friends as a cool experience to try.
8. puzzle plateau
If your dad's a board games lover and you two love doing puzzles together, this is the perfect unique father's day gifts. This puzzle plateau will help him keep his puzzle pieces in place.
You can also rotate the plateau to keep the other end of pieces together without having to bend over. Let's just say it'll make his puzzling experience a lot more convenient.
unique fathers day gifts
9. magnetic bottle hangers
Guys love this gift! I mean, it's kinda cool to have your beer bottles hanging up from the refrigerator, isn't it? And it gives you some extra space in the fridge.
And these magnets are so strong, you don't have to worry about your bottles falling off.
10. foot peel mask
Because even guys need some self care! This foot mask will remove layers and layers of dead skin, and so you finally have the soft baby feet.
It's such a unique fathers day gifts, but he'll end up using it more often than you think!
11. date night scratch off poster
If your father struggles to plan date nights (or any event, for that matter), get this date night poster.
So he can surprise your mom with some fun date night ideas without having to think too hard about it!
12. tool wristband
Dads love putting their handyman skills to use! And this tool wristband is one of those gifts for dad from daughter that will make his life 10x easier.
13. personalized calendar
So he's always reminded of you every time he looks at the calendar. This is such a unique fathers day gifts, that's also very sentimental. Collect your favorite family pictures and get a customized calendar for his desk.
14. dad jokes book
Cuz dads really need one, haha! If your dad loves cracking (dad) jokes, this will be a nice gag gift for him. And who knows? He might actually start using it to entertain you the next time.
15. Bourbon whiskey coffee set
It's exactly what the name suggests. If your dad likes the taste of booze in coffee (without having to actually put booze in his coffee), he'd absolutely love this one. The flavor's strong and it smells amazing too.
GIFTS FOR DAD WHO HAS EVERYTHING
16. all in one phone charger
So he can charge his earphones, phone and watch all at once before going to bed. Because we all know that, otherwise, he's going to leave the house with at least one of the other device surviving at 3%.
17. beard apron
Remember this one from shark tank? Your mom might end up appreciating this gift more than your dad. It'll catch up all his beard hair and keep the sink clean. It's an amazing gifts for dad who has everything.
18. hammock
If your dad loves outdoors, he would practically LIVE in this thing! My friend got this one as a unique fathers day gifts, and his dad absolutely loved it. It's sturdy, easy to setup and super comfy.
19. fossil wallet
Cuz the old one really needs to be replaced! Idk what is it about guys using the same worn out wallet for years, but your dad would really appreciate you bringing such a thoughtful gift!
And you can never go wrong with fossil wallets.
20. Scented Candle
Your siblings might not like this gift, but your dad sure as hell will, haha! And he can actually light it up on days when he's feeling fancy and wants the house to feel more cozy.
21. foot rest for chair thingy
If your dad complains about knee pain, this gift is for him. It's ergonomically designed to help your feet when you sit on the chair. You can also adjust the height to ease the tension. It's such an essential that I'm actually thinking of buying one for myself.
22. couch coaster
This is such a genius gifts for dad who has everything. He can finally enjoy his drink while watching tv, without having to worry about the spills. You can actually use it on any uneven surfaces to help hold your cup.
23. ugg slippers
Because why not? Ugg has the comfiest home slippers. My dad got a pair of these last year and this is all he wears at home now.
They're warm enough for winters and perfect enough to not make your feet sweat in summers. What more could you ask for?
24. amazon gift card
If you really have no idea what to gift your dad, get him this amazon gift card. And this one also has such cute packaging so it makes a perfect gifts for dad who has everything.
25. Spigen phone case
Spigen honestly has some of the best phone covers, that are sleek but also protect your phone from any damage. Not just your dad, everyone needs a sturdy phone case. And this one also has a pocket to store your card, or other stuff.
ideas FOR DAD WHO wants nothing
26. blue ray glasses
If your dad has a high screen time because he's constantly working in front of his laptop, these blue ray glasses are a must.
They'll provide him with relief from his eye pain! It's one of the gifts for dad who wants nothing, that he'll end up using every single day.
27. sunrise alarm clock
This is the best gifts for dad from daughter, if your dad is a heavy sleeper. Or hates the sound of alarm in the morning (which honestly, everyone does!)
This sunrise alarm clock will use natural sound to wake you up. And it gradually increases the light in your room to help you wake up easily.
28. duffle bag for gym & Travel
I don't know a single dad who doesn't needs a gym bag! If your dad is a gym enthusiast, then this is exactly what he wants. My friend was so impressed with this bag, that she actually bought another one for her boyfriend.
29. memory foam seat cushion for car
A foam cushion that'll make his car drives more comfortable. I got this for my dad last year and he was actually surprised to see that a memory foam cushion is all it took to take his joint pain away.
30. tile bluetooth tracker
If your dad spends 30 minutes before leaving the house, searching for his keys, phone, wallet and what not, this tile Bluetooth tracker will literally save his life.
He can track his things via bluetooth, saving you a headache haha. This is such a unique fathers day gifts, but definitely so useful.
31. leather earphone cases
And wireless earphones if he hasn't got one.
These leather earphone cases are simple and stylish and of premium quality. And you can also charge them wirelessly. This will become his workbag staple before you know it.
32. amazon smart plug
It's such a genius gifts for dad who wants nothing. Simply plug this into any normal port and it'll convert your normal plug into smart plug.
My friend got one of these when her parents were shifting to a new house. They loved it so much that they seriously went ahead to buy one for every room.
33. native Deodorant
I've heard such good things about native! Guys genuinely consider it as the best workout perfume.
So here's a set of 3 of the most popular ones, so that your dad can try and find a scent that works best for him.
This post is all about 33 super practical gifts for dad from daughter that are guaranteed to make you his favorite child! 😉
Related Post