Looking for the perfect gift for outdoorsy girl that she'll end up using everyday? Here are 30+ genius ideas.
Disclaimer – This post may contain affiliate links, which means I'll receive a commission if you purchase through my link, at no extra cost to you.
I know, a true nature lover would love experiences more than products. But if you don't have your next camping trip planned already, gifting her something she'd actually use on her next adventure is the next best idea!
Whether she loves hiking, playing sports or just spending time in nature while doing everyday chores, there's something in here that she'd absolutely love. And they're also divided in 3 categories for your convenience.
And I'm not just talking about keepsakes, these are practical gifts that she actually needs and that would make her next excursion a lot more convenient.
Now, I'm not a big adventure person myself, but I love spending time in nature on walks or just sitting outside. And if that's something you're looking for, I have just the right things.
Also, I have a few friends who can live in camps probably, and I went ahead to ask them what are some essential things on their Wishlist. So, here it is.
This post is all about gift for outdoorsy girl she'll end up using everyday.
Gift For Outdoorsy Girl
For the outdoor chores lover
1. gardening supplies
Gardening is probably the best outdoor hobby. It's fun, outdoorsy and helps you stay healthy!
If your friend is new to gardening, this toolkit has got everything she'd ever need. And will give her the confidence that 'she knows what she's doing '.
2. hammock
Anyone who loves spending time just chilling outdoors needs a hammock! And with a material as soft as this one, she'll probably stay in it all day long.
Get this gift for outdoorsy girl, so that she can work on her laptop or read her book while chilling on the hammock.
3. water bottle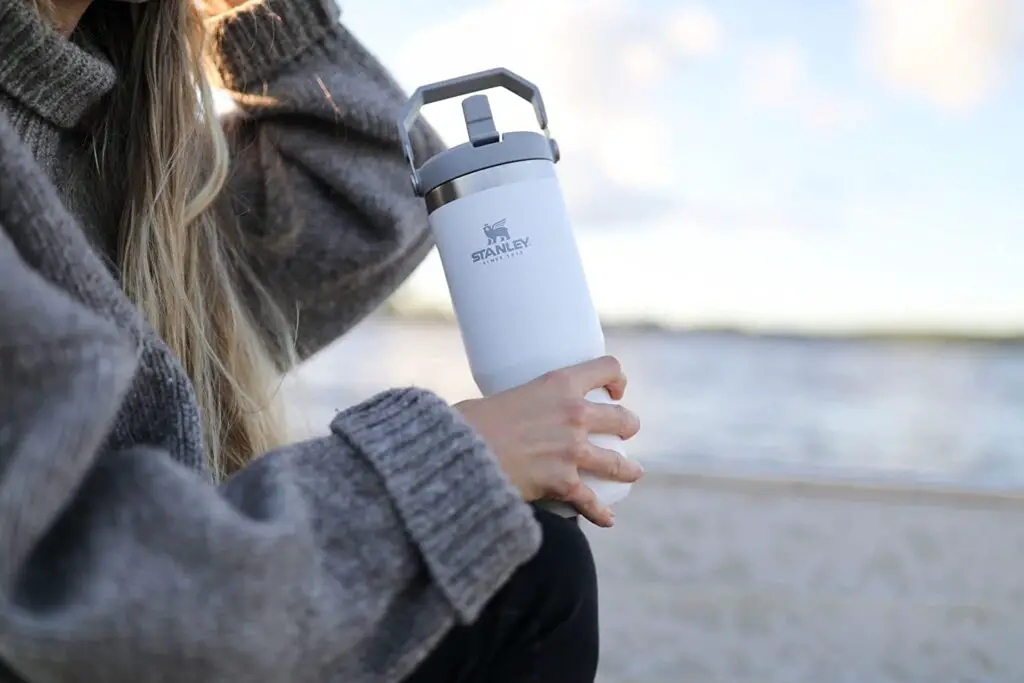 So that she stays hydrated while spending time outdoors.
Carrying a water bottle with you is a good visual reminder to keep your water intake in check. And these Stanley bottles are so trendy and cute, she won't mind carrying it everywhere.
4. self defense keychain
Something that she'd really appreciate having on her daily walks. Hopefully, she never has to use it, but it'll give her a peace of mind that she's safe and protected outdoors.
5. sunscreen
If your girl loves spending time outdoors, she definitely needs sunscreen. This is a gift for outdoorsy girl that she's already eyeing.
And the Supergoop sunscreen has gotten so popular recently that everyone wants to try it!
6. cute fits
If your friend loves outdoor yoga or going on hot girl walks, she needs a cute workout outfit.
And as weird as it is, wearing these cute workout outfits will automatically motivate her for a good workout session! Trust me, she'll thank you for these.
7. hot girl walk essentials
Hot girl walks are my favorite outdoors activity atm. And they are incomplete without earphones. Because listening to podcasts and audiobooks on walks is the obvious thing to do, isn't it?
And these beat earphones can easily last for 22 hours so she doesn't have to worry about charging them again and again.
Gift for outdoorsy girl – adventure lovers
8. cross body bag
Crossbody bags make it so easy to carry your wallet, keys, or phone, specially when you're roaming outdoors. Because if you're as clumsy as I am, you're guaranteed to loose something along the way.
With this lululemon crossbody bag, she won't have to worry about that. It has enough space to hold all the essentials and they're easily accessible.
9. Hiking shoes
It's so hard to find good hiking shoes that are comfortable and look nice too! I'm sure your girl can relate.
These Columbia hiking shoes are one of the best ones out there. They're lightweight and waterproof so her hike's gonna be flawless.
10. Insect repellent
If you're going into nature, you're gonna face a lot of insects. and while you can't get rid of all of them, you can try to be as prepared as you can!
This Saywer Insect repellent will actually save your from all the mosquito bites and will keep the bugs away.
11. dry shampoo (& reusable pouch)
This is one of the gift of outdoorsy girl that I'm sure she's not thinking about, but will end up using a lot! Dry shampoo to keep her hair healthy and good looking, even on the trip.
I swear by the Hair Dance dry shampoo. It's easy to use and smells nice too.
If your friend doesn't likes to use dry shampoo, she can store her conventional shampoo in these reusable pouches and be ready for the adventure.
12. camping bag
Hiking essentials can cost a lot! So, chances are your friend hasn't bought everything at once.
If there's something (like a sleeping bag) that she doesn't already have, gift her that. It'll make such a thoughtful gift and she'll appreciate you so much for doing that.
These camping sleep bags are highly recommended and work good at temperatures as low as 40 degree.
13. hiking journal
They say, travelling is the best teacher! And there are so many amazing things you experience when you're out in the wild.
So why not capture all your memories and thoughts and experiences in a journal. Trust me, it'll literally uplevel your whole experience.
14. camping chair
Maybe get two of them! So, the next time you two go camping together, you can sit in these chairs, holding your drinks and just have interesting conversations.
My friend got this for her outdoorsy sister last year, and she absolutely loved it!
15. fireside cards
Speaking of interesting conversations, gift her these fireside cards that are guaranteed to spark some fun conversations.
I love card games in general, and these fireside cards have some fun dares and questions that every one in the group will enjoy.
16. gPS communicator
If your friend's an avid hiker, you have to give her this GPS communicator. It's easy to use and helps you navigate easily, as well as communicate with the outside world. Basically, it keeps you safe!
But if she doesn't go on hikes very often, I don't think it'll be the best purchase.
17. Wine bottle insulator
If your girl is a wine lover, this wine bottle insulator is the best gift for outdoorsy girl for her! Wine insulators are so hard to find, specially the stainless steel ones that look good too.
My friend uses it to keep her wine nice and cold when she's travelling and can't carry the bottle per usual.
18. binoculars
This is such a fun gift for outdoorsy girl, specially if she's into bird watching and noticing the wildlife from afar.
It'd make her next excursion so much more fun. These binoculars are sturdy and waterproof. And the best part? You can use them in nighttime as well. My inner child is screaming haha!
19. headlight torch
Headlight torches are an essential for people who're planning to go camping, or even just go cycling after it gets dark.
It's nothing fancy, but they are light weight, durable and get the work done, as the reviews say!
20. solar power bank
This gift for outdoorsy girl is pure genius! I mean, I could use it in my everyday life as well.
For example, using these instead of keeping your car on to charge your phone, lol. And you wouldn't have to worry about charging your power bank as well. It's a win-win!
21. rite in rain notebook
So you don't have to worry about teared, smushed pages every again! It's perfect for people like me, who're so clumsy they'll definitely spill water on their notes at least once.
These pages are weather proof – won't be affected by water, grease or even mud.
22. go pro
Do I even need to mention the benefits?
Every nature lover, loves capturing the perfect shots that'd do justice to the beauty that's in front of the camera.
And go pros are already super popular for that!
23. tripod
If your girl's actually serious about nature photography, or maybe is into travel blogging, a tripod is the best gift for her!
This Mini Tripod is affordable and is recommended by one of my favorite youtubers.
For The Sports Lover
24. Sports cap
For the fashionista sports player! But honestly, these adidas caps fit perfectly and help you protect your hair from the sun when you're out there playing for long hours.
25. smart watch
This is another gift for outdoorsy girl that she'd end up using everyday. And this Garmin smartwatch looks so elegant that she can actually wear this to work too.
It helps you track your hydration, sleep, heart rate and even the stress.
26. defender phone case
If you're like me, you probably drop your phone more time than you can count. These defender phone cases are just the right thing for you.
With it's 3 layer protection, you'd never have to worry about dropping your phone ever again.
27. Compression leggings
Who doesn't want stylish workout clothes? These compression leggings are perfect for all yoga and running enthusiast.
And the best part? They're high waisted. I think it's safe to say that these are every girl's dream leggings!
28. warm up jacket
It could pair up nicely with the leggings, so she has her perfect athletic fit!
This one also has thumbholes and side pockets to keep you warm, has soft material and comes in 8 colors.
29. burt bees lips
Lip Balms are an everyday essential in general, but if you're going to spend your entire day outside, you need to carry these burt bees lip balms to make sure you don't have chapped lips.
This is the perfect gift for outdoorsy girl. It comes in 4 most popular flavors, so she can keep one in her bag and one at home.
30. foam roller
My friend literally requested for this gift last year. She loves exercising but had a lot of body pain at the time, so she wanted this foam roller massager.
And she's been loving it so far!
31. sports/Gym bag
It's so hard to find the perfect tote gym bag, that can fit all your essentials and still look nice.
That's why these boxsam bags are perfect, they have extendible storage area, enough pockets and come in such cute pastel colors. I think they're the best ones on amazon right now!
This post is all about gift for outdoorsy girl she'll end up using everyday.
Related Post