This post is all about home office organization hacks you need right now!
Disclaimer – This post may contain affiliate links, which means I'll receive a commission if you purchase through my link, at no extra cost to you.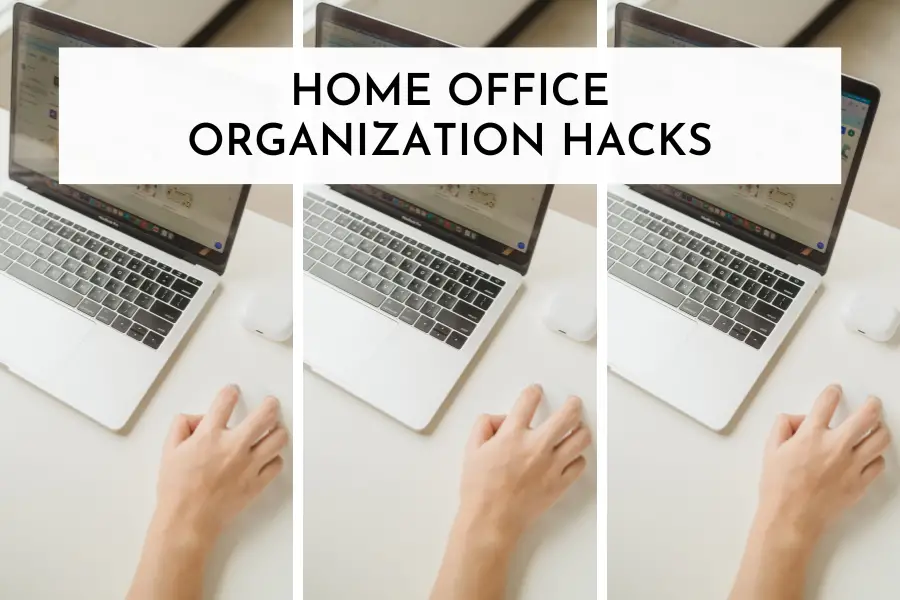 Aesthetic home office ideas on Pinterest look cute, but frankly, most of us don't have the space, budget or time to get that.
And honestly, you don't even need that!
As someone who's been working from home for the past 4 years and hasn't turned into a couch potato YET, I can assure you that you don't need a lot of space, or money to create a productive desk corner.
Here are simple home office organization hacks that'll help you stay organized and keep your desk spotless.
We'll start with 7 essentials and then you can add other 'non-essential' organization products that work for you!
These organization hacks are for you if you want an organized or aesthetic desk while still being minimal.
And the best part? You don't have to spend tons of money on new Amazon products everyday to get your sh*t in order. Less is more when it comes to organizing your work desk.
Home Office Organization Hacks
Starting with 7 beginner essentials
I don't know about you, but I like to keep my desk empty, while also keeping my essentials nearby, so I don't have to get up every time I need something.
In an ideal situation, your laptop and your mouse should be the only 2 things occupying your desk. Not even a water bottle. Cuz it restricts the hand movement and occupies unnecessary space.
If you have a small (or medium) size desk like mine, you'd agree.
But that doesn't mean that you need to get up every time you want something. I can bet my lazy ass, I won't get up from my desk.
That's why I keep an essentials corner near my desk so I have everything I need at an arm's length. Make sure everything is visible and easily accessible!
Keeping that in mind, here are the best home office organization hacks to start with:
1. Remove everything from your desk
Except the essentials!
I swear I don't usually go "Marie Kondo' while organizing, but when it comes to my work desk, I can't stand keeping anything except the absolute essentials.
So, firstly make an essentials list – things you're actually using to work.
You might think that you need a book, or stationary holder on your desk, but do you really? Take a day and make a note of everything you're using while working.
To me the essentials are just just my laptop, mouse and charger. That's all I need to start working.
Not even my phone (although let's be honest, I still keep it near me).
Trust me, this step will solve half your problems.
2. get a keyboard stand
If your desk doesn't come with an inbuilt keyboard tray, get one from amazon.
Keyboard trays can be really useful to clean out your desk and place your mouse and keyboard on the trays.
You can easily slide them under the desk to keep it clean.
If you use a monitor, you have to deal with a keyboard and mouse, so this is a must.
To take it one step further, get yourself a Bluetooth mouse and keyboard so you don't have to deal with tangled wires ever again.
I use a laptop, and still prefer using a bluetooth mouse and keyboard while working. It is so much more convenient than using the touchpad.
Hands down my favorite home office purchase till now!
3. Desk To-Do List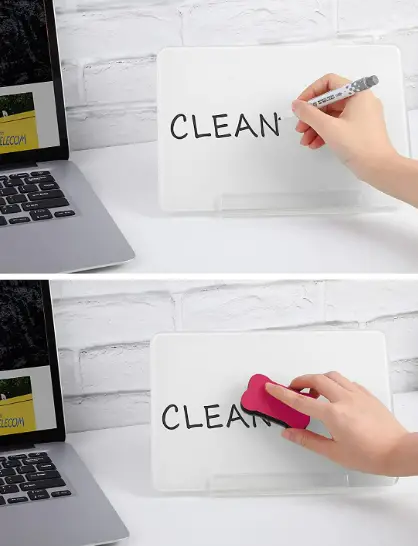 Keeping a to-do list on your desk can be really handy. Because there are so many tasks that keep on coming up once you start working, sometimes it's hard to remember them all.
And what if it's not a work related task? For eg, you need a reminder to call your sister after work.
To-do lists are also essential for doing a brain dump when things get too overwhelming at work.
You can get an acrylic board to write and erase things off your list as you go. It hardly occupies any desk space and is easy to use.
Or if you're a paper person, you can use a to-do list notepad to stay productive.
4. Essentials rolling cart
Now, I know that the only thing you really need to start work is your computer. But that doesn't mean there aren't any other essentials that you use throughout the day.
Things like a water bottle, your phone, a notebook, your earphones, stuff like that.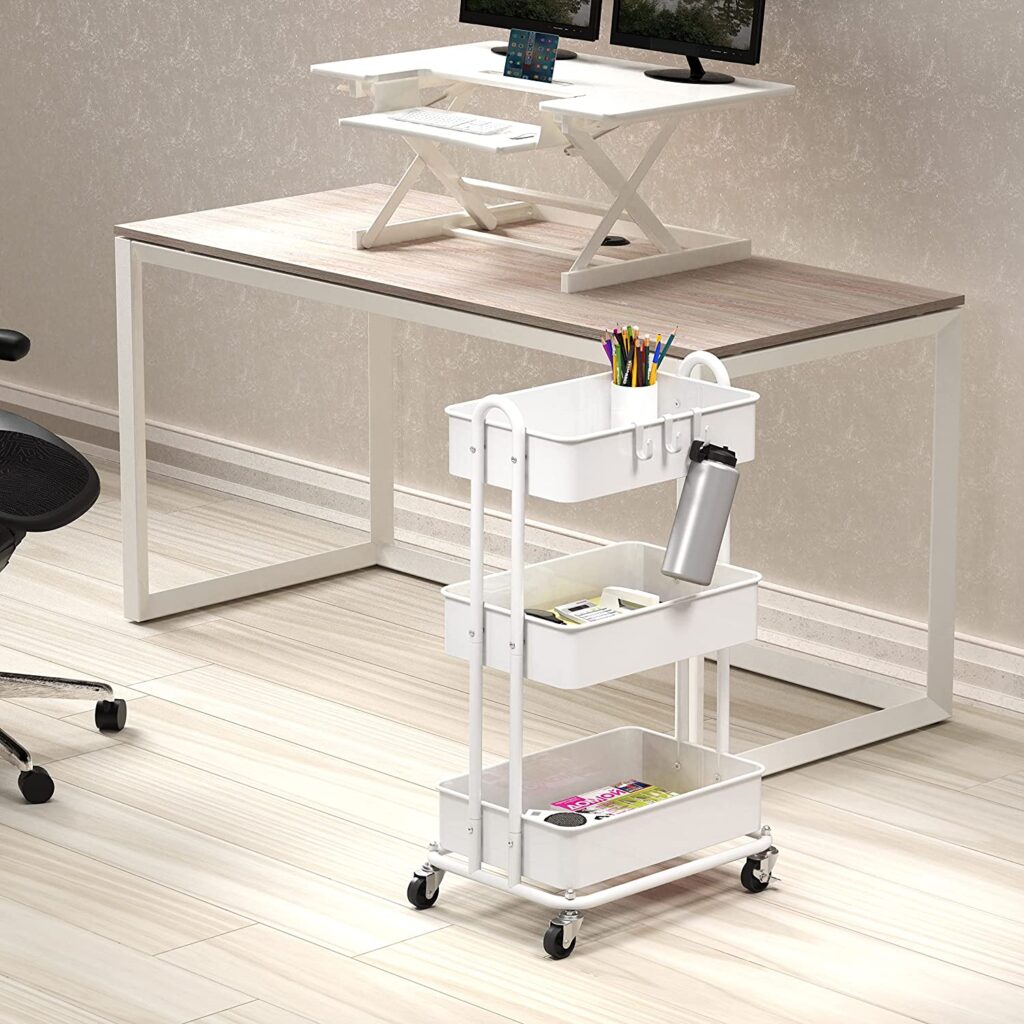 The key to an efficient workspace is that everything should be visible and reachable, so you don't have to get up every time you need something.
So, it's time to create an essentials corner. Get a rolling cart (it can store tons of stuff and is easy to roll around), place it beside your desk and keep your essentials in it.
Trust me, this will be game changing for you!
You can get organization baskets to categorize your stuff. And rolling trays to maximize the space
5. Have 2 charging points nearby
Ok, I might be getting too niched here but you work on so many devices throughout the day, that you need at least two charging points. One charging point would just not be enough.
Luckily, my desk is placed as such that I have one charging point on both sides.
I use one of them for my laptop charger and the other one for my phone or earphones, or anything else that needs charging.
But if you don't have that, use an extension cord. It'll never go wasted.
Also, don't let the charging cables clutter your desk.
I'm trying to just stick to the essentials here, so I'd say make rolls of the excess cable and drop it off to the ground haha. But you can obviously use a cable sorter to organize the clutter.
6. adjustable light
What's the point of all these home office organization hacks if you don't even have proper lighting to work with.
Working in a dim environment will strain your eyes and cause a headache. And hamper your productivity in return.
It's better to shift your desk to a place that gets enough light (possibly near a window, because natural light is even better).
Or get yourself an adjustable light stand. You can try a floor lamp like this one, so you don't have to worry about clipping it to your desk.
This one has a yellow-golden light. And could be a nice décor addition to your home office as well.
7. Get rid of paper
I don't know who's still dealing with papers to this day, when most of us are glued to our screens.
I only turn to paper when I need to dump all my thoughts down and seriously get shit organized (but that's only because my brain doesn't get it any other way).
But apart from that, almost everything else you can do online. From sending mails, to setting reminders, to making notes, or doing calculations, you don't really need much paper!
If you have important documents, file them up and store them at the bottom shelf of rolling cabinet.
If you have receipts laying around, take a photo and throw them away. Instead of writing notes on a 100 different post its, use your acrylic board.
Removing paper clutter from your office will automatically make it 10x more organized.
Home Office Organization Hacks To Go One Step Further
8. earphones holder
Earphones are another thing that you probably use every hour while working. And carrying them around on your neck or keeping it on your desk is not the best idea.
You can obviously keep them on your essentials rolling cart.
Or use this smart hack. Get an earphones holder!
9. All in one charger
So you can charge all your devices at once and never have to worry about having 2 ports near your desk haha!
With this all in one charger, you can charge your mobile, earphones AND smartwatch; and get rid of the cable clutter.
10. Ergonomic chair
There's nothing worse than a backpain to hinder productivity!
Having a perfect office chair is not directly related to organization but it sure as hell will make your life easier and more comfortable; allowing you to focus on work.
11. attachable desk drawer
If your desk doesn't come with in built drawers, this home office organization hacks is a must.
Add this attachable desk drawer to your table and increase the storage space on your desk. You can use it to store your post its, stationary, small notebooks etc.
12. Organize your drawers
And don't forget to get drawer organizers. Because what's the point of having a drawer if you can't find anything when you need it.
I used to have a work desk drawer that was a literal blackhole, haha. And had to empty the entire drawer to find anything.
These plastic drawer organizers are not just useful for categorizing your drawers but will also make them look aesthetic!
13. cable organizer
Tangled cables make your desk look messy, occupy tons of space and are a pain to deal with.
Use these cable organizers that separate out all your cables so you don't have to worry about breaking or spoiling them.
14. wall hanging file cabinet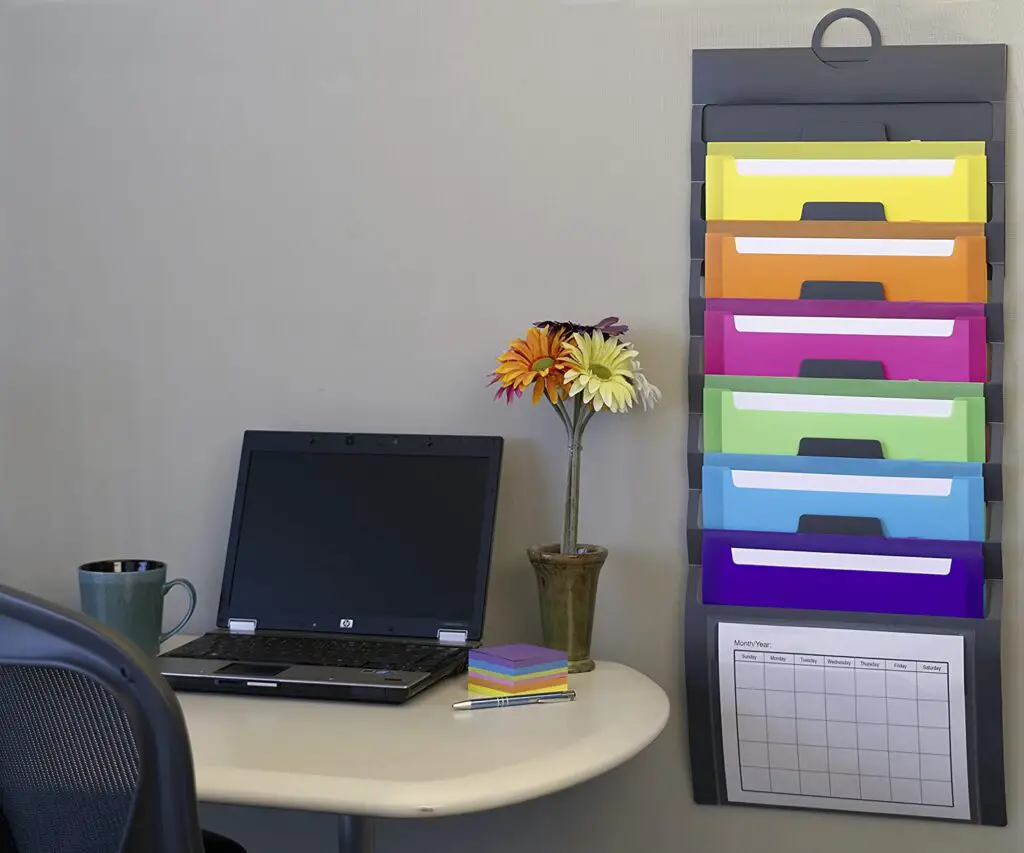 I kept this in non essentials because I have a job where there's hardly any paper clutter, but if you need to go through your documents multiple times a day, use the 'keep them where you can see 'em' formula.
These wall hanging file cabinets occupy less space and are easily accessible.
If you want something more aesthetically pleasing, you can get this one.
15. Laptop stand
My banana shaped back would argue that this is an absolute essential, haha!
Having an adjustable laptop stand would help you keep your laptop screen at eye level, so that you would have to sit up straight while working on it.
This could be really beneficial to improve your posture in the end.
16. Add some greens
Getting an office plant really enhances the whole vibe, and aesthetic.
It will add some color and personality to your otherwise boring office desk. And having a plant brings in some positive vibes.
If you can, opt for a real plant over a fake one.
17. utilize wall space
This is the #1 idea that everyone recommends when we talk about home office décor and home office organization hacks.
Add a wired grid to the wall in front of your desk. Or add floating shelves.
You can keep your calendar, important post-its, or create a vision board using this space. It won't only help you stay organized and focus on priorities, but will also be a cute décor piece.
18. glass white board
If you don't want to go through the hassle of installing and decorating a wall grid, and simply want to use your wall space for important reminders and notes, get this glass white board.
It looks much cooler than a regular white board or hanging post it notes and will last you for years.
19. Get an actual clock
Seriously! If you don't have a clock in your office, get one today.
So that you don't have to pick up your phone every time you need to know what time it is? Because we all know that that ends up distracting you from the task at hand.
In fact, get a productivity timer clock to boost your productivity.
This post is all about home office organization hacks you need right now!
Related Post
1) 20 Home Office Organization Products You Never Thought Of
2) The Best Minimal + Clean Desk Layout For Productivity
3) Daily Organization Tips You Need To Start Today